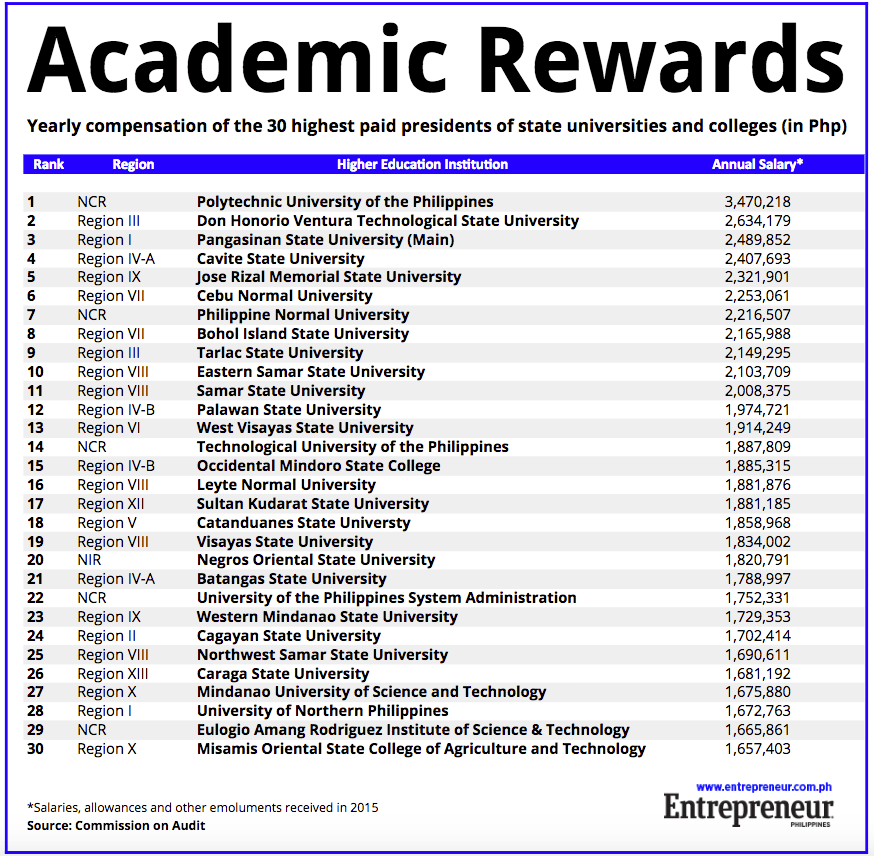 State universities and colleges (SUCs)—higher education institutions funded by the national government—play an outsized role in the schooling of college students in the Philippines.
Though the country's 114 SUCs make up only six percent of over 1,700 higher education institutions, they account for almost half of college enrollments in the Philippines. The number of state schools excludes local universities and colleges that get their funding from local governments.
ADVERTISEMENT - CONTINUE READING BELOW
Related story: Who are the Philippines' Richest School Owners? 
Given the importance of SUCs in the educational system, it's just fitting and timely that we take a close look at the compensation of presidents of these state-funded institutions of higher learning.
According to the Commission on Audit, the president of the Polytechnic University of the Philippines is the highest paid SUC president, with almost Php3.5 million in salaries and allowances in 2015. A far second is the president of Don Honorio Ventura Technological State University in Central Luzon, who was paid Php2.6 million in 2015.
The president of the University of the Philippines (UP) System, which prides itself as the country's top university, was paid only Php1.8 million, the 22nd in the list. With a student population of 71,507 as of 2016, UP is only second to PUP, which has an enrollment figure of 79,372, according to Commission on Higher Education data. 
See the table in this page for a list of the 30 highest paid SUC presidents.
ADVERTISEMENT - CONTINUE READING BELOW
Related story: Believe It Or Not: College Professors Paid Less Than Some Unskilled Workers  
*****
Pauline Macaraeg is Entrepreneur PH's data journalist. Follow her on Twitter @paulinemacaraeg