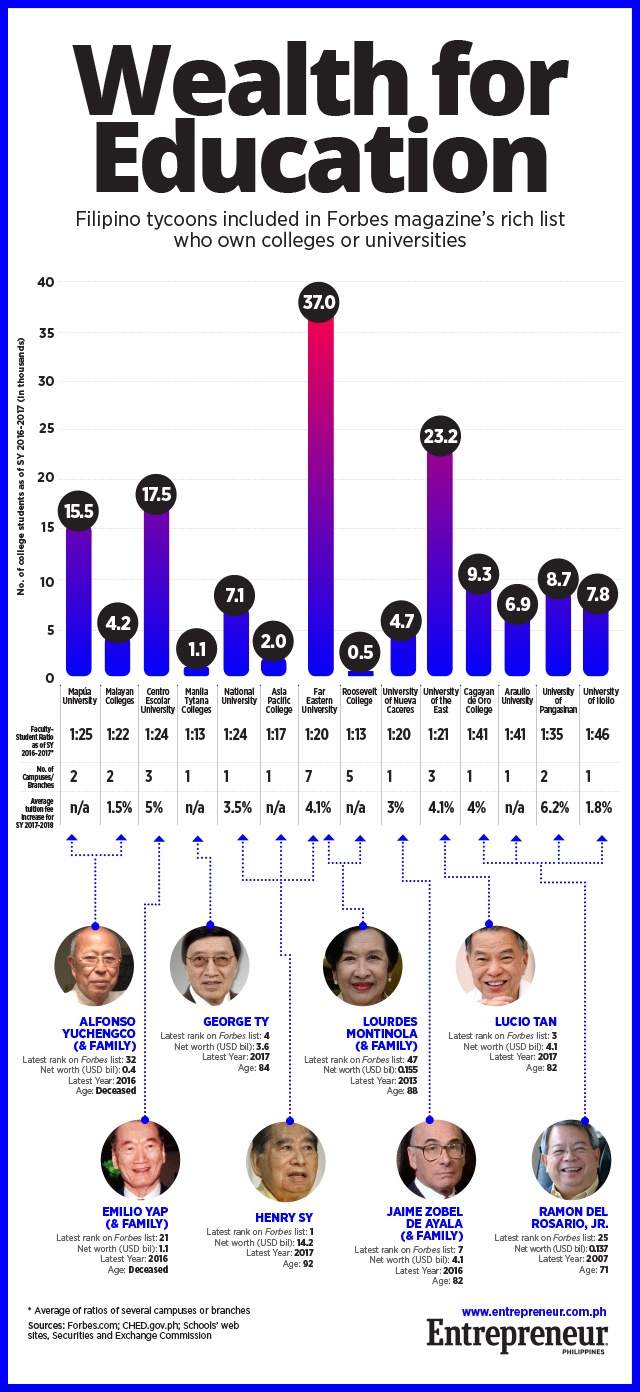 It was 16 years ago when most of the country's richest tycoons, as ranked by Forbes magazine, bought or set up private colleges and universities. This came after they built huge fortunes in property, banking, manufacturing and other industries.
Many of them are already involved in education by giving money to foundations and funding scholarship programs and construction of schools and classrooms. But for some, that wasn't enough. They also want to own and possibly run a higher educational institution.
ADVERTISEMENT - CONTINUE READING BELOW
Today, out of the 72 tycoons who made it to Forbes' billionaires and rich lists since 2006, eight own stakes in 14 colleges and universities around the country. The total combined population of these schools is about 145,000 students, according to the Commission on Higher Education (CHED).
Ramon Del Rosario, Jr., president and CEO of PHINMA Corporation, leads the pack with the most number of schools owned—three universities and one college. Henry Sy, Sr., the country's richest man, comes second with three schools.
Majority of the tycoons bought stakes in the schools only in the last 16 years. The most recent acquisition was Roosevelt College, which was bought by the Montinola family last year for Php1 billion. The family already owns Far Eastern University (FEU), one of the country's first private universities. The family is led by the matriarch Lourdes Montinola, who also serves as Far Eastern University's chair emeritus.
On May 30, the CHED approved increases in tuition and other fees for 268 private schools nationwide for school year 2017-2018. Nine out of the 14 schools owned by the rich-listers will implement higher fees this coming school year.
ADVERTISEMENT - CONTINUE READING BELOW
*****
Pauline Macaraeg is Entrepreneur PH's data journalist. Follow her on Twitter @paulinemacaraeg