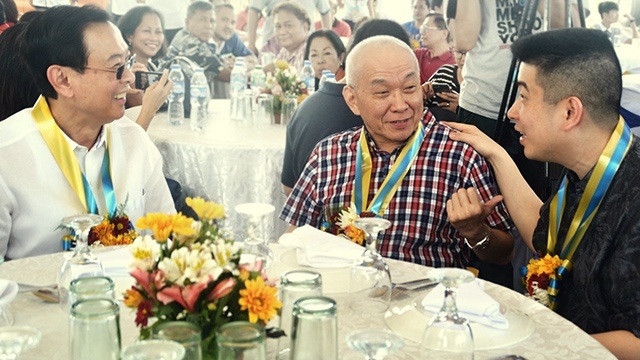 Eusebio Tanco (center) with Jollibee's Tony Tan Caktiong and Edgar "Injap" Sia
Among the 50 business tycoons who made it to US business magazine Forbes' latest list of the Philippines' richest people, only one is a complete newcomer to the list.
Eusebio Tanco, who placed 45th in the list with a net worth of $150 million, is the chairman of listed education firm STI Education Systems Holdings Inc. According to Forbes' write-up on its website, most of Tanco's wealth is credited to STI's 136-percent stock price growth over the past year, "thanks to an expanding demand for courses in fields such as information and communication technology, and business and management." The company has a market capitalization of Php14.4 billion as of August 25, 2017.
Related story: Who's In or Out, Who's Up or Down in Forbes List of 50 Richest Filipinos?
Tanco acquired a stake in STI back in 2010. According to the company's latest public ownership report, Tanco owns 14.81 percent of STI's 9.9 billion outstanding shares. However, he is also the chairman of Prudent Resources Inc., STI's biggest identified shareholder that has a 16.35-percent stake in the company.
ADVERTISEMENT - CONTINUE READING BELOW
Since the launch of its first school in 1983, STI has grown to a network of 76 campuses in the Philippines, half of which is franchised. STI also acquired West Negros University in Bacolod in 2013 and iACADEMY in Makati last year, adding two more schools to its portfolio.
For the year ended March 31, 2017, STI's consolidated revenue increased by 13.8 percent year-on-year to Php2.9 billion. This school year, the STI network's student body consists of over 105,000 enrollees.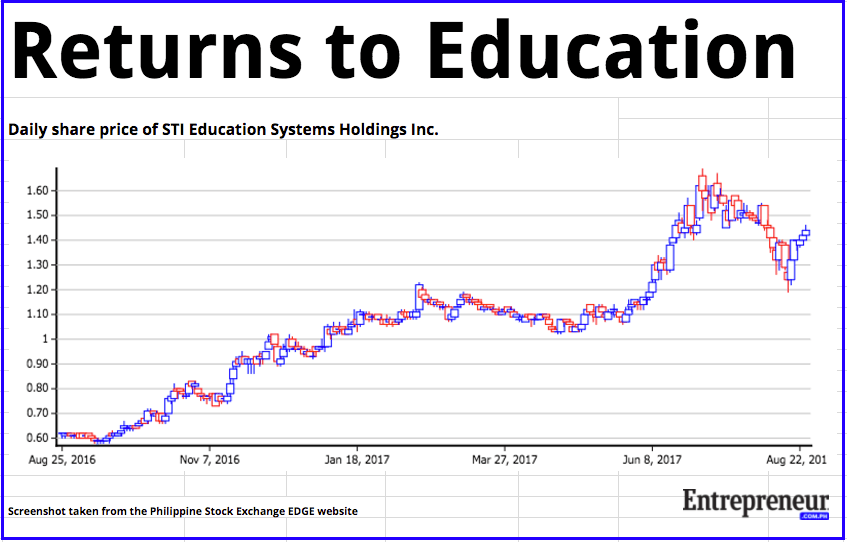 Aside from STI, Tanco is a member of the board of three other listed companies: ports operator Asian Terminals Inc. and gaming firms Leisure and Resorts World Corp. and Philippine Racing Club Inc. An Economics major who took graduate studies at the London School of Economics, Tanco is also a director of the Philippine Stock Exchange and the chairman of non-life insurance company Philippines First Insurance Co. Inc.
Tanco's inclusion in this year's rich list highlights the noteworthy number of Filipino tycoons with investments in education. Henry Sy Sr., the Philippines' richest man for 10 consecutive years, has stakes in three different schools.
ADVERTISEMENT - CONTINUE READING BELOW
Related story: Who are the Philippines' Richest School Owners? 
*****
Lorenzo Kyle Subido is a staff writer of Entrepreneur PH