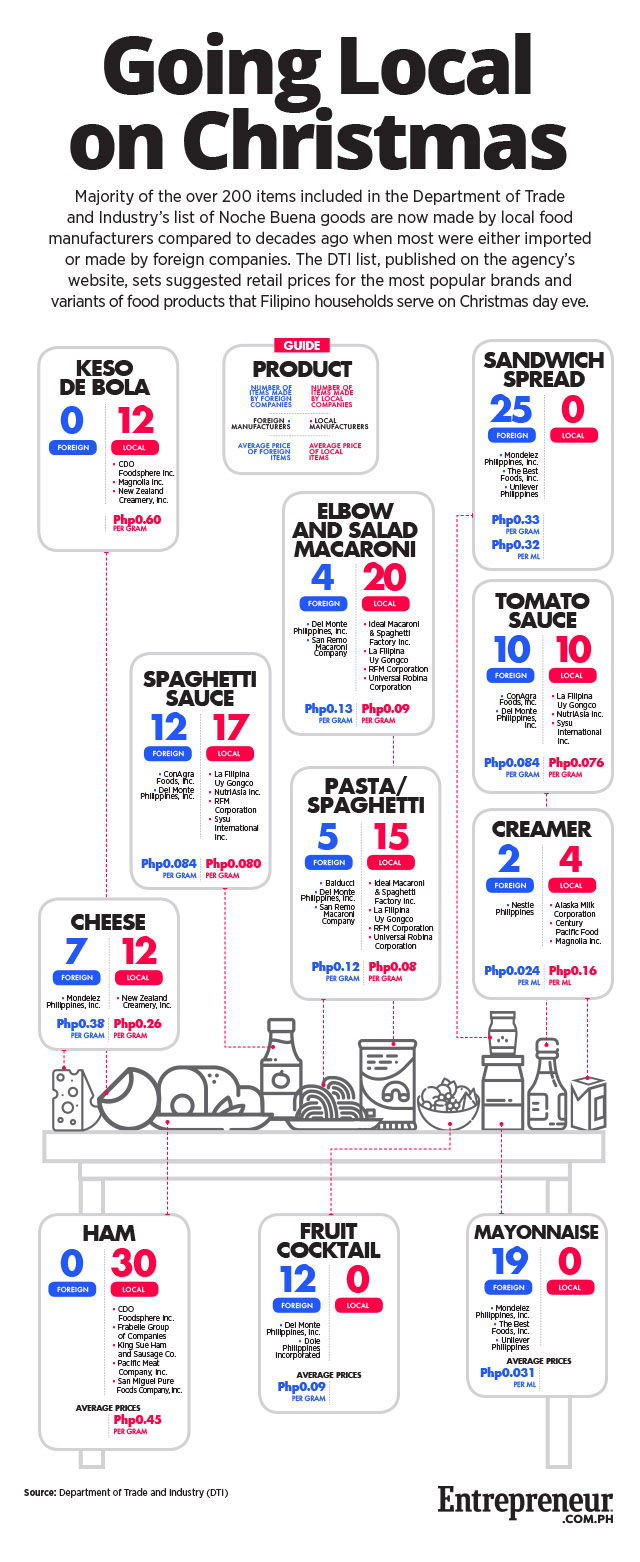 Each year, the Department of Trade and Industry (DTI) releases a list of the suggested retail prices of the most popular brands and variants covering the 11 food items that are served or used to prepare dishes for the noche buena, the Christmas eve meal. These range from cheese and creamers all the way to hams, spaghetti sauce and even sandwich spreads.
ADVERTISEMENT - CONTINUE READING BELOW
Decades ago, most—if not all—of the popular and available brands for these food items are either imported or made by foreign companies. Back then, even stuff such as cheese or spaghetti noodles and sauces weren't manufactured locally.
How things have changed. A close look at the DTI's latest list of brands and variants of 216 Noche Buena food items revealed that 120, or 56 percent, were made by local companies. In contrast, only 44 percent or 96 items are made by foreign multinationals.
The infographic on this page lists both the foreign and local companies that manufacture the most popular Noche Buena items in the DTI list. It turns out there are just 25 companies who make all of the 216 items: 15 of them are local companies, while nine are foreign.
A comparison of the average prices of local and foreign-made goods shows that the latter costs from five to 44 percent more than the former. Whether the price difference is an indicator of quality or efficiency is something for consumers to decide.
ADVERTISEMENT - CONTINUE READING BELOW
*****
Pauline Macaraeg is Entrepreneur PH's data journalist. Follow her on Twitter @paulinemacaraeg