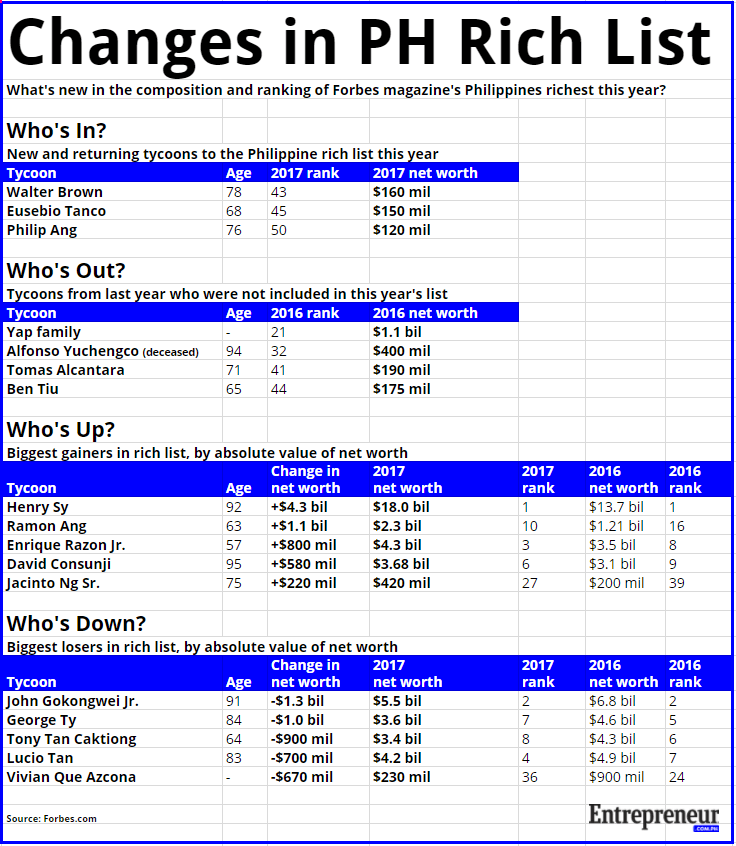 Overall, the cumulative net worth of tycoons in Forbes magazine's 2017 list of 50 richest Filipinos fell by seven percent to $73.9 billion from a high of $79.5 billion last year as share prices of their listed companies fell in the year to August 2017. The average wealth of the tycoons fell to $1.48 billion from $1.59 billion last year.
ADVERTISEMENT - CONTINUE READING BELOW
Still, 17 of the rich listers saw their fortunes rise, accounting for half of the cumulative fortunes of the country's 50 richest, according to Forbes. "The gainers hailed from a wide range of sectors, from finance and media to food and beverage, and logistics. But most represented were those whose interests relied heavily in property development and construction," it added.
The biggest gainer in absolute terms was Henry Sy Sr., whose net worth surged to $18 billion, up from $13.7 billion in 2016 and more than triple that of the closest runner-up. Sy's SM Investments "recapitalized to expand its retail malls at home and in China, and stock investors approved. Among other new plays, the company bought into a chain of dormitories to house a rising student population," said Forbes.
Related story: SM Group Founder Henry Sy Sr. is PH's Richest Person for 10th Year in a Row
Forbes also reported that seven of the 10 biggest dollar gainers are also in construction and property development. These include David Consunji of DMCI Holdings, Edgar Saavedra and Michael Cosiquien of Megawide Construction and San Miguel's Ramon Ang, whose Eagle Cement was listed in May, doubling his net worth.
ADVERTISEMENT - CONTINUE READING BELOW
The rich list saw the entrant of a new tycoon this year in Eusebio Tanco, who credits a majority of his wealth to education firm STI Holdings. Returning to the list after being absent last year were mining magnates Walter Brown and Philip Ang.
Two other new entrants in the list are Erramon Aboitiz and siblings Jon and Mikel Aboitiz, but they are not unfamiliar faces. Rather, Forbes listed the Aboitizes, who controls diversified conglomerate Aboitiz Equity Ventures, as one family in previous rich lists, but has listed them separately this year.
*****
Lorenzo Kyle Subido is a staff writer of Entrepreneur PH