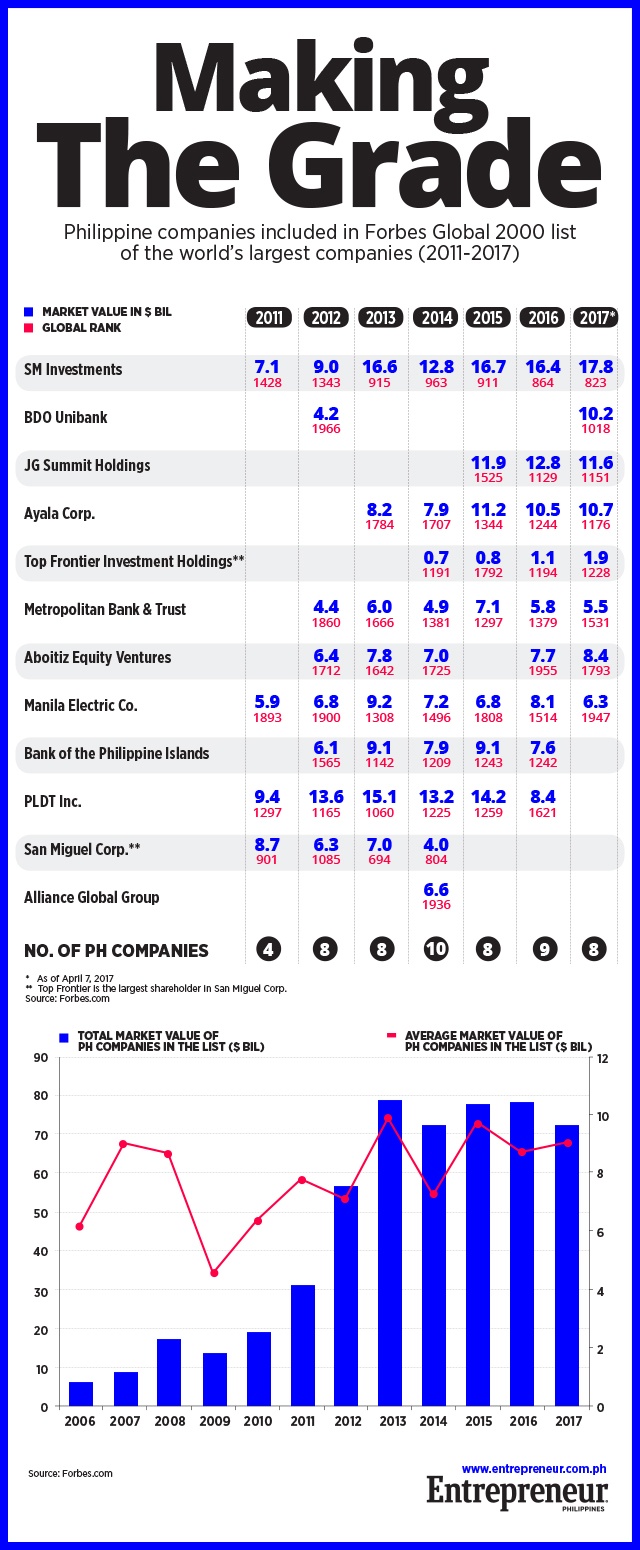 Eight Philippine corporations made it to Forbes magazine's 15th annual listing of the world's 2,000 largest public companies by market value, the Global 2000.
That is one less than the nine companies that made last year's list.
Returning to the list after being absent in the past four years is BDO Unibank, the financial arm of Henry Sy's SM Group. BDO ranked 1,018th in the list, the second highest among the eight Philippine companies, with a market value of $10.2 billion. It was last included in the list in 2012 when it ranked 1,966th.
ADVERTISEMENT - CONTINUE READING BELOW
BDO's interest income grew 14 percent to Php82 billion last year, which the company attributed to "expansion in customer loan portfolio as well as improvement in funding mix," it said in its latest annual report. As of end-April, its share price grew by 20 percent year-on-year. 
BDO's largest rival by market capitalization, the Ayala-owned Bank of the Philippine Islands (BPI), failed to make it to the list this year after being included in the last five listings. BPI also saw growth in interest income and share price, though they were slightly smaller than BDO's growth at 11 percent and 16 percent respectively.
Also dropping out of the list this year is telecommunications giant PLDT Inc., which has been on the Global 2000 list for the past 11 years, longer than any other Philippine company. The telco's revenues fell by three percent year-on-year in 2016 while its net income also dropped by nine percent. Its share price fell to a low of Php1,260 in December 2016, but it experienced a three-percent increase year-on-year as of end-April.
ADVERTISEMENT - CONTINUE READING BELOW
Related story: 3 Ways MVP is Planning to Turn PLDT's Fortunes Around 
Seven other Philippine companies remain in the Global 2000 from last year's list. BDO parent company SM Investments is the highest-ranking Philippine company for the third year in a row with a market value of $17.8 billion. All in all, the eight Philippine companies on the list have a total market value of $72.4 billion.
The Global 2000 is Forbes' annual listing of the world's 2,000 largest publicly listed companies. Aside from market value, the US-based magazine also looks at the company's profits, sales and assets before making the definitive ranking. Leading the global list for the fifth consecutive year is the Industrial and Commercial Bank of China with a market value of $229.8 billion. All companies on the list have a combined market value of $48.8 trillion.
"The 2017 Global 2000 is bigger and more valuable in the aggregate than last year's list," said Forbes Senior Investing Producer Corinne Jurney. "The list as a whole is significantly more valuable from the year prior, with aggregate market capitalization up 10 percent."
ADVERTISEMENT - CONTINUE READING BELOW
*****
 Lorenzo Kyle Subido is a staff writer of Entrepreneur PH