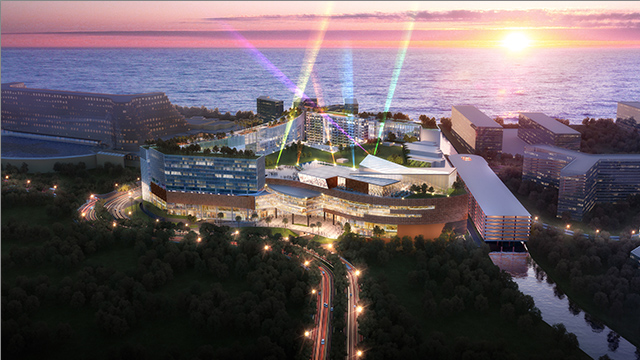 Artist's sketch of "NayonLanding," the planned integrated leisure and casino resort project of Landing International Development Limited and the Nayong Pilipino Foundation
Just before noon on Tuesday, August 7, former Nayong Pilipino Foundation Chairperson Patricia Ocampo thanked Landing International Development Limited, the Hong Kong-based company set to partner with the government-funded foundation for an integrated leisure and casino resort in Parañaque City, during her opening speech at the groundbreaking ceremony of the project.
ADVERTISEMENT - CONTINUE READING BELOW
"It was only the Landing Group that embraced our entire concept. And that is why our whole board is 200 percent supporting [Landing Group] Chairman Yang," Ocampo said. "I look forward to a very long future together."
"NayonLanding" is expected to cost $1.5 billion to build with its first phase set to open in the first quarter of 2022.
Related story: (LOOK) The $1.5-Billion Project that Got Nayong Pilipino Board Members Sacked
But just minutes after her speech, Presidential Spokesman Harry Roque announced in a press conference in Malacañang Palace, that President Rodrigo Duterte is firing all board members of Nayong Pilipino due to a "grossly disadvantageous" leasing agreement with the foreign company.
"The President expressed his exasperation that corruption happens even in his administration. He cited the case of Nayong Pilipino which leased a government property for a ridiculous long period of time of 70 years beyond the lifetime of anyone," Roque said.
ADVERTISEMENT - CONTINUE READING BELOW
According to the Philippine News Agency, Roque said President Duterte would also want the leasing agreement to be cancelled.
Immediately after the groundbreaking ceremony, all officers of Landing International including Ocampo and Philippine Amusement and Gaming Corp (PAGCOR) Chairman Andrea Domingo left the event.
In a statement, Ocampo denied the accusation against her and Nayong Pilipino that there was corruption involved in the deal with Landing.
"I strongly deny accusations that there were graft and corruption," she said. "On the contrary, the lease contract with Landing International Development Ltd. is above-board, and is highly advantageous to the government and to the Filipino people," she said.
While Roque did not clarify the exact project referred to by the President that resulted in the firing of the Nayong Pilipino board, Landing defended the NayonLanding project as it believes it is a "valid leaseholder." The company said it intends push through with the project.
ADVERTISEMENT - CONTINUE READING BELOW
"Unless the lease contract is cancelled or nullified on solid legal grounds by the courts, Landing has reason to believe that it is a valid leaseholder and can legally proceed with its project," the company said in statement as reported by Reuters.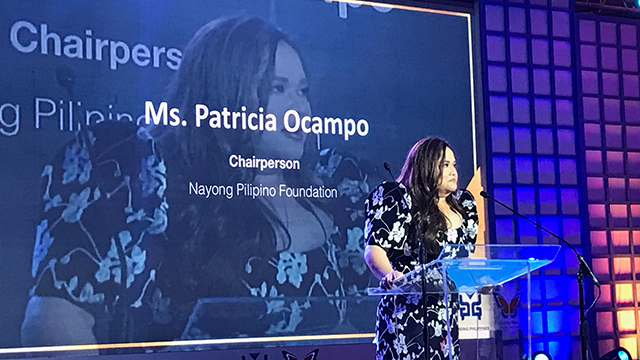 Nayong Pilipino Foundation Chairperson Patricia Ocampo delivers a speech at the groundbreaking. She was sacked by the President just minutes later
ADVERTISEMENT - CONTINUE READING BELOW
The 610,000-square meter integrated resort is set to be erected on a 10-hectare government property owned by Nayong Pilipino, which is located in Aseana Entertainment City in Parañaque or what would be fifth casino complex to be constructed in the area. The others are Solaire Resort and Casino, City of Dreams, Okada Manila and Bayshore City Resorts World.
In a press conference held earlier that day, Landing Chairman Dr. Yang Zhihui said the project would feature a 200,000-square-meter casino, occupying three floors of the complex. That's about the same size of the gaming facilities occupied in Solaire Resort & Casino, its next-door neighbor.
Still, Zhihui contended it would be a "family entertainment complex" as a third of its facilities would be for leisure.
"You would find that our non-gaming component is expected to be quite significant. It will not be 99% casino," he said. "Just based on what we are doing in Korea, 1/3 [of the resort] will be non-gaming."
ADVERTISEMENT - CONTINUE READING BELOW
Zhihui said the resort would feature one of Asia's largest indoor movie-themed park, a water park, a Filipino-inspired amphitheater and a 5,000-square-meter ballroom. Its hotel component will also have 1,500 rooms available.
The development, first dubbed as the "New Nayong Pilipino at Entertainment City," was a Public-Private Partnership project (PPP) introduced under the Aquino administration. It was one of the first two PPP projects approved by the Duterte administration during his first year in office. By February 2017, the government pitched the PPP project to private companies.
The government did not share any updates regarding the project until Landing released a statement in April 2018 that the local government of Parañaque had approved its proposal to build an integrated resort in Aseana Entertainment City. By July 25, the company announced its local subsidiary was granted a provisional gaming license by PAGCOR.
Landing is a fairly new company as its flagship integrated leisure and entertainment resort project, Jeju Shinhwa World in Jeju Island in South Korea, opened only in March 2018. If it pushes through, NayonLanding would only be the second resort complex to be constructed and operated by the company.
ADVERTISEMENT - CONTINUE READING BELOW
*****
Elyssa Christine Lopez is a staff writer of Entrepreneur PH. Follow her on Twitter @elyssalopz