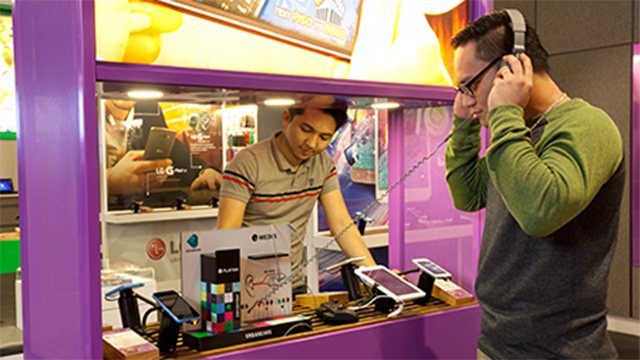 For nearly half a decade, local telecommunications giant, Globe Telecom Inc., has managed to buff its sales of phones along with their attendant frills—and it did so by taking great strides to sell something else.
Nowadays, "[we] don't just sell you phones," said Joe Carilo, the company's head of retail transformation and management. "[We] sell what that phone can do for you. What we sell are the possibilities."
ADVERTISEMENT - CONTINUE READING BELOW
Speaking on the first day of the 23rd National Retail Conference held at the SMX Convention Center in Pasay City, Carilo said that the company has managed to up its game through the new range of Globe stores that have been popping up in different parts of the Philippines since 2014.
ADVERTISEMENT - CONTINUE READING BELOW
An example he cited was the company's Gen 3 stores, interactive spaces designed to showcase the capacity of Globe's latest gadgets. And then there's Globe's flagship Iconic Store in Bonifacio Global City; more than a traditional retail outfit, the two-part store linked by a conspicuous glass bridge was designed not just to sell Globe's products but also to serve as a venue for shows and a number of on-ground events.
And while all this was going on, the company has garnered the attention of its consumers. It has seen the transformation of its stores from places of transaction to actual lifestyle destinations frequented by people. It has also managed to increase the average monthly sales of its stores from 2015 to 2016 by about 26 percent. Meanwhile, available figures showed that the revenue growth of Gen 3 stores has also managed to outpace the growth of Globe's regional stores by 448 percent. Such figures, according to Carilo, justified the changes which he jokingly called "insane."
ADVERTISEMENT - CONTINUE READING BELOW
"But if you think we're going to stop there," Carilo said, "no."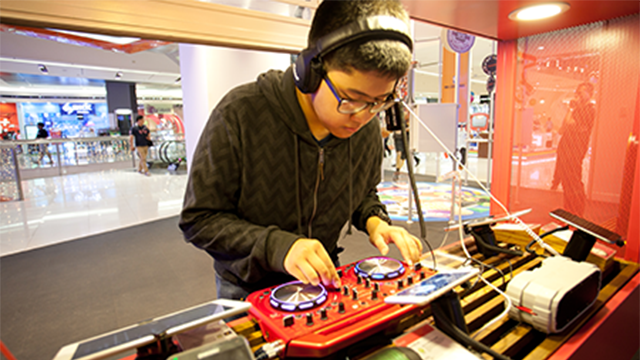 The new 'gen' of Globe stores
According to Carilo, the transformation of Globe outlets began about six years ago. Prior to the changes, Globe had what Carilo called "transactional stores" with fake phones on display and limited interactivity.
ADVERTISEMENT - CONTINUE READING BELOW
"It was third world, people," he exclaimed before the conference's crowd. "What were we thinking?"
In an effort to revolutionize this model, Globe became among the first telecom companies in the Philippines to display actual working phones in its stores, a step that came with the launch of its Gen 2 outlets. "It wasn't very novel to the rest of the world," Carilo admitted but he added that it was "revolutionary in the Philippines." It also set up the stage for Globe's massive transition to the Gen 3 store, an upgrade that came just in time for the looming prevalence of smart phones and the rise of a new meta-altering cash cow for telecommunications companies: data usage.
"Gen 3 [was] radical," Carilo said. And when it was launched in 2014, it had at least one goal in mind: "to change the [telecom] industry."
Designed by Tim Kobe, the founder and CEO of the Eight Inc. group responsible for the Apple Stores and Nike pop-up stores, Globe's Gen 3 store was the company's first major step to being what Carilo called "a content company." Outside each of these stores were freestanding sculptures made to engage people and inside were novel alterations that allowed the public to interface with Globe's technology. The movable elements within such stores also gave it the capacity to be altered almost every quarter to fully maximize the promotion of trending gadgets.
ADVERTISEMENT - CONTINUE READING BELOW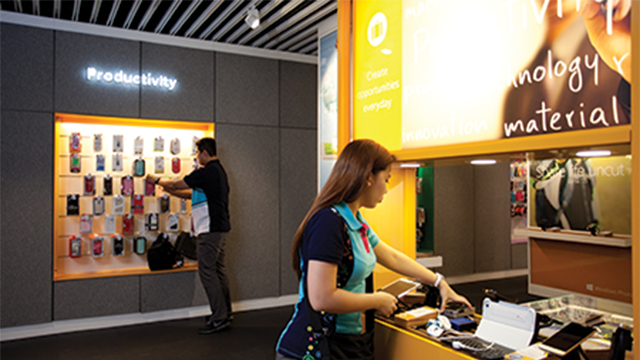 "In each of the zones [of the store], I can sell you products and the way you use them as opposed to just displaying products," Carilo said.
In line with these alterations, Carilo said that Globe also worked to improve the capacity of its sales staff. It even went so far as to hire a tour guide to train prospective Gen 3 personnel in providing engaging, more personalized service to multiple customers.
ADVERTISEMENT - CONTINUE READING BELOW
"If you do not change your employees, you will not change your retail," Carilo pointed out.
And Globe's retail has changed. When the two maiden Gen 3 stores launched simultaneously in SM North EDSA and the Limketkai Mall of Cagayan de Oro, the company introduced its consumers to new interiors, new gadgets and new lifestyles that can be availed of such through gadgets. As a content company partnering with the likes of Spotify, Viber and Google, it has also managed to remain relevant to a more net-savvy generation of customers. But Gen 3 was merely a preview—at least that's how it appears when placed side by side Globe's current flagship store.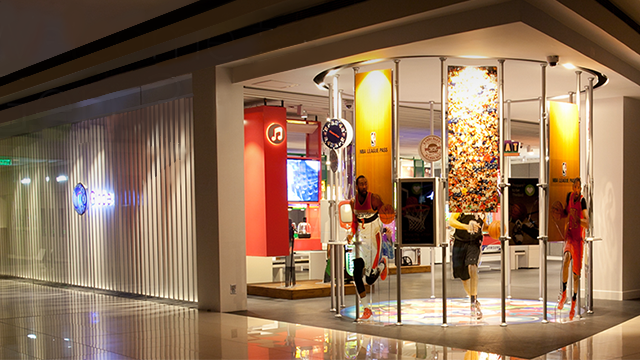 ADVERTISEMENT - CONTINUE READING BELOW
Setting the stage
During his talk at the National Retail Conference, Carilo said that when you are one of the leading companies in your industry, you have the right to open "an iconic store," a destination that serves as your best foot forward. And as the company made its way towards the next generation, its best foot landed on the heart of BGC.
"Global brands have launched iconic stores as a lynchpin of their retail presence," so it was written on the Carilo's conference presentation. And Globe's iconic store in BGC was created to live up to that standard.
Also designed by Kobe, the iconic store with all its features allows Globe to create a venue that displays the content that one can avail of through its technology. It is a massive, on-going advertisement of Globe's capacity and has, since it launched, been significantly successful in catapulting the company's brand. The iconic store was launched with the staging of the critically acclaimed stage play, American Idiot. Carilo noted, "We actually generated more revenue PR than any event that Globe has done with the exception of Madonna."
ADVERTISEMENT - CONTINUE READING BELOW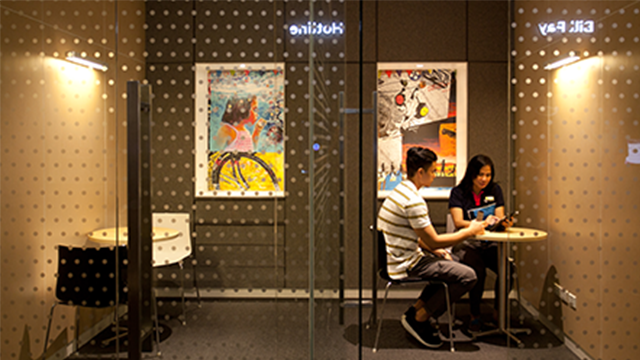 Continuing Globe's on-going evolution, the Iconic Store also opened the doors for future prospects. For instance, Globe's full-on foray into the entertainment industry. Just this year, the company has launched both Globe Live and Globe Studios, two names that will be producing original shows and live events for the company.
ADVERTISEMENT - CONTINUE READING BELOW
The arrival of these new players also coincides with Globe's recent success in bolstering its partnerships. This year, it became the first mobile and broadband partner of Netflix in the Philippines. It also managed to nail a partnership with both Disney and Sports Illustrated. All these tie-ups are expected to improve Globe's content provision in the future. And some of that said content would be featured in the Iconic Store.
"The attempt of the iconic store is to bring world class events into BGC for free," Carilo said. He explained that the company is doing this because it wants "people to experience things that they haven't experienced before."
"If you enjoy it, then maybe the next time you experience it, you'll pay for it," he said. And what supports this belief is Globe's recent performance in the market—a substantial uphill climb in sales that started when this telecommunications giant made the call for change.
ADVERTISEMENT - CONTINUE READING BELOW
*****
Angelo Cantera is a journalist who has been covering the lifestyle, travel and business-lifestyle beats for some of the country's major newspapers and magazines. He has worked for The Manila Times and has served as associate editor of asianTraveler Magazine. Also a lensman, he occasionally does photography for his own travel assignments.