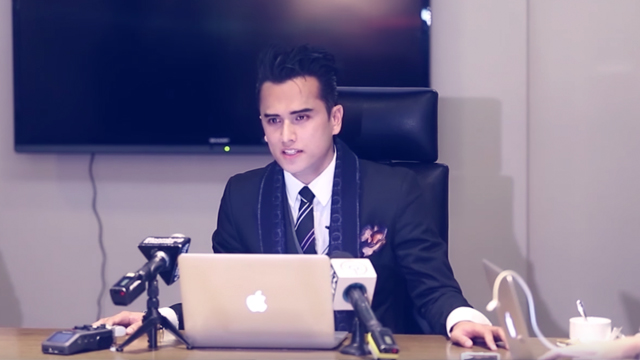 The Securities and Exchange Commission (SEC) has issued a cease and desist order (CDO) against four companies owned by businessman Joseph Calata, the chairman of formerly listed firm Calata Corp. The order aims to block them from selling cryptocurrencies or tokens in the Philippines to raise money for Calata's new online farm trading platform called KROPS.
ADVERTISEMENT - CONTINUE READING BELOW
The four Calata-owned companies—Black Cell Technology Inc., Black Sands Capital Inc., Black Cell Technology Ltd. and KROPS—were barred from "engaging in activities of selling and/or offering for sale securities" in connection with an ongoing initial coin offering (ICO) of KROPS. The platform was built by Black Cell Technology Ltd., a startup owned by Calata but incorporated in Hong Kong.
The SEC move is a big blow to Calata, who was just permanently disqualified by the Philippine Stock Exchange (PSE) from being a director or officer of any listed company in December 2017. He was founder and CEO of Calata Corp., which was delisted from the stock exchange for failing to disclose material information.
Before the delisting of his flagship firm, Calata was considered somewhat of a business legend for being the youngest founder of a small business that grew large enough to be listed at the stock exchange. Some publications called him the country's "youngest billionaire" and "youngest tycoon."
ADVERTISEMENT - CONTINUE READING BELOW
"The investing public should be wary of an ICO where the issuer has pending criminal and administrative cases, e.g. for violation of disclosure rules imposed by the Commission," wrote the SEC, referring to Calata.
KROPS is currently raising up to $45 million in funding through an ICO of its own cryptocurrency called KropCoins, which can be used to acquire shares of stock in Black Cell Technology Ltd. as well as to fund buying and other transactions on the KROPS platform.
An ICO is a fundraising activity done by startups to promote and sell their own cryptocurrencies. Similar to Bitcoin and Etherium, these digital tokens are often used as a medium of exchange in a startup's digital platform, offering several benefits over using traditional fiat currencies.
According to KROPS' whitepaper, the company has signed up over 6,400 farmers and buyers as well as an inventory worth over $290 million. Its website states that it has sold 3.9 million tokens in its presale, which started last December 15.
ADVERTISEMENT - CONTINUE READING BELOW
The SEC order prevents the four Calata companies from soliciting investments in the Philippines for KROPS' coin offering. It doesn't stop the ICO itself, which is being done by a company based in Hong Kong.
In an advisory on its website, KROPS acknowledged that KropCoins or tokens may not be sold to citizens or residents of some countries.
"The following token sale is not open for American citizens and/or US residents. It is also not open to any citizen or resident of a country that does not allow participation," said the advisory.
In its order, the SEC explained that Black Cell Technology did not have a secondary license to sell securities to the public. It explained that it considers the KROPS tokens or KropCoins to be securities because they are convertible to shares in Black Cell Technology Ltd.
"The continued public offering and sale of the KROPS Tokens and/or KropCoins without the required license from the Commission makes the public offering and selling a continuing illegal act," wrote the SEC. "The SRC (Securities Regulation Code) is explicit that, as a general rule, securities should be registered with the Commission before being offered or sold to the public in order to protect the investing public from worthless securities."
ADVERTISEMENT - CONTINUE READING BELOW
The SEC's ruling on the KROPS ICO followed a statement it issued last December 29 that warned the public against "pyramid schemes disguised as ICOs," following the increased public interest in cryptocurrencies from Bitcoin's surging price.
However, the SEC also clarified that it is not banning initial coin offerings. "ICOs are not banned in the Philippines. We don't want to stop this kind of tech. But if these cryptocurrencies fit the description of securities, they must be registered first. Calata has not registered his ICO. He must stop soliciting," the ABS-CBN News Channel (ANC) quoted the SEC as saying.
In an interview aired by ANC, Calata criticized the SEC move saying that what his company is offering is cryptocurrency, not equity. "We're not offering securities. This is a token," he said, adding that the KROPS app has already been downloaded in 150 countries.
He also decried the SEC's warnings to investors to be wary of the ICO because of his previous infractions. "That is unfair. They can't say that just because my company was delisted, all my future business ventures will be questionable," he said.
ADVERTISEMENT - CONTINUE READING BELOW
Related story: Don't be a Victim of Get-Rich-Quick Scams Using Bitcoin and Other Virtual Currencies: Tips from the BSP and SEC 
*****
Lorenzo Kyle Subido is a staff writer of Entrepreneur PH