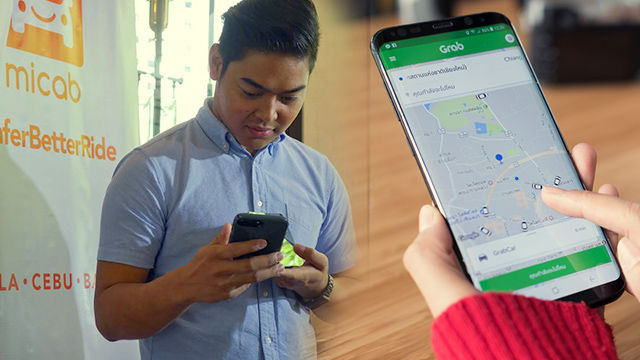 Eddie Ybañez is the co-founder and CEO of taxi-hailing app Micab
When you try to book a cab or a private car through one of the new transportation network companies (TNC) granted approval to operate in Metro Manila recently, and have trouble getting one, your first thought is probably that it's an operational problem. Perhaps the TNC does not have enough cars on the road. Maybe there are too few cars in your particular area. Or perhaps there is just too much demand from passengers.
ADVERTISEMENT - CONTINUE READING BELOW
Related story: Are the New Ride-Hailing Services in Metro Manila Making a Difference?
While all of the above reasons may be true, there is an increasingly common reason that the public does not know about: phantom bookings. These are instances when a taxi or car will be hailed via a TNC's app to a particular location—oftentimes out of the way such as a home deep inside a subdivision—only for the user to cancel when the driver arrives. In other cases, the user may just not contact the driver at all, letting him aimlessly wait outside the pick-up location.
Why would a user do this to a driver, who wastes time and money getting to the pick-up point? No, this is not a mean YouTube prank. These phantom bookings are made from fake profiles, backed by a team who creates them and coordinates their use. The scale of these phantom bookings are staggering. On June 28, 2018, Singapore-based ride-hailing company Ryde revealed that they had been hit by 2,000 phantom bookings from 300 fake accounts, totaling to a staggering loss of 50,000 Singapore dollars for the drivers and company.
ADVERTISEMENT - CONTINUE READING BELOW
The scarier part about Ryde's phantom bookings is the culprit. After investigating the matter further, Ryde traced all of the phantom bookings to IP addresses associated with Grab, their ride-hailing competitor. Ryde thus alerted the authorities, and now the police are investigating Grab.
Grab said they are investigating the matter further, but these statements may be merely lip service: phantom bookings increasingly seem like a standard operating procedure (SOP) for Grab to use against competitors across all its markets.
How do I know this? I know from first-hand experience. My taxi-hailing platform, Micab, has also been hit by a wave of phantom bookings since our nation-wide launch earlier this year, with more than 29,000 alone since June. Our investigations also point to Grab as the culprit. After each phantom booking, our drivers will receive a call a few minutes later inviting them to join an orientation for Grab drivers. The numbers that our drivers get calls from are sequential, and the only way to get their numbers is through the Micab app. I have no doubt that other TNCs have experienced or will experience the same phantom bookings
ADVERTISEMENT - CONTINUE READING BELOW
What I would like to make clear is that phantom bookings do not only hurt the TNC or their drivers; they affect the riding public, most of all. Think of it as an opportunity cost. When a phantom booking is made, the taxi or private car will have to go to the pick-up point and wait for that passenger that will never appear or even call.
In this same amount of time, the driver could have served other passengers who legitimately needed a vehicle to get to their destination. Instead, because of the strain on the TNC's platform, these legitimate passengers may have to try multiple times to book a vehicle, or worse, be unable to get one. So while phantom bookings are made to hurt competitors, they actually hurt the riding public most of all—the very riding public that the perpetrator is said to serve.
Editor's note: In response to our request for a comment, Grab Philippines sent a statement to Entrepreneur Philippines on July 27, which we published immediately. You can read the full statement here 
ADVERTISEMENT - CONTINUE READING BELOW
*****
Eddie Ybañez is the CEO and co-founder of taxi-hailing startup Micab, which recently won accreditation from the Land Transportation Franchising and Regulatory Board (LTFRB) to operate in Metro Manila, Cebu, Iloilo and Baguio cities.