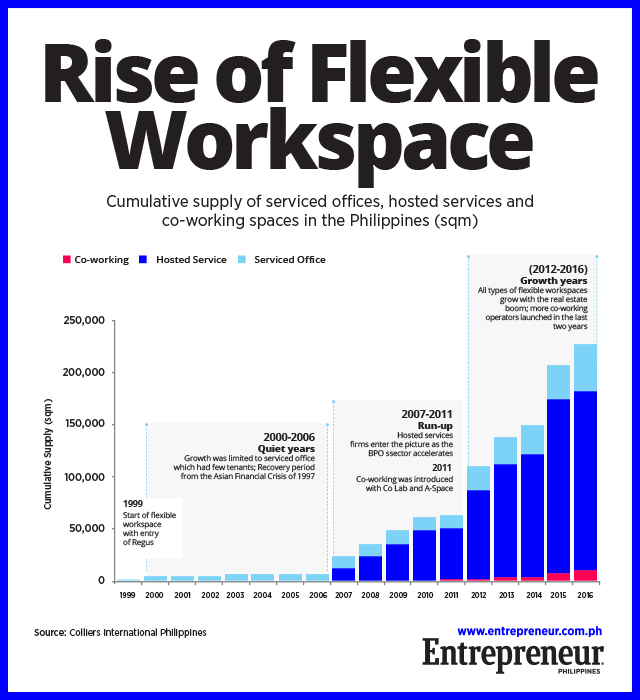 Technology and demographic shifts are changing not only the business landscape but the look and feel of the workplace itself. In the past few years, the traditional office setup with scores, if not hundreds, of tables or cubicles is giving way to a variety of flexible workspaces with a minimum size of just one seat.
ADVERTISEMENT - CONTINUE READING BELOW
In a report published last month, Mining Millennials: Finding Gold in Co-working Spaces, property consultancy firm Colliers International Philippines identified three types of flexible workspaces emerging in the country. These are serviced offices, hosted services firms and co-working spaces.
First to arrive at the scene in the late 1990s were serviced offices that often served as temporary country headquarters of multinational companies setting up shop in the Philippines. Next to come were hosted services in the late 2000s which were popular with business process outsourcing (BPO) facilities. In addition to working spaces, hosted services provided back office and non-core services such as information technology, accounting and others.
The last type—co-working spaces—came in starting in 2011. "Apart from the contemporary design that integrates the comfort of home, the ambiance of your neighborhood cafe, and the functionality of your office, this flexible workspace type differentiates itself by the community it creates," Colliers describes the latest variant of flexible workspaces.
ADVERTISEMENT - CONTINUE READING BELOW
Being a contemporary and relatively inexpensive concept to the Philippine office market, co-working spaces have the potential for fast growth, says Colliers. "Co-working (spaces) provide the cost advantage that is important in a market characterized by increasing rents," it noted in the report. 
In the past four years, average compound annual growth rate of co-working spaces was at 61 percent. In contrast, hosted services expanded by only 19 percent while serviced offices grew by 18 percent.
Accounting for less than five percent of the leasable area of flexible workspaces, co-working spaces have a lot of room for rapid growth, says Colliers. "The potential of flexible workspaces, especially co-working, is undeniable," highlighted Colliers in the report.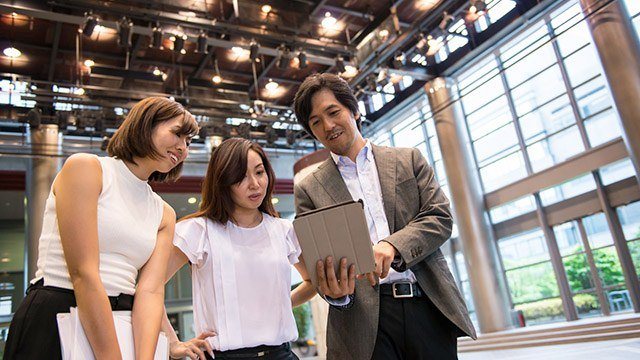 ADVERTISEMENT - CONTINUE READING BELOW
"The growing number of entrepreneurs and MSMEs (micro, small and medium-scale enterprises), as well as demand from traditional companies, will drive this (growth)," added Colliers. It also points to the increasingly millennial-dominant workforce as a big factor for the segment's potential, as the cohort of young adults prefer co-working spaces over more traditional counterparts.
Related story: The Ultimate Guide to Co-working Spaces in the City – Part 1 and Part 2 
Colliers notes that even operators of serviced offices and hosted services are also venturing into the co-working segment. "This is not surprising considering that co-working spaces themselves have offered not just shared offices but private ones as well," said Colliers.
*******
Lorenzo Kyle Subido is a staff writer of Entrepreneur PH