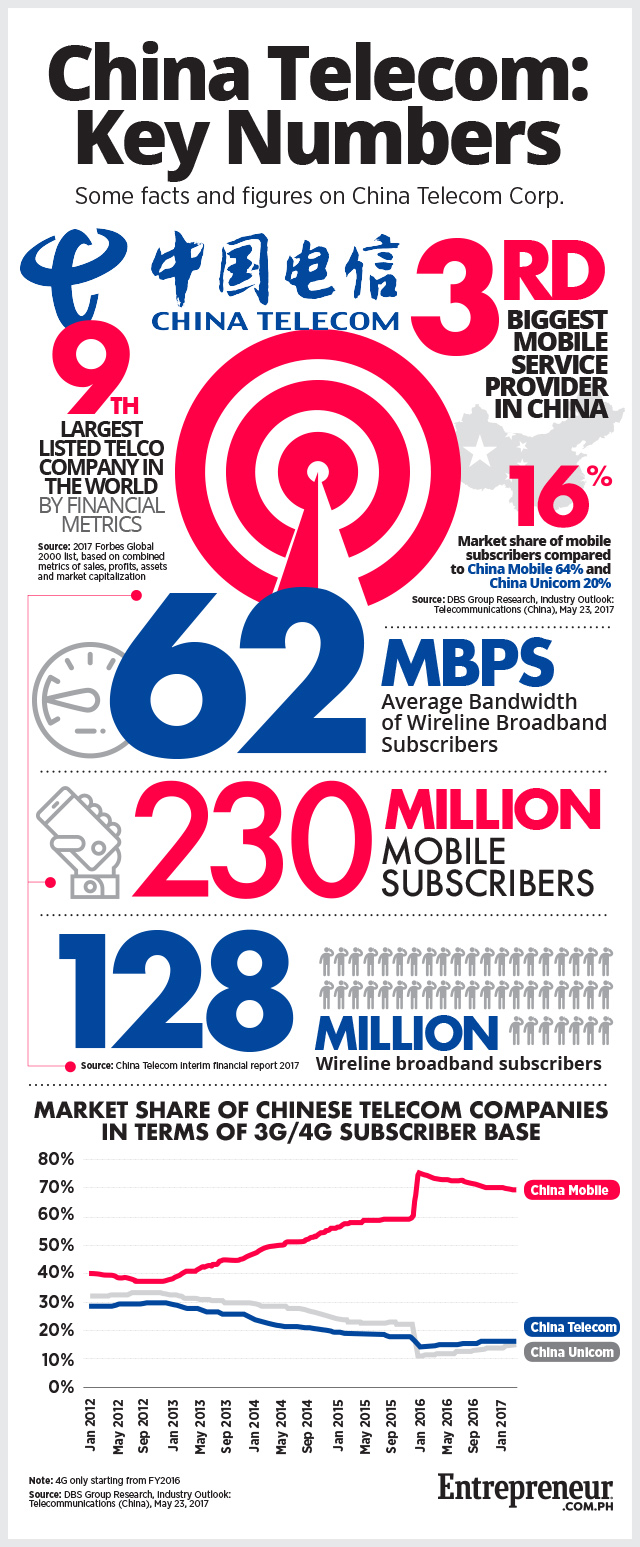 Less than a month after Presidential Spokesperson Harry Roque Jr. announced that President Rodrigo R. Duterte had offered China to be the third telecommunications provider in the Philippines, Presidential Communications Secretary Martin Andanar revealed that the Chinese government had selected China Telecom Corp. Ltd. to enter the Philippine telecommunications industry.
ADVERTISEMENT - CONTINUE READING BELOW
According to Andanar, Information and Communication Technology Acting Secretary Eliseo Rio disclosed the details during the Cabinet meeting last December 5.
The government's move to seek other telco players is aimed to end the longstanding duopoly between PLDT Inc. and Globe Telecoms, which has been repeatedly criticized as the reason for the poor phone and internet services in the country.
Related story: Duterte Turns to China to End PLDT and Globe Duopoly 
Owned by the Chinese government, China Telecom is China's third biggest mobile phone company after China Mobile and China Unicom, also Chinese state-owned firms, according to a May 2017 report of DBS Group Research.
In the report, DBS Group Research said that China Mobile controlled 64 percent of the mobile subscriber market, followed by China Unicom, 20 percent and China Telecom, 16 percent.
Globally, Forbes magazine ranks China Telecom as the world's ninth biggest publicly listed telecom company based on a composite metric that includes sales, profit, assets and market value. It ranks 142nd among the world's largest 2,000 public companies.
ADVERTISEMENT - CONTINUE READING BELOW
Historically, China Telecom used to be the sole telecommunications service provider in China as the operational arm of the Ministry of Posts and Telecommunications. Through a series of restructurings beginning in 1994, partly triggered by popular dissatisfaction with China Telecom's services, the Chinese government's telecoms operations were divided among three state-owned entities: China Unicom, China Mobile and China Telecom.
China Telecom, however, will have to partner with a local investor first before it can set up shop in the Philippines. Under current laws, telecom companies are considered public utilities, which are open only to companies where Filipino ownership is not less than 60 percent.
That may change if Congress passes House Bill No. 5828, which aims to remove telcos among public utilities, thus allowing even fully-foreign owned companies to enter the telecommunications business in the Philippines. Even so, China Telecom will still need to secure a legislative franchise from Congress as well as operating permits from the National Telecommunications Commission (NTC). It will also need to acquire spectrum from other telecom players or the government. The entire process would normally take months, if not years.
ADVERTISEMENT - CONTINUE READING BELOW
*****
Pauline Macaraeg is Entrepreneur PH's data journalist. Follow her on Twitter @paulinemacaraeg