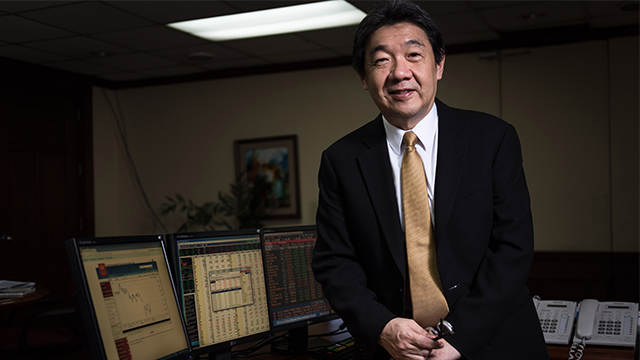 In the preface for his book published last year, Opportunity of a Lifetime: Investment Secrets Behind the Success of Philequity Fund, veteran stock broker and fund manager Wilson Sy looked back on over four decades of investing.
"For more than 40 years, the stock market has been very kind to me," he wrote. "People and circumstances have helped me learn the proper skills and values for successful trading. I have had successes and mistakes in investing, which I hope our readers can learn from as well."
ADVERTISEMENT - CONTINUE READING BELOW
In another sign that the market has truly been kind to him, Philequity Fund, a mutual fund being managed by Sy, has just been chosen as the Best-Managed Peso Equity Fund by CFA Society Philippines, the local chapter of the international association of chartered financial analysts, last November 19.
Other equity funds that vied for the top award were BDO Institutional Equity Fund, the first runner up, and Security Bank Peso Equity Fund, the second runner up.
Apart from serving as equity fund manager at Philequity Management Inc., which runs several mutual funds, Sy is also chairman of Wealth Securities, a stock brokerage that was incorporated in November 1986. It is one of the country's 20 biggest stock brokers.
Cristina Arceo, president of CFA Society Philippines, said during the awards event that a committee of the CFA Society examined the track record of 69 mutual funds and unit investment trust funds sponsored by 18 institutions. Returns from December 31, 2011 to December 31, 2015 were considered, she added. It ranked the funds using a measure of investment performance called Sortino ratio.  "It's the return of the fund less the risk-free return divided by downside deviation," she explained. "It's the equivalent excess return for every risk you are taking."
ADVERTISEMENT - CONTINUE READING BELOW
Unlike the usual return published by mutual funds or UITFs which does not take into account the fund's riskiness, the Sortino ratio is adjusted for negative volatility when returns fall below a specified return rate. Funds with high Sortino ratios still tend to do better than most even during market downturns.
The following table lists the 10 biggest stock holdings and sector weightings of the Philequity Fund portfolio, which reported a total net asset value of Php 12.2 billion as of end-September 2016.
Philequity Fund

 
 

Top 10 Holdings

% of Portfolio

Stocks

Sept 2016

Dec 2015

Ayala Land

7%

7%

SM Prime Holdings

5%

7%

SM Investments Corp.

8%

7%

Ayala Corp.

5%

5%

PLDT

3%

4%

JG Summit Holdings

4%

4%

Universal Robina Corp.

-

4%

Metropolitan Bank & Trust Co.

4%

4%

BDO Unibank

4%

4%

Bank of the Philippine Islands

4%

3%

Aboitiz Equity Ventures

4%

-

 
 
 
 
 
 

Philequity Fund

 
 

Sector Weighings

% of Portfolio

Industry

Sept 2016

Dec 2015

Holding Firms

31%

27%

Property

16%

20%

Industrial

18%

19%

Financials

13%

12%

Services

8%

8%

Mining and Oil

1%

1%

 
 
 

 

Source: Fund Fact Sheets, Dec. 29, 2015 and Sept. 30, 2016