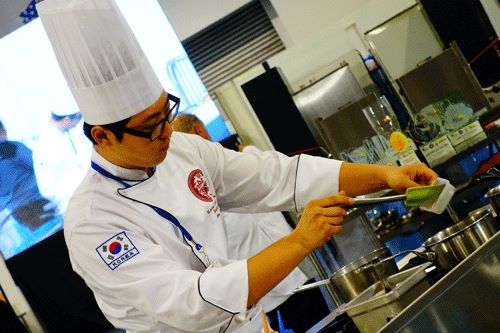 You can tell when a trip to an expo was worth it when you feet hurts, your bag is bulging with flyers and your head is spinning with all the new things you saw. WOFEX 2013 was that kind of expo for me. This is the place to go if you want to open a food business or if you are looking for new suppliers. I got to check out all the booths from some of the country's biggest food retailers. They had samples of their products laid out for tastes tests and you could also buy almost everything on their shelves at discounted prices. I got excited when I learned that a company will be importing the whole Hario line to the country. Hario is a Japanese glassware company famous for their line of coffee equipment.
This was the time I wished I had a data plan on my smartphone because I couldn't search for the new food terms I encountered or the new brands that I saw. The fair was buzzing with food entrepreneurs, foodies and culinary professionals. At the end of hall, there was an all-day cooking competition participated by all the culinary students and teachers from various schools. You could also check out the winning wedding cakes that were on display.

ADVERTISEMENT - CONTINUE READING BELOW
I also got to pass by the Orient Merchants Inc. stall which sold Italian and Spanish products including Divelli pasta, couscous and bottled sauces. Yummy! Like all trade shows, never be shy to ask questions and ask for discounts. People are more than willing to answer questions and do business. You can read about our tips for going to a trade show here.
One of the new food entrepreneurs I talked to during the fair told us the story of how he parted ways with a former business partner. It is sad to hear stories about business relationships ending in a bitter note. Read our tips here on how to deal with a business partner here .