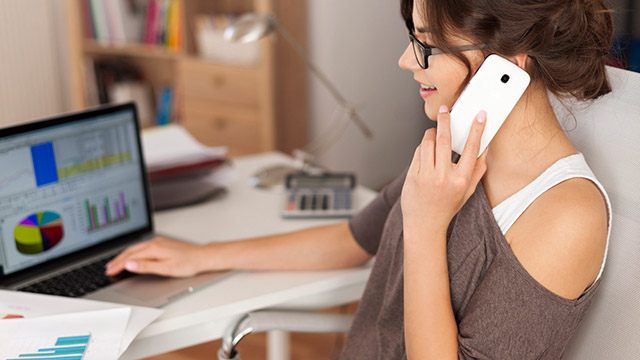 Jessica Stevens leaves her home in Dasmariñas, Cavite before sunrise to get to her office in Makati City on time. If she leaves even 10 minutes after six o'clock in the morning, the apprentice architect already expects to be late for work, which starts at 8:30 am.
Stevens may be one of the thousands of employees who may benefit from a proposed law, "An Act Institutionalizing Telecommuting in the Workplace and For Other Purposes," which encourages employers to adopt work-from-home programs for their employees. The bill seeks to ensure that home-based workers enjoy the same rights and benefits as office-based employees in terms of pay, leave benefits and promotion.
ADVERTISEMENT - CONTINUE READING BELOW
"We want to push for our Filipino workers to have a meaningful work-life balance by encouraging employers to explore telecommuting as a way of allowing work flexibility," Senator Joel Villanueva, the bill's main author, said in a press statement.
The Senate version of the law, Senate Bill 1363, was approved on third and final reading last May 22. Meanwhile, the lower House version, House Bill 5630, authored by Camarines Sur Representative Luis Villafuerte Jr., has already been filed on May 15 but has yet to be approved by the appropriate committee.
The Senate Bill defines telecommuting as "the partial or total substitution of computers or telecommunication technologies, or both, for the commute to work by employees."
Citing a report from the Employers Confederation of the Philippines, Villanueva said there was a growing acceptance of telecommuting in workplaces in the country, adding that there were at least 261 companies offering telecommuting programs for their employees in 2016. These include Meralco, SGS Philippines, Metro Pacific Investments Corp. and Aboitiz Equity Ventures, he added.
ADVERTISEMENT - CONTINUE READING BELOW
Villanueva said Senate Bill 1363 guarantees that telecommuting employees would enjoy the same labor standards as their office-based counterparts. This includes the right to be paid for overtime and nighttime work, rest days and entitlement to leave benefits.
Company managers say the feasibility of implementing the proposed law's provisions on overtime and nighttime work will depend on whether or not companies have an IT system in place that can monitor employee activity on their computers at home.
"Some companies have systems that can track customer service representatives' engagement with clients even if they're working from home," said an IT manager. "For them, paying overtime or nighttime pay is easy because they can monitor when and how long their employees are working even if they're not in the office."
The proposed law mandates the Department of Labor and Employment to draft implementing rules and regulations (IRR) within 60 days of the bill's effectivity. The IRR will deal with the detailed issues on the implantation of the law's various provisions, including on overtime pay and nighttime work. The bill also requires the department to initiate a three-year telecommuting pilot program in selected industries and submit a report to Congress.
ADVERTISEMENT - CONTINUE READING BELOW
*****
Elyssa Christine Lopez is a staff writer of Entrepreneur PH. Follw her on Twitter @elyssalopz