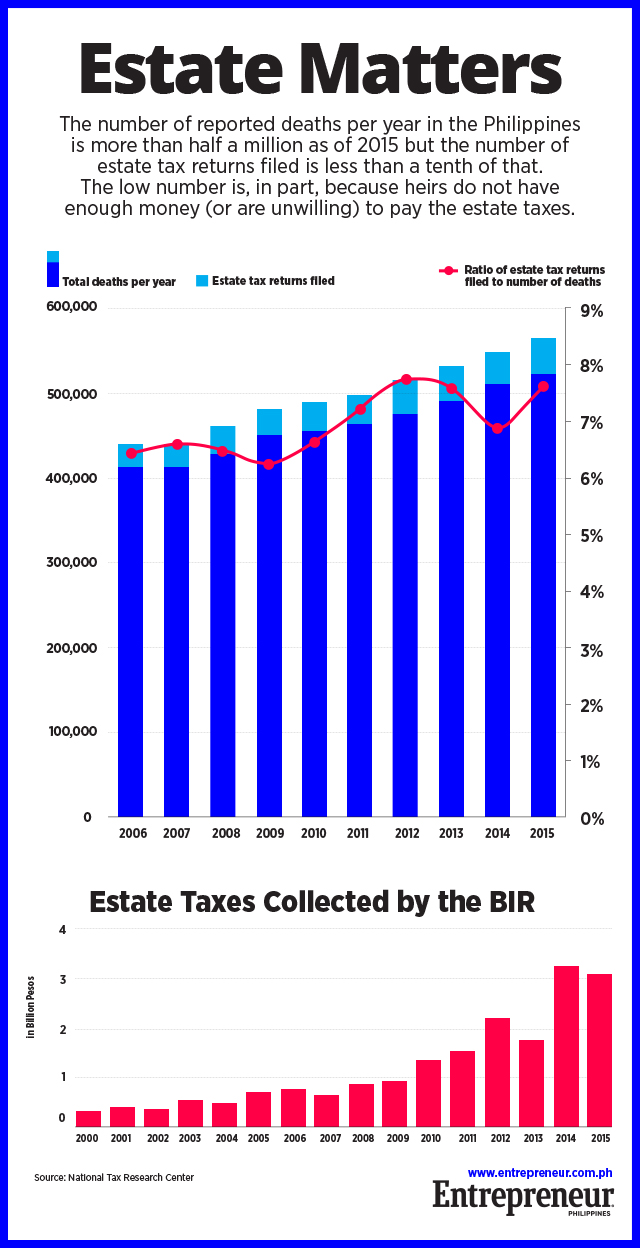 If death is a topic best avoided among family members, all the more is the question of inheritance—especially the question of how much and who gets what. Because nobody talks about it, many heirs are just shocked when they find out how much estate taxes they have to pay the government for their inheritance.
ADVERTISEMENT - CONTINUE READING BELOW
Only assets worth Php200,000 or less are exempted from the tax. The tax consists of a fixed amount ranging from Php15,000 to Php1.215 million. There is also a percentage component ranging from five percent to 20 percent applied in excess of set amounts. The full rates are published in the Bureau of Internal Revenue's website.
The tax is not trivial, as the following examples show. While a Php2-million asset could be subjected to a tax of only Php135,000, the tax on Php10-million assets could easily reach Php1.2 million. Heirs getting Php20 million in assets should be prepared to shell out around Php3.2 million.
Apart from the potentially huge amounts involved, the tax also has to be paid within six months from death to avoid fines and penalties that stack up per year. Over the past 10 years, the ratio of estate tax returns filed relative to the number of deaths each year has only hovered between six and eight percent, according to the National Tax Research Center. (See infographic). 
ADVERTISEMENT - CONTINUE READING BELOW
Sun Life Financial Philippines, the country's biggest life insurance company by premium income, says individuals planning to leave sizeable assets to their heirs may consider getting new life insurance policy to take care of estate taxes. The life insurance provider recently launched a campaign with new products under the SUN Smarter Life brand, which is aimed at retirees looking to ensure their inheritances to their heirs.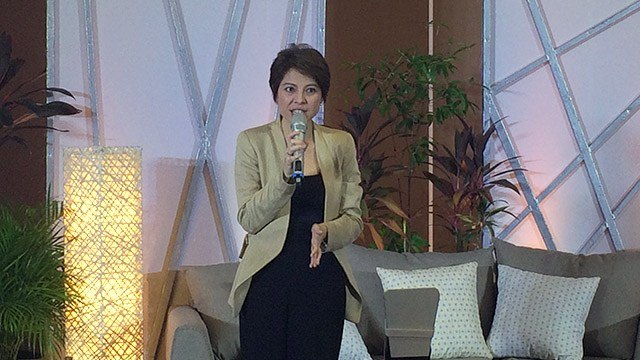 ADVERTISEMENT - CONTINUE READING BELOW
Mylene Daez-Lopa, chief marketing officer of Sun Life, talks about the new products under Sun Smarter Life brand
"The retirees are now concerned about passing on the legacy they have built to the next generation," said Mylene Daez-Lopa, chief marketing officer of Sun Life. "That is why we are coming up with this campaign to ensure [that]."
The campaign highlights the importance of estate planning, or ensuring that a person's family or heirs will be able to inherit their assets and properties after their death. According to Lopa, many Filipinos are unaware of the realities of estate taxes and frozen assets, which Sun Life tries to address through this campaign.
"Unfortunately, a lot of Filipinos are not aware that if something happens to them, and they're no longer around, the heirs have to pay taxes to the government for them to be able to get the properties," explained Lopa.
ADVERTISEMENT - CONTINUE READING BELOW
Lopa further proposed that its products can help retirees in ensuring a smooth transfer of properties. "Many are not familiar that insurance can be a solution to that problem [of estate planning]," she said.
Jenny del Mundo, Sun Life's head of distribution support, elaborated that Sun Life's insurance products allows for policyholders to already provide money to their heirs at the time of their death. "It removes the burden [of estate tax]," said del Mundo.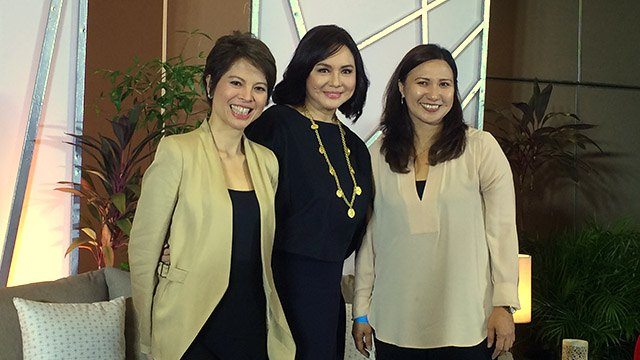 ADVERTISEMENT - CONTINUE READING BELOW
(From left) Mylene Daez-Lopa, Chief Marketing Officer of Sun Life Philippines; brand ambassador Charo Santos-Concio; Jenny del Mundo, Head of Distribution Support of Sun Life Philippines
The government is seeking to cut estate taxes as part of the first package of tax reforms. It wants to set the tax at a fixed rate of six percent regardless of the size of the total assets being passed on. The proposal is part of the Tax Reform Acceleration and Inclusion (TRAIN) package has been passed by the House of Representatives and is currently pending before the Senate.
*****
Lorenzo Kyle Subido is a staff writer of Entrepreneur PH