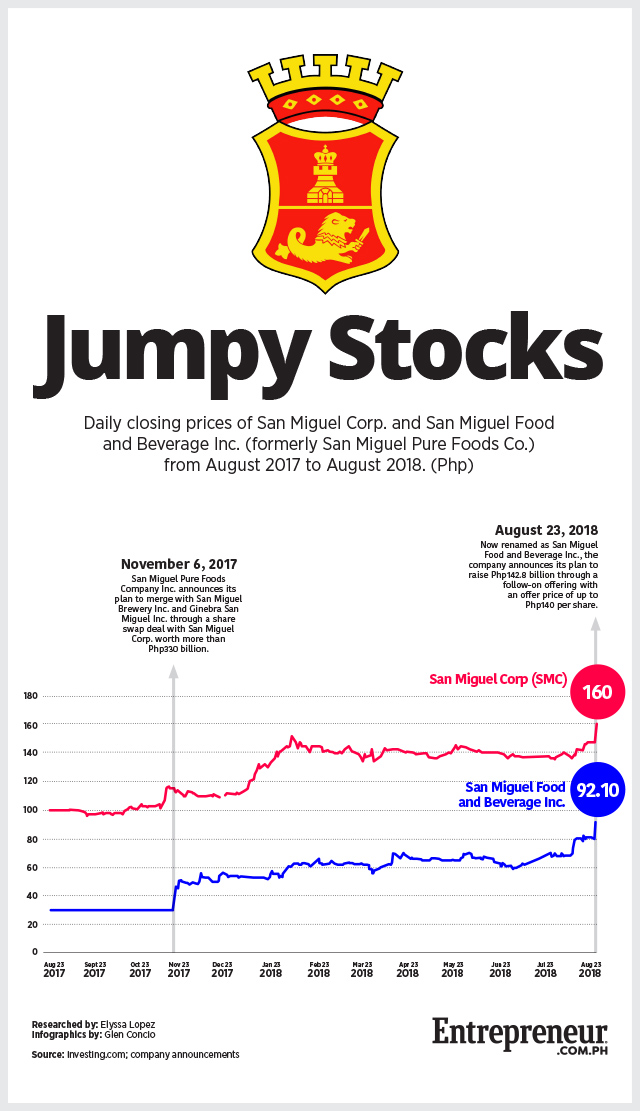 San Miguel Corp. (SMC) has announced plans to raise up to Php142 billion from the follow-on offering of shares in its food and beverage unit, San Miguel Food and Beverage (SMFB) Inc., towards end-October. It's considered the country's biggest ever secondary offering.
The diversified conglomerate has also set a target offer price of Php140 for the shares in SMFB, which represents a 52 percent premium over the closing price of Php92.1 per share on August 23. The company expects to set the final price on October 19, to be followed by an offer period from October 23 to 29.
ADVERTISEMENT - CONTINUE READING BELOW
Both SMC's and SMFB's share prices jumped sharply to their highest in more than a year after the disclosures to the Philippine Stock Exchange (See infographic).
In a disclosure to the PSE, SMFB said it has filed a preliminary prospectus to the Securities and Exchange Commission (SEC) for a follow-on offering involving the sale of 887 million common shares with an over-allotment of 133.05 million more.
"As reflected in the registration statement, the indicative offer price of the SMFB shares in the follow-on offering is Php140 per share," the company said in a filing.
San Miguel first announced the combination of its food businesses with its brewery affiliate San Miguel Brewery (SMB) and spirit drinks unit Ginebra San Miguel Inc. (GSMI) in November 2017 under a new entity called San Miguel Food and Beverage Inc.
San Miguel said the food units' consolidation with GSMI and SMB will increase the subsidiaries' shareholder values as the group expands its reach in the local and international market.
ADVERTISEMENT - CONTINUE READING BELOW
"We believe that following the SMFB consolidation, we stand to benefit from the synergies and cost savings generated through our expanded size, shared infrastructure and group-wide procurement," the company said in its prospectus submitted to the SEC.
Ever since its consolidation plan was announced in November 2017, SMFB's stock price has risen beyond its recorded performance in the last five years, according to Bloomberg. The same is true with the share price of its parent firm, SMC.
However, some analysts find the indicative offer price too rich given the current market conditions, marked by rising interest rates in the US and trade tensions in different parts of the world.
"One hundred forty is a bit too high," said Michael Gerard Enriquez, chief investment officer of Sun Life of Canada Philippines Inc, which owns shares of both the companies, according to a Reuters report. "There might be some adjustments" in the indicative price which represents a price-earnings ratio of 40 times, the report quoted Enriquez saying.
ADVERTISEMENT - CONTINUE READING BELOW
The median price-earnings ratio of listed food and beverage companies in the Philippines is 23.5 times, according to data from online stock market information provider Tsuipitero.com. 
*****
Elyssa Christine Lopez is Entrepreneur.com.ph's staff writer.