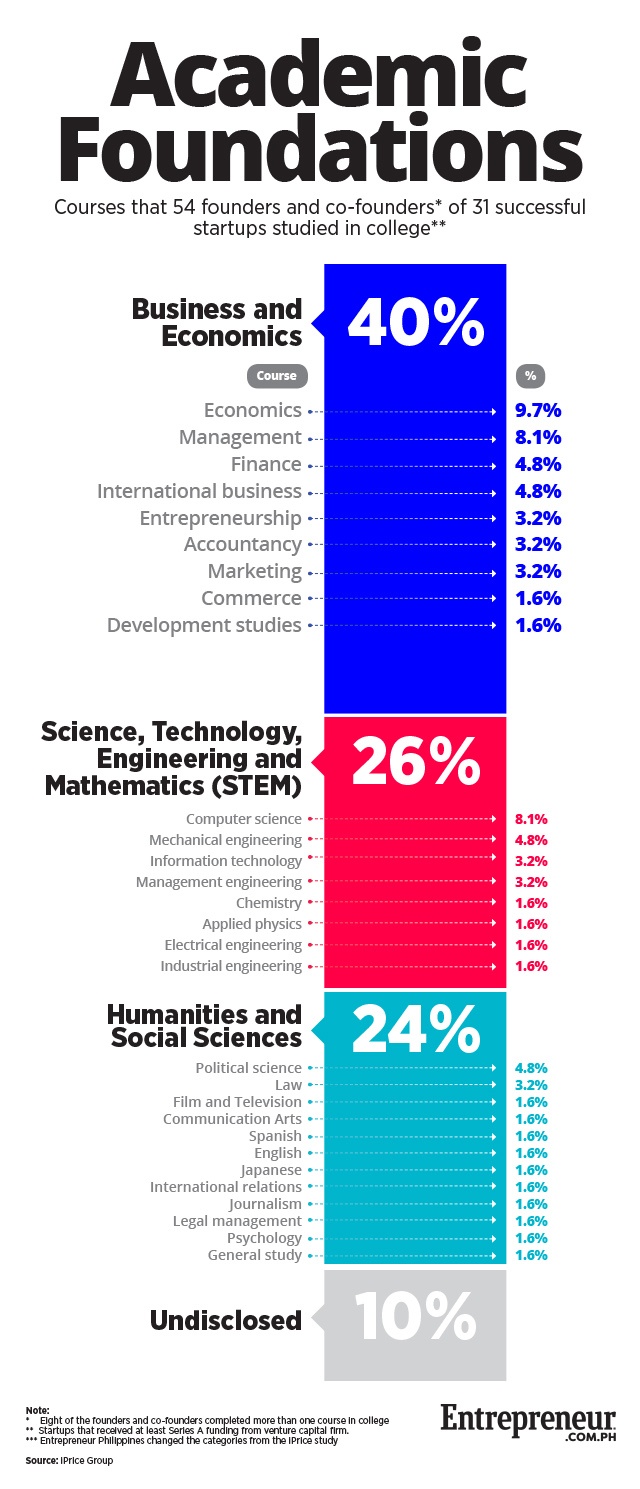 Many of the world's most successful technology companies such as Microsoft, Google or Facebook were founded by programmers, scientists or engineers (many while still in college) who've mastered the language of coding.
This has given rise to the popular idea that one must have studied programming, computer science or even engineering to build a successful tech or Internet startup.
But a report released by iPrice Group, a Kuala Lumpur-based online shopping aggregator, concluded otherwise.
It looked at the educational background of 54 founders and co-founders behind 31 Philippine startups, and found that only a small proportion had programming backgrounds. These startups were selected because they have gone through at least a Series A funding round with a venture capital firm.
"The notion that most startup founders and co-founders have computer science and information technology background is not true for the Philippine markets," said iPrice Group. "Only 12.5 percent studied computer science and information technology combined."
Even if we add engineering and natural science graduates to IT and computer science majors, they would still account for only 26 percent of the 54 founders, according to data compiled by iPrice Group.
As it turns out, most of the startup founders took courses related to business and economics. Around 40 percent of the group majored in fields such as economics, management and finance. Economics saw the most graduates with six founders majoring in the field, while five took up management.
This may explain why financial services is the predominant industry among iPrice Group's list, accounting for eight startups out of 31. iPrice Group listed the following financial services startups and the educational background of their respective founders to prove its point:
1. Paynamics - Ronald P. Magleo (De La Salle University - Bachelor of Entrepreneurship), Esther Magleo (University of Santo Tomas - Bachelor of Accountancy and De La Salle University - MS in Accountancy) and Mylene Chua Magleo (Polytechnic University - Bachelor of Accountancy);
ADVERTISEMENT - CONTINUE READING BELOW
2. Ayannah - Miguel Perez (Ateneo De Manila University - Bachelor of Management and AB Development Studies);
3. I-Remit - Bansan C. Choa (De La Salle University - Bachelor of Commerce);
4. MoneyMax.ph - Moritz Gastl (Maastricht University - Bachelor of International Business) and Rahul Maira (Delhi University - Bachelor of Economics); and
5. eCompareMo - J.P. Ellis (Columbia University - Bachelor of Political Science and Government)
iPrice Group said only three founders of financial services startups studied computer science. These are the founder and co-founder of Coins.ph, Ron Hose (Cornell University - MS Computer Science) and Runar Peterson (University of West Florida - Bachelor of Computer Science); and the founder of Dragonpay, Robertson Chiang (Ateneo De Manila University - Bachelor of Computer Science).
The remaining 24 percent of founders comprised of graduates of social sciences and humanities, including political science, journalism and English as well as law.
Related story: Which Schools Graduated the Most Founders of Top PH Startups?
*****
Lorenzo Kyle Subido is a staff writer of Entrepreneur PH