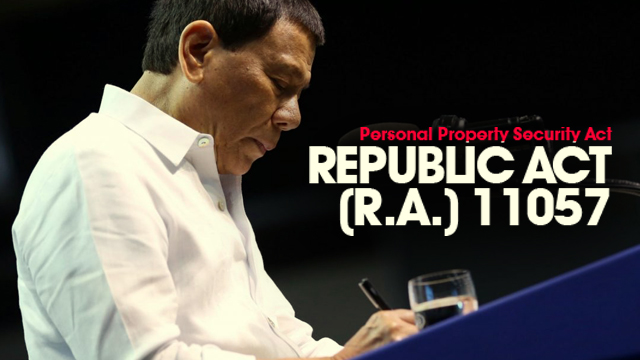 President Rodrigo Duterte signed into law Republic Act (R.A.) 11057, known as the Personal Property Security Act, last August 17. This allows "movable assets," or personal properties such as vehicles, inventory and equipment, to be used as collateral when applying for bank loans.
This makes it easier for micro, small and medium enterprises (MSMEs) to apply for a loan from banks and other large financial institutions. As well, this gives them a more secure and formal source of funding.
ADVERTISEMENT - CONTINUE READING BELOW
Previously, banks only accepted immovable assets such as real estate or land as collateral for loan applications to minimize risk. As these assets are much harder to come by for MSMEs, bank loans were often only accessible to larger institutions.
R.A. 11057 expands the list of acceptable collateral to the borrower's personal properties or movable assets. This can include equipment such as vehicles and machinery, as well as inventory such as agricultural products. Only aircraft and ships are explicitly disallowed by the law to be used as collateral.
"It is the policy of the State to promote economic activity by increasing access to least cost credit, particularly for micro, small and medium enterprises, by establishing a unified and modern legal framework for securing obligations with personal property," the new law stated.
As movable properties are riskier than immovable assets, R.A. 11057 also calls for the establishment of an electronic registry. This will serve as a centralized digital record for personal properties being used as collateral, allowing lenders to make sure that their applicants' collaterals will not be used for more than one loan application.
ADVERTISEMENT - CONTINUE READING BELOW
The new electronic registry will be implemented and operated by the Land Registration Authority.
*****
Lorenzo Kyle Subido is a staff writer of Entrepreneur PH