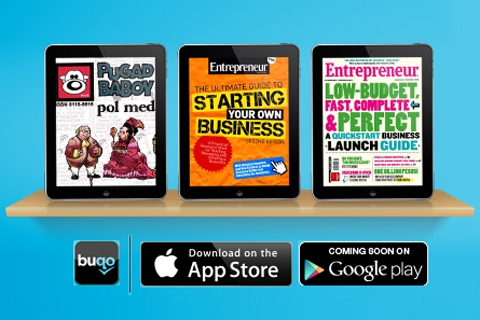 Reading a book is cool, but reading a book on your device is awesome. Why? Well, for one, you can carry around an entire library of e-books and digital magazines in your tablet instead of lugging two or three thick paperbacks when you go on trips. Imagine this: with just a swipe or a tap of your finger, you can enjoy your favorite books and magazines anytime, anywhere.

ADVERTISEMENT - CONTINUE READING BELOW
All that is now possible through buqo--the premiere Filipino digital bookstore!

Buqo what?

Buqo is a digital bookstore, newsstand, and reader in one app. It carries a wide selection of Filipino reads that cater to various interests. Whether you're into romance, fiction, teen literature, or motivational materials, buqo has the perfect offering suited for you. Its catalog is also brimming with specialty titles sure to whet your appetite--from travel, food, and leisure to cars, fitness, and entertainment.
To date, buqo has over 500 books and magazines and counting, with familiar names such as Pol Medina's "Pugad Baboy," Bo Sanchez's "Shepherd's Voice," Precious Hearts Romances, Summit Media, and Lampara Children's Books already in the fold.

Easy and convenient

If you are a tech newbie, fret not. Buqo is absolutely easy to use and navigate. Its intuitive design makes purchasing, downloading, and reading on your device fun and easy. Once you have fully downloaded the content you want, you can enjoy reading your book or magazine offline. The other cool thing about buqo is that you can access your entire library on all your devices, whether iOS or Android. All you need to do is create a buqo account. That's it. Just one account and you can enjoy reading on up to seven of your devices.
ADVERTISEMENT - CONTINUE READING BELOW
Just think about it: Isn't it great to catch some fun light reading while riding the MRT on your way to work? Snicker (but you may want to keep it down) while reading Chico, Delamar, and Gino's "Top 10 Book;" Manix Abrera's hilarious Kiko Machine Komiks; or Pol Medina's "Pugad Baboy Series." Or you could also follow the 'resurgence' of Pinoy comics with well-crafted titles from MythSpace, Pinoy Old School Comics (the reincarnation of the 90's cult favorite Funny Comics), and the highly acclaimed Trese Comics.

Different types of books

If you are more of the serious reader type, we have books for you, too. Buqo has academic, investigative journalism, and non-fiction genres. Get books from the likes of DLSU Press, Philippine Daily Inquirer, Rappler, and Colayco Foundation.

How about books for becoming a better you? Get that much needed boost from buqo's How-to/Self-Help & Business/Finance collections that cover areas of health, career, relationships, parenting, business, and finance. Here you'll find titles such as Edgewise.ph's "Getting the Career You Want," Faye Valencia's "77 Ways to Move On," and Larry Gamboa's "Grow Rich Pinoy."

ADVERTISEMENT - CONTINUE READING BELOW
Buqo is also the way to go if you're looking for inspirational and spiritual reads. Dig in to a host of bestselling books from OMF Literature and Shepherd's Voice, namely Bo Sanchez's "8 Habits of a Happy Millionaire." Oh, and don't think we forgot the kids. We have a wide array of children's books from Lampara and Adarna. The kids will surely love them.

And of course, in buqo you'll find love---love stories, that is. We have lots of heartwarming, kilig-inducing titles to choose from---ranging from the likes of Mina Esguerra's "That Kind of Guy," to Summit Books' "She's Dating the Gangster," and Vince's Life series. You'll be delighted to know that buqo also carries the coolest Tagalog romance novels, from Precious Hearts Romances (whose works have been adapted on TV) as well as Bookware Publishing's My Precious Valentine. Now, that's a lot of love that you're getting from us.

ADVERTISEMENT - CONTINUE READING BELOW
Best-selling local magazines

Now those are just the books. Buqo also has the best local magazines in the land. Here, you can get the current issues up to several years' worth of back issues. We have cool magazines for everyone. For men, we have FHM Philippines, Entrepreneur, Top Gear, HWM, and Esquire Philippines. Women get to enjoy their favorites like YES!, Cosmopolitan Philippines, Preview, Good Housekeeping, and Smart Parenting.
Foodies would really get a kick out of F&B World and Yummy Magazine. The design buffs can get their fix from Real Living, Space Design + Travel, and Elle Decoration Philippines. Fitness enthusiasts can get their copies of Men's Health, Women's Health, and Runner's World. The young ones also get their fair share of magazines; in buqo they can get K-Zone, Candy, Total Girl, and Sparkling.

That's not all!

Being a registered buqo user also has its perks. You get to be part of the buqo newsletter, giving you first dibs on new content and the latest promos. Best of all, you get to participate in exclusive buqo special offers.

ADVERTISEMENT - CONTINUE READING BELOW
Download buqo now and be on your way to reading your favorite Pinoy books on the go, available now on the App Store for Apple users and very soon on Google Play Store for Android users.
Like buqo on Facebook  (www.facebook.com/buqoapp ) and follow buqo on Twitter (@buqo).