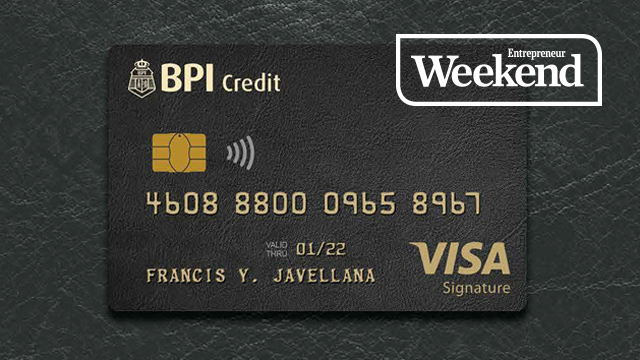 With about 1.5 million cardholders, Bank of the Philippine Islands (BPI) is an industry leader in the credit card segment of the local banking industry. It's a small number when stacked up against the bank's 8.5 million depositors and even more minuscule compared to the number of the unbanked individuals in the country. The central bank estimates around 86 percent of Philippine households do not have bank accounts.
ADVERTISEMENT - CONTINUE READING BELOW
Still, it's a good enough base to glean knowledge and insight on Filipinos' spending habits and behavior.
The bank conducted an extensive internal study among its cardholders to find out what it is exactly that they need and want and used the data to create a new product.
"In the survey that we did, we tried to find out what the affluent market aspires for, considering that they have already 'arrived'," says Jenny Lacerna, BPI head of credit cards. "What are the things that are relevant to them? And what we learned is that they are looking for options, particularly when it comes to travel. Because they already know what they want, they should be able to have the opportunity to choose the type of rewards that they want."
Signature Card
The result is BPI's new Signature Card, a partnership with leading international card operator Visa. Packed with new features and offers, it's the banking giant's most exclusive card yet.
ADVERTISEMENT - CONTINUE READING BELOW
The Visa Signature Card allows cardholders to redeem items and services through rewards points, which BPI claims is one of the best deals in the market.
"The highest card that we have today is the Gold card," Lacerna says. "It gives you points but the current conversion rate is one point for every Php35 spent. For the Visa Signature card, it's Php20 for one point." That's a one-third cut in the effective price of each reward point.
Accumulated rewards points can then be used to purchase other items or be transferred to frequent flier programs of partner airlines. In the case of the Visa Signature, cardholders have the option to book-and-buy things like plane fare, hotel stays, car rentals and other travel necessities through their points.
Other benefits of the card include lower foreign exchange conversion rates compared to other banks, as well as special rates on a wide array of foreign exchange currencies. The card also comes with a full-fledged concierge service available 24 hours a day, seven days a week.
ADVERTISEMENT - CONTINUE READING BELOW
"BPI Visa Signature is the result of extensive research done locally, to build an exciting value proposition that would reflect and elevate the lifestyle of our affluent clients," says Jojo Ocampo, BPI SVP for Unsecured Lending and Cards Group. "We've seen a rise in spending in the past few years for luxury travel, experiences and products, and we want to provide our affluent clients a product that will further enhance their lifestyle."
Kaya Savings Account
In addition to new product offerings in their credit card business, BPI officials said the bank is actively engaged in programs to narrow the gap between the banked and unbanked in the country. One of these is called Kaya Savings Account (formerly called Easy Savings Account), where the minimum deposit is only Php200 and does not require a maintaining balance.
The other is prepaid cards like its Amore card (also a partnership with Visa) that also requires no deposit or minimum maintaining balance. Cardholders just need to load the card through BPI's branches and use it to pay for products and service just like a regular credit card.
ADVERTISEMENT - CONTINUE READING BELOW
"We're seeing that niche for prepaid cards, especially because of the huge surge in online shopping and in purchasing things that cash isn't able to," says Ocampo. "For example, things like games on your cellphone, Netflix or iTunes. And our prepaid cards can also be used when you travel on MRT and LRT because we have a variant where the Beep card is co-hosted in the prepaid card."
BPI is also in the midst of a massive enterprise-wide digitalization program to get more Filipinos to accept more formal banking and savings channels.
"We feel that technology is one of the more practical tools to address the unbanked," says Owen Cammayo, BPI head of Corporate Affairs and Communications. "Filipinos have adapted very quickly to telcos, so we're doing a lot of investment in digitalization with front-end—things like online connectivity, mobile apps—and back-end.
"We're also expanding our branch networks," he adds. "We're really pushing for financial inclusion."
ADVERTISEMENT - CONTINUE READING BELOW
*****
Paul John Caña is the managing editor of Entrepreneur PH