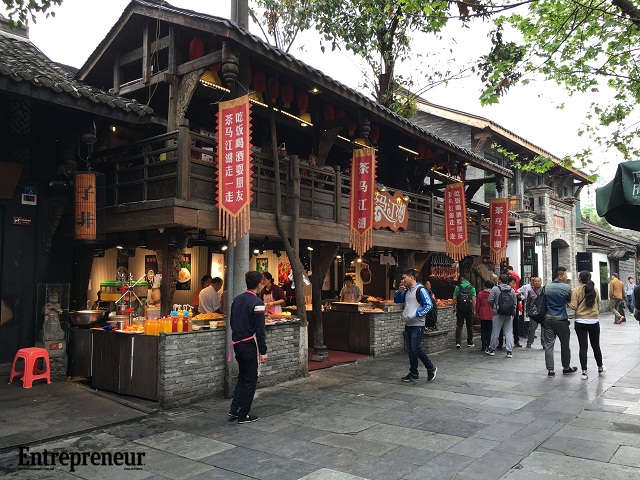 Chengdu in Sichuan province eyes to become a comprehensive, affluent society with high living standards, a core growth hub for western China, and an international regional center by 2020.
It is also not sacrificing its important role in early trade and commerce via the Silk Road route, along with its rich ecological resources (as home to the giant pandas, world heritage sites, and scenic spots) simply to be a truly modernized city. It masterfully integrated such elements to achieve its futuristic plan.
ADVERTISEMENT - CONTINUE READING BELOW
Related: Why Chengdu is a beautiful, rich, well-planned city
And part of that plan is to attract more foreign tourists to Chengdu, among them, the delegation of media and bloggers from the Philippines (including Entrepreneur.com.ph) who visited this city in early April as part of Huawei's invitation to tour Chengdu and its campus in Shenzhen, China.
Related: Why China's Huawei is ambitious
So if you are going to Chengdu, especially for business, and you have a packed schedule of 3 days and 3 nights (like our delegation had), then experience the following:
1. See the giant pandas
ADVERTISEMENT - CONTINUE READING BELOW
The Chengdu Research Base of Giant Panda Breeding at 1375 Panda Road, Northern Suburb is home to select rescued and bred in captivity giant pandas, considered as China's natural treasure.
The base is an ideal location for these adorable creatures as 70 kilometers away from downtown Chengdu is the giant pandas' natural habitat. The giant pandas also live in neighboring provinces Shaanxi and Gansu.
ADVERTISEMENT - CONTINUE READING BELOW
With a population of less than 2000 worldwide, the species is included on the endangered list by the Convention on International Trade in Endangered Species of Wild Fauna and Flora and by China as a special-class protected animal. 
So visiting the base is the closest you can see them. Twelve cubs were born here in 2006, and it is also home to Japanese-born Xiong Bang and US-born Mei Lan giant pandas.
ADVERTISEMENT - CONTINUE READING BELOW
The base is also home to the red pandas (no relation to the giant pandas), a native of eastern Himalayas and southwestern China. It looks larger than a domesticated cat, with reddish-brown fur and a long, shaggy tail. The red panda population in Sichuan province is said to be larger and more stable than the Yunnan population.
The Chengdu Research Base of Giant Panda Breeding is open from 7:30 am to 6 pm. Ticket price is CNY58 (P420.33) per person.
2. Visit the Sanxingdui Museum
ADVERTISEMENT - CONTINUE READING BELOW
This massive site of a museum and green, calming open space located at Sanxingdui Historic Relics 618300, Guanghan, Sichuan (or about 40 kilometers north of Chengdu) is a must, especially if you are interested in Asian arts and culture.
The whole site has a total area of 530 yields—11,000 square meters serve as the main tableaus for the exhibits. Sanxingdui Museum, founded in 1992, was opened to the public in October 1997, and showcases precious cultural relics unearthed from the Sanxingdui site.
ADVERTISEMENT - CONTINUE READING BELOW
The Sanxingdui site is an ancient city and state where the Shu culture in southwest of China thrived. Excavated from the site are dozens of relics, such as city walls, two sacrificial pits, building foundations, jade ware pits, and burial area. In January 1988, the State Council designated the Sanxingdui site as one of the most important cultural relics units under national protection.
About 1200 artifacts were unearthed from the Sanxingdui site and are now displayed at the Sanxingdui museum. Gallery 1 displays gold, bronze, jade, and pottery artifacts. Gallery 2 showcases the specialized bronze collection.
ADVERTISEMENT - CONTINUE READING BELOW
The museum is open from 8:30 am to 6 pm (gallery 2 is open until 6:30 pm). Postpaid entrance ticket is CNY82 (P594.26), walk-in price is CNY80 (P579.78).
3. Watch the Shufengyayun Opera
ADVERTISEMENT - CONTINUE READING BELOW
Ditch your usual night cap of cafés or bars and see this: The Shufengyayun Operatic Circle performing at Chengdu's Culture Park on Qintai Road. Particularly, the Sichuan Opera (where this circle belongs to) originated about 400 years ago at the end of the Ming dynasty and the beginning of the Qing dynasty.
This circle is well-known for their solo singing (which is said to be less constrained than that of the more popular Beijing opera); skillful acting; rich percussion; and slapstick, yet laugh-out-loud comedic acts (the rolling lights act is simply funny). The costumes they wear are bright, flowy, vivid, still allowing them to move gracefully on stage.
The art of face or mask changing is what this circle is famous for. The magical act happens so quick—you are face-to-face with the performer and when he changes his mask to another, you would simply exclaimed, "what happened there?" The techniques used in this act is apparently top secret, guarded by theater families and passed from generation to generation.
ADVERTISEMENT - CONTINUE READING BELOW
Watching the opera at Shufengyayun Tea House comes with endless servings of tea, plus options for massage and traditional ear cleaning. The 90-minute performance admission ticket starts at CNY126.72 (P918.36).
4. Explore the Kuanzhai Xiangzi alley and Jinli street
ADVERTISEMENT - CONTINUE READING BELOW
If you are looking for street food, the Sichuan-type (plus some exotic treats as well, rabbit head, anyone?), and affordable yet good shopping finds, then Kuanzhai Xiangzi alley and Jinli street are your destinations.
Also known as Wide and Narrow alley, Kuanzhai Xiangzi's history dates back from the Qing dynasty (1644 - 1911 AD) within the Chengdu city called Mancheng or Shaocheng, where the court quartered its troops. In 2003, renovation work started here, and in 2008, it opened to the public. Located at Qingyang District (to the east of Tongren Road and west of Changshun Street), it is now a popular entertainment and nightlife block, as well as a famous tourism site, with restaurants, pubs, teahouses, and featured souvenir stores.
ADVERTISEMENT - CONTINUE READING BELOW
Jinli street, meanwhile, is located to the east of the Wuhou Temple of Chengdu (the most famous Three Kingdoms period relic museum in China). It is recorded that as early as the Qing dynasty (221 BC - 206 BC), Jinli street was the most famous place for baldachin, a rich, ornate cloth.
ADVERTISEMENT - CONTINUE READING BELOW
It was also one of the busiest commercial areas during the Shu Kingdom (221-263), thus it is known as the "First Street of the Shu Kingdom." It was restored with contributions from the Wuhou Temple and was opened to public in October 2004. Local and foreign tourists come to Jinli street to admire the traditional-style buildings and have some local snacks.
ADVERTISEMENT - CONTINUE READING BELOW
It is hard to buy at times, as the language barrier is huge. But an exchange of laughs, a game of charade, and the local and tourist would eventually understand each other and seal a deal.
But should you wish to shop in a mall, then go to SM City Chengdu.
ADVERTISEMENT - CONTINUE READING BELOW
Read: How SM malls conquer China
5. Eat Sichuan dishes
Sichuan cuisine is known for its pungent and spicy dishes, as they use a lot of garlic, chili peppers, ginger, star anise, to cite a few. The Sichuan pepper cone, in particular, produces a tingly, numbing sensation in the mouth.
ADVERTISEMENT - CONTINUE READING BELOW
There are four sub-styles of this cuisine: Chongqing, Chengdu, Zigong, and Buddhist vegetarian style. As such, UNESCO even declared Chengdu to be a city of gastronomy in 2011 in recognition of its sophisticated cooking style. The Sichuan hot pot, if you are not used to spicy food, would make you really sweat, cry and laugh at the same time, and cough, so have a glass of water (or two or more!) within reach.
Kung pao chicken, shredded pork in garlic slice, mapo tofu, spicy deep-fried chicken, tea-smoked duck, double-cooked pork, sliced beef or tripe or ox tongue in chili sauce are some of the famous Sichuan dishes that you must try.
There is no direct flight yet from Manila to Chengdu (XiamenAirlines offers flight via Jinjiang, one-way at average P8041.52 or $170.75) but Chengdu has a lot of other attractions to offer.
So if you are running on a tight and packed schedule like this writer had, so  bookmark this article as your guide to experience this rising destination.
ADVERTISEMENT - CONTINUE READING BELOW
*****
Lynda is the editor in chief of Entrepreneur.com.ph. Follow her on Twitter, @lyndaccorpuz and LinkedIn, https://ph.linkedin.com/in/lyndacorpuz.