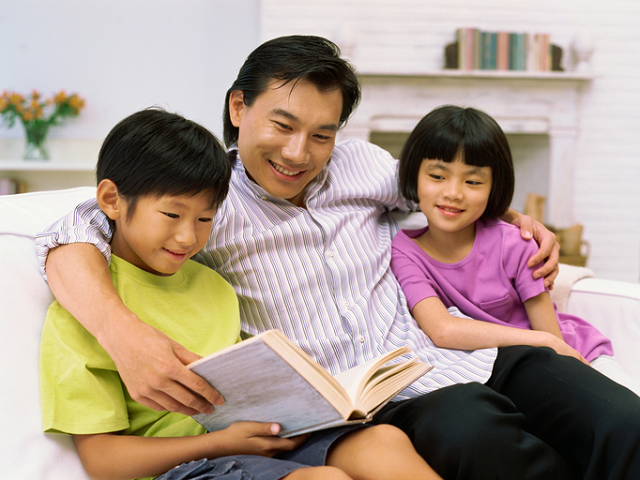 Reading an actual book seems like an unheard thing to do in this fast-paced digital age.
Related: 6 books to help you grow your business
Yet, nothing beats the feeling of holding a book, highlighting those parts that struck you, and glance away and absorb those moving or inspiring words you just read.
ADVERTISEMENT - CONTINUE READING BELOW
Related: The 5 books Bill Gates wants you to read this summer
Thus, a book is an ideal gift for our dads' special day on June 19—especially if your father is into starting or running a business, or has the entrepreneurial spirit in him.
These seven titles (available at National Bookstore) might pique his curiosity, and inspire him to do better in his field or carve a niche of his own in the entrepreneurial arena:
 1. Elon Musk: Tesla, SpaceX, and the Quest for a Fantastic Future
By Ashlee Vance
P375 (Trade paperback)
Veteran technology journalist Ashlee Vance provides the first inside look into the extraordinary life and times of Silicon Valley's most audacious entrepreneur.
Vance spent over 50 hours in conversation with Musk and interviewed close to 300 people to tell the stories of Musk's world-changing companies: PayPal, Tesla Motors, SpaceX, and SolarCity. 
Related: 5 habits that made Elon Musk an innovator


Vance also argues that Musk is a contemporary amalgam of legendary inventors and industrialists like Thomas Edison, Henry Ford, Howard Hughes, and Steve Jobs. More than any other entrepreneur today, Musk has dedicated his energies and his own vast fortune to inventing a future that is as rich and far-reaching as the visionaries of the golden age of science-fiction fantasy.
ADVERTISEMENT - CONTINUE READING BELOW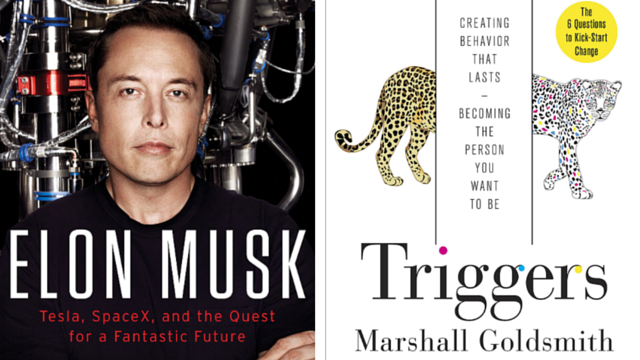 2. Triggers: Creating behavior that lasts—becoming the person you want to be
By Marshall Goldsmith and Mark Reiter
P1,135
In his new book, bestselling author and world-renowned executive coach Goldsmith examines the environmental and psychological triggers that can derail us at work and in life.
As Goldsmith points out, our reactions do not occur in a vacuum, as these triggers are constant, relentless, and omnipresent. So often the environment seems to be outside our control. Even if that is true, as Goldsmith points out, we have a choice in how we respond.
ADVERTISEMENT - CONTINUE READING BELOW
Filled with revealing and illuminating stories from his work with some of the most successful chief executives and power brokers in the business world, Goldsmith offers a personal playbook on how to achieve change in our lives, make it stick, and become the person we want to be.
3. #AskGaryVee: One Entrepreneur's Take on Leadership, Social Media & Self-awareness
By Gary Varnerchuk
P1,259
The New York Times bestselling author draws from his popular show #AskGaryVee to offer surprising, often outrageous, and imminently useful and honest answers to everything you've ever wanted to know—and more—about navigating the new world.
Gary Vaynerchuk—the inspiring and unconventional entrepreneur who introduced us to the concept of crush it—knows how to get things done, have fun, and be massively successful. #AskGaryVee showcases the most useful and interesting questions Gary has addressed on his popular show. He gives you the insights and information you need on everything from effectively using Twitter to launching a small business, hiring superstars to creating a personal brand, launching products effectively to staying healthy—and even buying wine.
ADVERTISEMENT - CONTINUE READING BELOW
Whether you are planning to start your own company, working in digital media, or have landed your first job in a traditional company, #AskGaryVee is your essential guide to making things happen in a big way.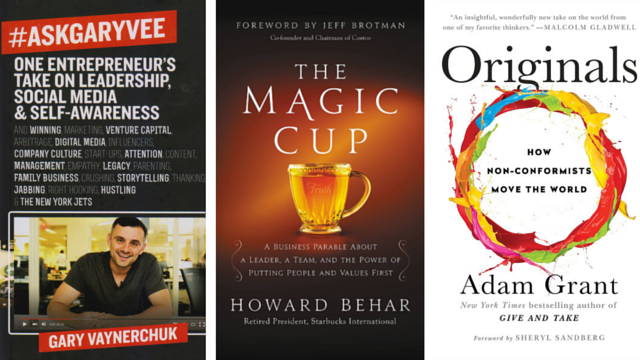 4. The Magic Cup: A Business Parable about a Leader, a Team, and the power of Putting People and Values First
ADVERTISEMENT - CONTINUE READING BELOW
By Howard Behar and Jeff Brotman
P845
We all love the fairy tales we grew up on, creating a world in which good always wins over evil, where those whose hearts are true and who do the right thing come out on top. But, grown-up competition for success is rough, even cutthroat, and we have often heard that nice guys finish last.

Not according to Behar, whose career as one of the three leaders who built the Starbucks organization most definitely proves that nice guys finish first. In The Magic Cup, Behar spins an engaging corporate tale to teach us exactly how we can do the same thing.

In the tradition of great parable writers throughout history, Behar quickly involves us in an engrossing fantasy, continually challenging us to compare each situation with our own real-life experiences. The story of The Magic Cup helps each of us discover that only by acting on sound moral principles can we fill our own cups with the personal and professional success and satisfaction we seek.
ADVERTISEMENT - CONTINUE READING BELOW
5. Originals
By Adam Grant and Sheryl Sandberg
P759
The New York Times bestseller examines how people can champion new ideas—and how leaders can fight groupthink. Even The Tipping Point author Malcolm Gladwell has glowing review for this book. He wrote, "Originals is one of the most important and captivating books I have ever read, full of surprising and powerful ideas. It will not only change the way you see the world; it might just change the way you live your life. And it could very well inspire you to change your world."
Give and Take author Grant, address the challenge of improving the world, but now from the perspective of becoming original: choosing to champion novel ideas and values that go against the grain, battle conformity, and buck outdated traditions.
Grant also explores how to recognize a good idea, speak up without getting silenced, build a coalition of allies, choose the right time to act, and manage fear and doubt; how parents and teachers can nurture originality in children; and how leaders can build cultures that welcome dissent.
ADVERTISEMENT - CONTINUE READING BELOW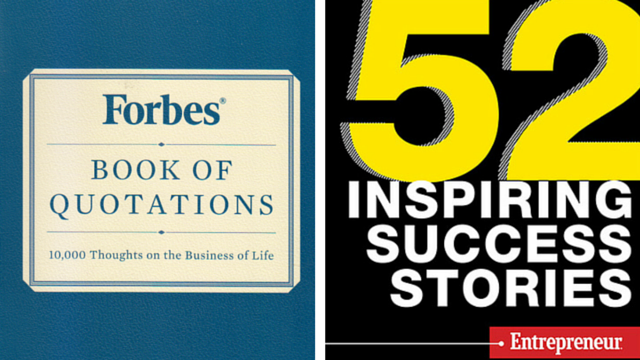 6. Forbes Book of Quotations: 10,000 Thoughts on The Business of Life
By Ted Goodman
P1,049
Forbes comprehensive collection of business quotations gathers more than 10,000 apt, astute, and motivational remarks on scores of topics, organized alphabetically, from "ability" to "excellence" to "salesmanship."
Originally published by Black Dog & Leventhal in 1997, this new edition is updated with hundreds of new quotations, from the likes of Steve Jobs, Sheryl Sandberg, and Oprah Winfrey that pertain to modern business culture. 
ADVERTISEMENT - CONTINUE READING BELOW
Forbes Book of Quotations is the ideal gift reference tool for students, budding entrepreneurs, and seasoned professionals alike, or anyone looking for a sharp-witted way to make a lasting impression.
7. 52 Inspiring Success Stories
Entrepreneur Philippines
P195
Of course, our very own book is a gift idea for your dads. This slim tome is packed with inspiring stories of local business mavericks who took risks; struggled to thrive; failed miserably; and got back again.
So, whether it is an idea for a new business, or the courage to continue something you have already started, or an insight that will help you overcome a challenge, this book is for you.
Photos from National Book Store, Summit Media website, Thinkstock