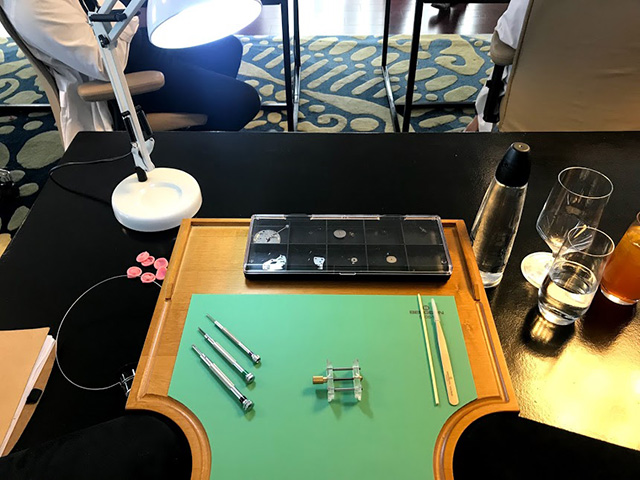 Participants worked on a simple Swiss movement in this workstation during the A. Lange & Söhne watchmaking workshop
Predictions that digital timekeeping devices would signal the beginning of the end of mechanical watches were woefully premature, if not totally inaccurate. True, sales of Swiss watches fell 13 percent between 2014 and 2016, according to a Wall Street Journal report, but things picked up again and exports rose 2.7 percent in 2017, signaling a gradual recovery.
ADVERTISEMENT - CONTINUE READING BELOW
Tech giants like Apple and Samsung have disrupted traditional watchmaking with digital timepieces that do much more than tell time, but the centuries-old European watch manufactures clearly aren't about to throw in the towel. Companies like Tag Heuer may have dipped their toes in the digital world and come up with their own version of a smart watch, but most of the familiar names in mechanical watches still rely on good old-fashioned expertise and technical craftsmanship to attract buyers.
"Every single one of our watches is assembled twice by hand," said Robert Hoffman, a watchmaker from the German brand A. Lange and Söhne. "We only produce about 4,000 to 5,000 watches a year, which is tiny if you compare it to some of the bigger watchmakers out there."
Hoffman was in Manila recently to conduct a watchmaking workshop meant to demonstrate the intricacies and technical knowledge required to produce a mechanical watch. He was here upon the invitation of Lucerne, the retailer that distributes many of the world's most premium watch brands to the local market.
ADVERTISEMENT - CONTINUE READING BELOW
Although Switzerland still represents the gold standard in luxury mechanical watches, Germany has its own watchmaking industry mostly based out of the tiny town of Glashütte in the country's Saxony region. There are several brands that maintain and operate their headquarters and manufactures there, but arguably the most famous is the one named after the man who turned the town into a watchmaking hub in the first place.
Ferdinand Adolph Lange apprenticed in the nearby town of Dresden and moved to Paris to pursue further studies in watchmaking before making his way back to Glashütte in the 1800s. There he started manufacturing watches as a way to provide employment to townsfolk, many of whom worked in nearby silver mines and were left jobless when the metal ran out.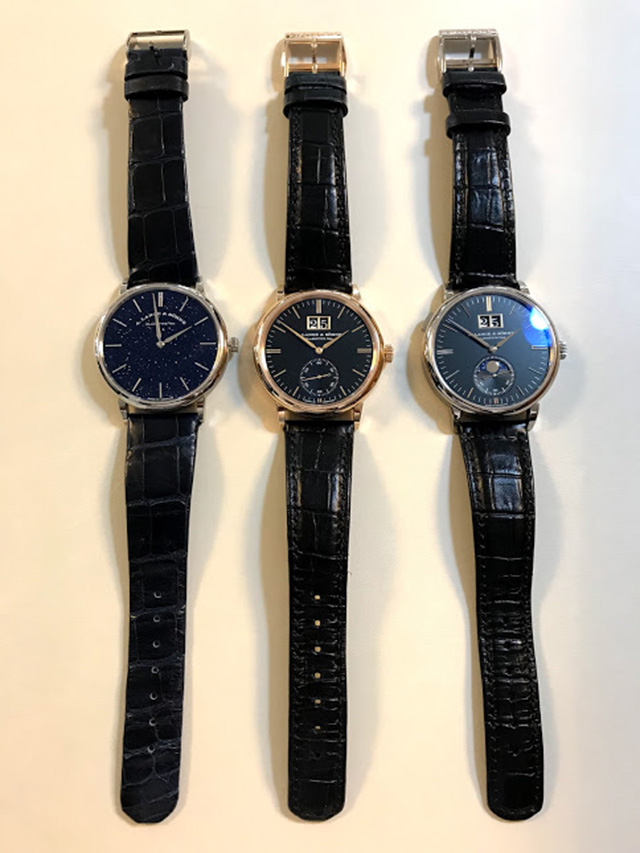 ADVERTISEMENT - CONTINUE READING BELOW
Three of A. Lange & Söhne's timepieces in its latest collection
A. Lange and Söhne was forced to stop operations when the Soviets occupied East Germany after World War II, but the company was re-established in 1990 by the founder's great-grandson Walter Lange.
Hoffman says the company today is made up of young watchmakers, many in their 20s and 30s, who are taught the traditional ways of manufacturing a mechanical watch. Participants in the watchmaking workshop were asked to simulate a typical training exercise for beginners, which involved placing the barrels and balance wheels into their respective slots and screwing them in place. Watchmaking tools like screwdrivers, magnifying glass and finger gloves were provided. The exercise underscored the laborious and intensive process involved in producing a mechanical watch.
Afterwards, A. Lange & Söhne representatives presented the brand's latest collection, which included a timepiece for ladies called Little Lange 1, Saxonia Moon Phase, Saxonia Outsize Date and a Saxonia Thin. They also unveiled the 1815 Homage to Walter Lange, who died last year at age 92. Hoffman said it was one of the fastest-ever watches produced by the company, which normally takes years to work on and introduce a new model.
ADVERTISEMENT - CONTINUE READING BELOW
A. Lange & Söhne's workshop was a way to get more people to appreciate the amount of work, technical prowess and passion that goes into the creation of a mechanical watch. Although digital and smart watches have additional features that may prove useful to ordinary customers, the appeal of mechanical watches lies in the hundreds of man-hours and herculean effort it takes to craft just one. Unlike trendy smart watches that might only satisfy for a moment and will prove to be obsolete in just  a couple of years, mechanical watches are meant to evoke joy and, for many of the most premium brands and models, are expected to last for generations to come.
*****
Paul John Caña is the managing editor of Entrepreneur PH