Starting a business is no easy task, and there's a lot of advice out there. However, who better to look to than some of the most successful people in the world? From thinking visually to finding balance to taking control, business leaders like Jeff Bezos, Sheryl Sandberg and Warren Buffett share their advice to aspiring entrepreneurs. 
1. Jeff Bezos
Live for Day 1
ADVERTISEMENT - CONTINUE READING BELOW
"'What does Day 2 look like?' That's a question I just got at our most recent all-hands meeting. I've been reminding people that it's Day 1 for a couple of decades. Day 2 is stasis. Followed by irrelevance. Followed by excruciating, painful decline. Followed by death. And that is why it is always Day 1." 
 
-- Jeff Bezos, CEO of Amazon, in his 2017 shareholder letter
2. Tim Leberecht
Focus on what machines can't do
ADVERTISEMENT - CONTINUE READING BELOW
3. Mark Cuban
AI will create the new super-rich
"The world's first trillionaires are going to come from somebody who masters AI and all its derivatives and applies it in ways we never thought of."
-- Mark Cuban
4. Elon Musk
Mine life stories
ADVERTISEMENT - CONTINUE READING BELOW
"Tell me the story of your life, and the decisions that you made along the way, and why you made them."
-- Elon Musk, on the question he asks every job applicant
5. Jake Knapp
Think visual
"[At Google Ventures] we've found that magic happens when we use big whiteboards to solve problems.. As humans, our short-term memory is not all that good, but our spatial memory is awesome. A room plastered with notes, diagrams, printouts and more takes advantage of that spatial memory. The room itself becomes a sort of shared brain."
-- From Sprint, by Jake Knapp 
ADVERTISEMENT - CONTINUE READING BELOW
6. Tim Ferriss
Anxiety will show you the way
"Wake up at least one hour before you have to be at a computer screen. Make a cup of tea and sit down with a pen and paper. Write down the three to five things -- and no more -- that are making you the most anxious or uncomfortable... Block out two to three hours to focus on one of them."
-- Tools of Titans, by Tim Ferriss
ADVERTISEMENT - CONTINUE READING BELOW
7. Sheryl Sandberg
Just say it
"Avoiding feelings isn't the same as protecting feelings… Managers wait too long to break the news that people are being fired." 
-- Option B, by Sheryl Sandberg

8. Warren Buffett
The future is golden
ADVERTISEMENT - CONTINUE READING BELOW
"I'll repeat what I've both said in the past and expect to say in future years: Babies born in America today are the luckiest crop in history." 
-- Warren Buffett, in his 2017 letter to shareholders
9. Olivier Scalabre
There's plenty to go around
"In the next five years, the next billion consumers in China will inject more growth in our economies than the top five European markets together… If we play it right, we'll see sustainable growth in all our economies."
-- Olivier Scalabre, in his TED Talk "The Next Manufacturing Revolution Is Here"
ADVERTISEMENT - CONTINUE READING BELOW
10. Eric Garton and Michael Mankins
People > capital
11. Cal Newport
Unplug
ADVERTISEMENT - CONTINUE READING BELOW
"If you keep interrupting your evening to check and respond to email, or put aside a few hours after dinner to catch up on an approaching deadline, you're robbing your directed attention centers of the uninterrupted rest they need for restoration… Put another way: Trying to squeeze a little more work out of your evenings might reduce your effectiveness the next day." 
-- Deep Work: Rules for Focused Success in a Distracted World, by Cal Newport
12. Finding balance
ADVERTISEMENT - CONTINUE READING BELOW
"Sign that you're too soft: a five-minute conversation turns into 50 minutes… Sign that you're too tough: You walk into a room and people stop talking." 
-- Truth at Work: The Science of Delivering Tough Messages, by Mark Murphy
13. Thomas L. Friedman
Hit pause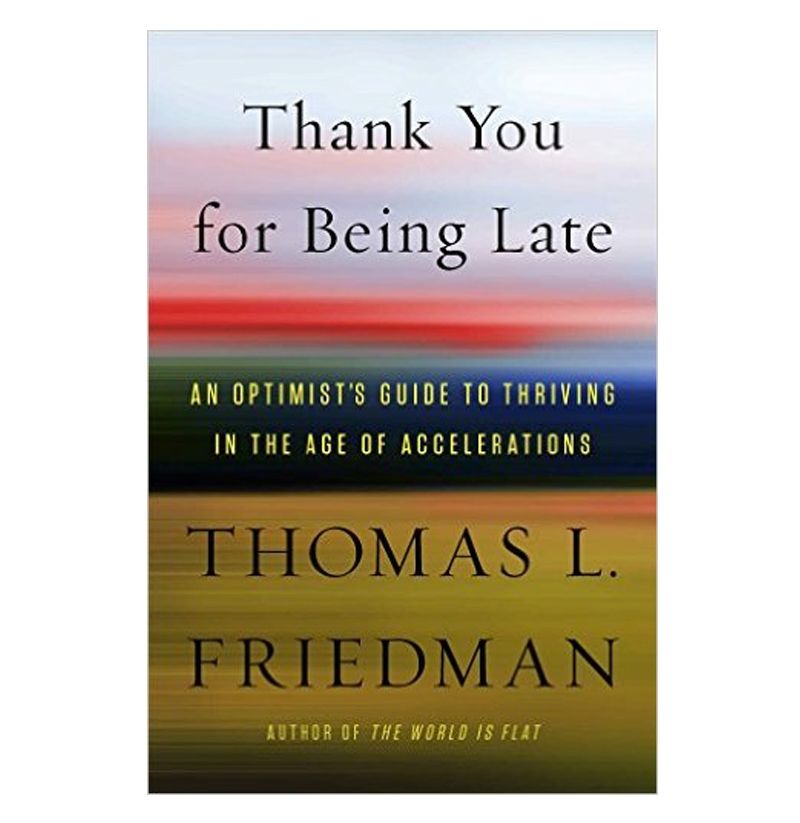 ADVERTISEMENT - CONTINUE READING BELOW
"When you press the pause button on a machine, it stops. But when you press the pause button on human beings, they start. You start to reflect, you start to rethink your assumptions, you start to reimagine what is possible and, most importantly, you start to reconnect." 
-- Thank You for Being Late: An Optimist's Guide to Thriving in the Age of Accelerations, by Thomas L. Friedman
14. Laura Vanderkam
Take Control of Your Free Time
ADVERTISEMENT - CONTINUE READING BELOW
"The idea is we'll save bits of time here and there, add it up, and finally get to everything we want to do. But after studying how successful people spend their time and looking at their schedules hour by hour, I think this idea has it completely backward. We don't build the lives we want by saving time. We build the lives we want, and then time saves itself." 
—Laura Vanderkam, author, in her TED Talk "How to Gain Control of Your Free Time"
*****
Copyright © 2017 Entrepreneur Media, Inc. All rights reserved.
This article originally appeared on Entrepreneur.com. Minor edits have been done by the Entrepreneur.com.ph editors.