People are certainly free to retire older, but this woman takes the cake. Or should I say Big Mac?
A 92-year-old employee of McDonald's was recently highlighted for being one of McDonald's oldest employees.
Goh Gwek Eng works at a McDonald's store in Singapore. Eng has 10 children and 20 grandchildren and says that after they left the house, it was too quiet for her to be at home.
ADVERTISEMENT - CONTINUE READING BELOW
Eng said that she plans to work at McDonald's as long as she's healthy. (Studies show that people who work even when they are within retirement age are generally healthier and happier.) Her only complaint? Sometimes standing by the food fryer can get a little hot.
Here are 20 more fun facts about the hamburger haven.
1. On the original McDonald's menu, a hamburger cost 15 cents
ADVERTISEMENT - CONTINUE READING BELOW
On May 15, 1940, Dick and Mac McDonald's opened the first-ever McDonald's store in San Bernardino, Calif. While you can still score a McDonald's hamburger there for only a dollar, back then people were only paying 15 cents for a menu item.
From the Fish Filet to the Big Mac, today's menu boasts a variety of items to choose from. Back then, things were much simpler, with the only food options being a hamburger, a cheeseburger or french fries. That's right: McDonald's didn't even have McNuggets back then.
2. A chicken nugget was once sold on eBay for $8,100
ADVERTISEMENT - CONTINUE READING BELOW
Why? The chicken nugget resembled George Washington. Twenty-three people bid on the three-year-old nugget. EBay generally has a rule against selling expired foods, but it made an exception.
The woman selling the nugget, Rebekah Speight, said that she was raising money for children at her local church to go to summer camp.
3. McDonald's sells more toys than Hasbro and Mattel
ADVERTISEMENT - CONTINUE READING BELOW
McDonald's sells around 1.5 billion toys worldwide -- more than Hasbro or Mattel sell individually.
McDonald's has started to include books instead of toys in Happy Meals, placing more books in kids' hands than those catalogued in The Library of Congress, the world's largest library.
4. Ronald McDonald is more recognizable than Santa Claus
ADVERTISEMENT - CONTINUE READING BELOW
According to the book Fast Food Nation, Ronald McDonald is identifiable by 96 percent of children around the world, which would make him the only fictional character more recognizable than Santa Claus.
Despite claims that the clown targets young children, McDonald's CEO Steve Easterbrook says Ronald isn't going anywhere.
5. Justin Timberlake and Pharrell Williams worked on the "I'm Lovin' It" song
ADVERTISEMENT - CONTINUE READING BELOW
McDonald's "I'm Lovin' it" theme song is performed by Justin Timberlake, who made an estimated $6 million for the jingle.
Timberlake wasn't alone: in 2003, Pharrell Williams produced an "I'm Lovin' It" EP which topped the charts in Belgium.
6. McDonald's employees can attend Hamburger University
ADVERTISEMENT - CONTINUE READING BELOW
Hamburger University is a global training program that an estimated 7,500 students attend annually. McDonald's records show that around 80,000 employees have attended since the program first started in 1961.
7. Usain Bolt ate 1,000 chicken nuggets during the 2008 Beijing Olympics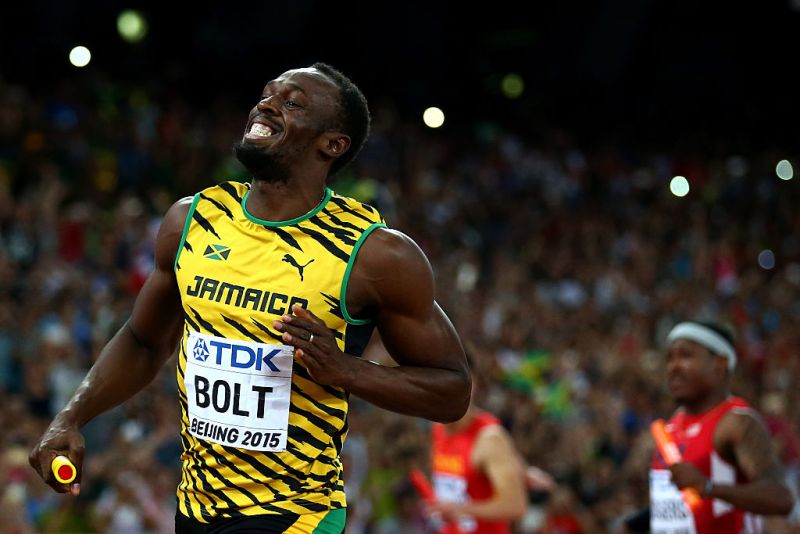 When Bolt was asked if he was worried about getting fat, Bolt told CNN, "Hell no. That's one thing I'm determined not to have. I have a bet with a couple of people."
ADVERTISEMENT - CONTINUE READING BELOW
However, he has noted that as an Olympic athlete he has cut down on the fast food and started eating more vegetables.
8. McDonald's once made the Big Mac even bigger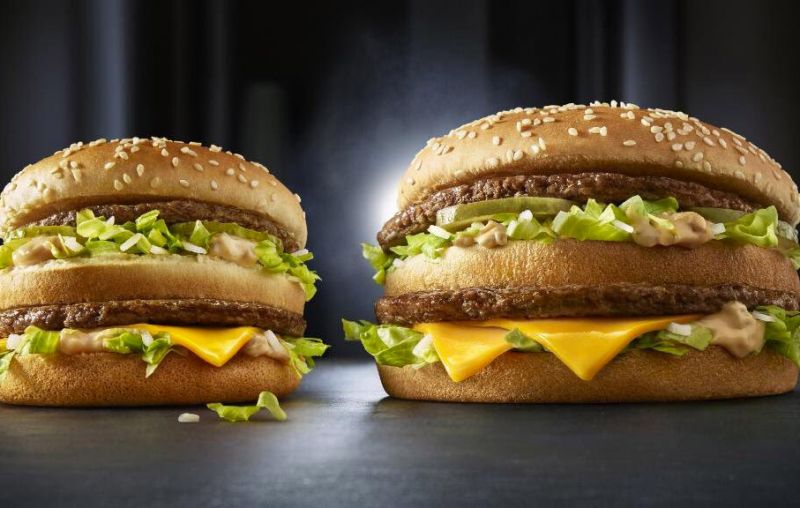 In April 2016, McDonald's rolled out their Giga Big Mac in Japan, which is essentially two burgers stacked on top of each other.
ADVERTISEMENT - CONTINUE READING BELOW
"It's a novelty item. It's meant to be shared," a McDonald's spokesperson told TIME.
9. You can have your wedding party at McDonald's in Hong Kong
If you're living in Hong Kong and looking to get married at McDonald's, you're in luck. For $9,999 you can enjoy a Love Forever party, french fry picture frame included.
ADVERTISEMENT - CONTINUE READING BELOW
What to know what a wedding party at McDonald's might look like? See for yourself.
10. One man has eaten a Big Mac every day since 1972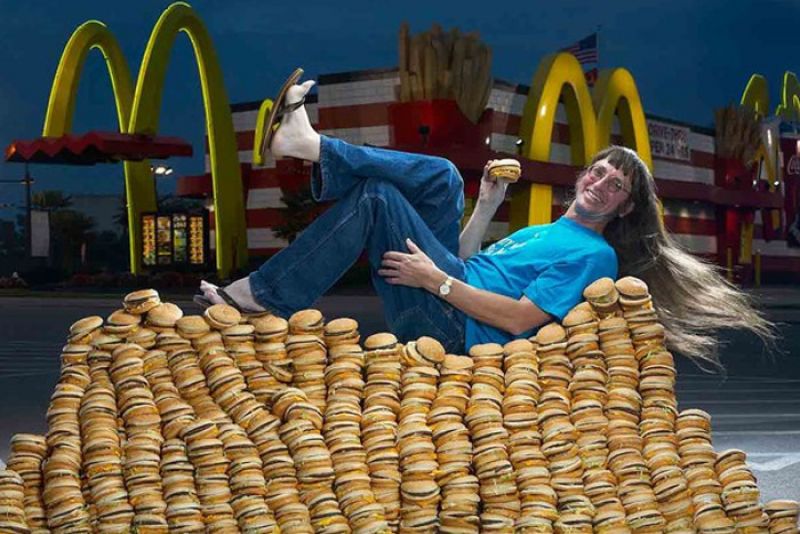 Donald Gorsky holds the Guinness World Record for the most Big Macs consumed. He has had at least one Big Mac a day since 1972, totaling 26,000 Big Macs in his lifetime.
ADVERTISEMENT - CONTINUE READING BELOW
Gorksy told WQAD that he has also had a Big Mac in every state.
11. At a Swedish ski resort, you can ski thru a McDonald's
If you're looking to burn off some calories, "McSkiing" is the way to do it.
Lindvallen, a ski resort in Sweden, has been allowing snow enthusiasts to ski through its McDonald's location since 1996. Check out this commercial that features the ski-thru.
ADVERTISEMENT - CONTINUE READING BELOW
12. Over 10 years, 700 claims were filed for burns due to McDonald's coffee -- until one famous lawsuit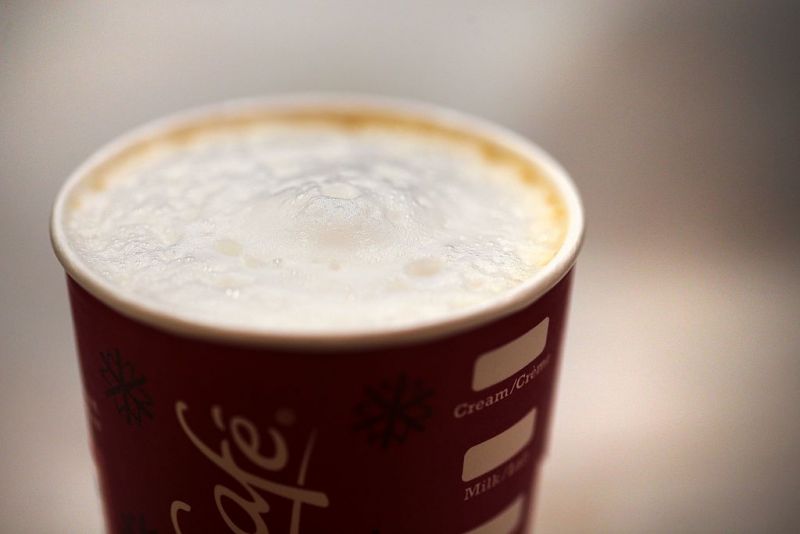 In 1992, a woman spilled coffee on herself while sitting in the passenger seat of a car at a McDonald's drive-thru, getting third-degree burns as a result. She sued McDonald's and was awarded nearly $3 million, which was lowered to $640,000.
ADVERTISEMENT - CONTINUE READING BELOW
Documentation was released by McDonald's showing that there were more than 700 claims by people burned by coffee between 1982 and 1992.
13. There is a McDonald's in all but 75 countries
Even though McDonald's has a strong presence overseas, North Korea, Bolivia and Iceland are among the countries that don't have a McDonald's. (McSad!)
ADVERTISEMENT - CONTINUE READING BELOW
According to the World Atlas, there are about 194 countries in the world. McDonald's is currently located in119 countries.
14. The world's largest McDonald's is in Orlando, Florida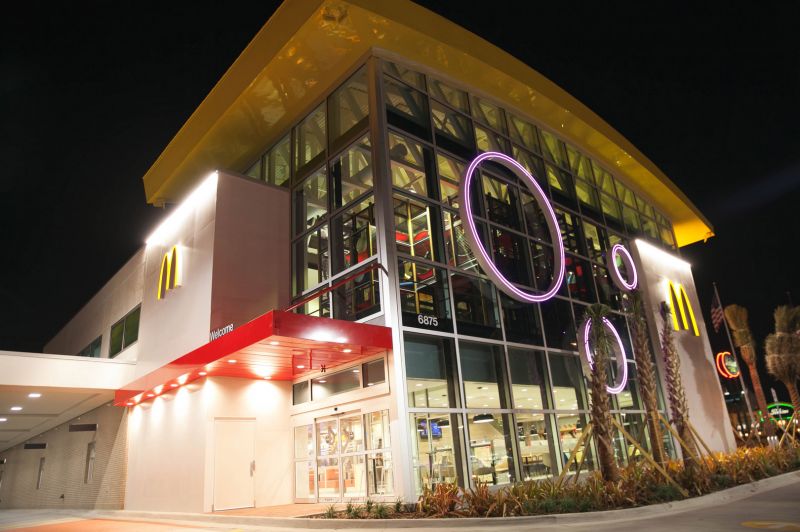 Even though the Orlando location was already the largest franchise, the store upgraded to 19,000 square feet in 2016. The store includes a bowling alley, arcade games and slides for children. The location even frequently hosts concerts and gator shows.
ADVERTISEMENT - CONTINUE READING BELOW
15. Stars such as Jay Leno and Pink worked at McDonald's before becoming famous
16. McDonald's airlifted burgers to homesick athletes during the 1968 Olympics
ADVERTISEMENT - CONTINUE READING BELOW
Athletes in Grenoble, France, requested burgers from McDonald's during the 1968 Olympics to feel less homesick.
McDonald's became an official sponsor of the Olympics eight years later -- and even has an Olympic swimming pool in Los Angeles, Calif.
17. McDonald's feeds around 1 percent of the world's population every day
ADVERTISEMENT - CONTINUE READING BELOW
18. McDonald's Caesar salad is about as unhealthy as Big Mac
ADVERTISEMENT - CONTINUE READING BELOW
19. McDonald's sells 25 percent of Filet-O-Fish sandwiches during Lent
McDonald's starting selling a Filet-O-Fish in the 1960s when a Cincinnati franchise owner wanted Catholics to be able to eat on Friday at his store during lent.
Today, 25 percent of McDonald's Filet-O-Fish sales are during lent.
ADVERTISEMENT - CONTINUE READING BELOW
20. McDonald's hosts an American Idol-style "Voice of McDonald's" competition
The 2015 winner of Voice of McDonald's contest is Lucy Ospitia. She received a $25,000 prize.
The final competition was judged by big names in music including Grammy Award-winning composer David Foster and Grammy-nominated singer and songwriter Skylar Grey.
ADVERTISEMENT - CONTINUE READING BELOW
Copyright © 2017 Entrepreneur Media, Inc. All rights reserved.
This article originally appeared on Entrepreneur.com. Minor edits have been done by the Entrepreneur.com.ph editors.