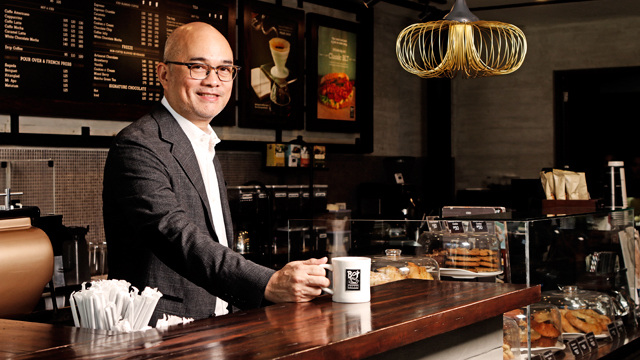 In an industry filled with large international franchises, Bo's Coffee stands out by serving locally crafted brews. For the past 20 years, founder Steve Benitez has built his brand up from a coffee cart in Cebu to a network of 100 stores nationwide. His hard work has been recognized abroad as he was selected as a high-impact entrepreneur by global non-profit organization Endeavor, which puts the spotlight on business owners that have scalable businesses and profound influence on their business community.
ADVERTISEMENT - CONTINUE READING BELOW
What did it take for Steve Benitez to build a successful business? Here are five lessons every entrepreneur can learn from his story:
1. Study the industry
Before opening his first store, Benitez studied the coffee shop business for two years. He traveled abroad to see how the market was doing in other countries as the idea of a coffee shop in the Philippines was unheard of back then. It was in this research period that he got the idea for the name — he met and was inspired by an American coffee roaster named Bo in a coffee expo in the US.
Benitez recalls how the biggest factor in his decision to push through with the business was when he attended a food show in Singapore. He saw several coffee shops along Orchard Road, and their customers were drinking hot coffee under the Singapore sun. With the concept being a hit in a tropical country like Singapore, Benitez decided to bring it to the Philippines.
ADVERTISEMENT - CONTINUE READING BELOW
2. Believe in your business
Or rather, believe in your business even if no one else would.
Benitez had two business partners when he started the company, but both backed out before he opened the first store. Like some of his family and friends, his partners doubted that a coffee shop business in the Philippines was going to work.
What kept Benitez going amidst the naysayers? "I believed in the concept," he said simply. From his research he knew that the industry was picking up abroad, so he wanted to be in the game when it hit the Philippine market.
And that belief carries over to the company's operations. "It's really just believing in what you do," said Benitez. "It comes out in your service and in your product."
Related Story: Bo's Coffee: Ready for Hypergrowth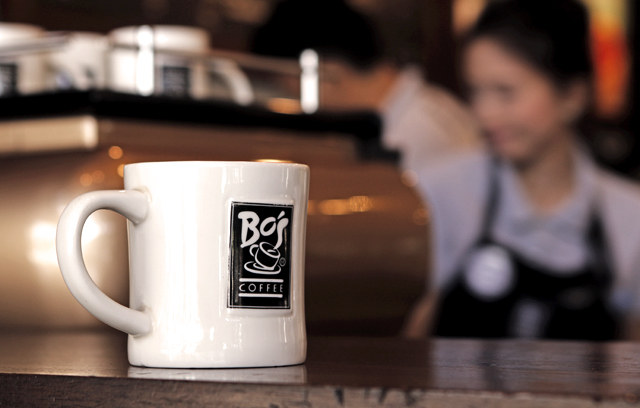 ADVERTISEMENT - CONTINUE READING BELOW
3. Carve out your own niche
A year after he opened the first Bo's Coffee store, Starbucks entered the Philippine market, starting a trend of international chains setting up local shops. But instead of being discouraged, Benitez saw it as an opportunity to up his game. "I felt challenged in making sure that a Filipino brand stands up on its own and coexists with these (foreign) brands," he says.
And this Filipino quality is what Benitez used to carve out a niche in the market, positioning Bo's Coffee as the "homegrown brew". The Filipino branding can also be seen in each store's interior design and each barista's uniform, which are all built and produced locally.
"We claimed that we were the Philippines' coffee brand," explains Benitez on how Bo's differentiated itself from the industry. "And since they're all foreign, they can never claim that."
4. Always be willing to learn
ADVERTISEMENT - CONTINUE READING BELOW
"I really am a sucker for learning," adds Benitez. That was his biggest takeaway in becoming one of Endeavor's high-impact entrepreneurs — he succeeded after learning from his first attempt.
Benitez had gone through Endeavor's selection process in 2015 but was told by the panel to come back after improving the systems behind his business model. Instead of falling victim to pride and dejection like other applicants, Benitez took their comments to heart and reworked his business processes, allowing him to be successful when he came back a year later.
"There will always be some blind spots for a businessman," he said. "If I didn't listen (to the Endeavor panel's advice), I wouldn't learn."
Related story: How homegrown Bo's Coffee competes with Starbucks
5. Keep transforming yourself
Benitez stresses that entrepreneurs need to transform with their businesses. He believes that entrepreneurs are mostly right-brained and creative when they start out but then have to refocus to the left brain once their businesses scale up. "You have to become a manager, a good CEO," he adds. He warns that those who don't transform themselves will either "burn out, sell out or close shop."
ADVERTISEMENT - CONTINUE READING BELOW
The entrepreneur assesses himself and his business every five years and transforms accordingly. It was this perseverance in transforming himself that allowed him to take the business out of Cebu, weather the financial crisis, raise funds through investors and become the country's biggest local coffee chain.
"It's a transformation all the time for entrepreneurs," he says.
*****