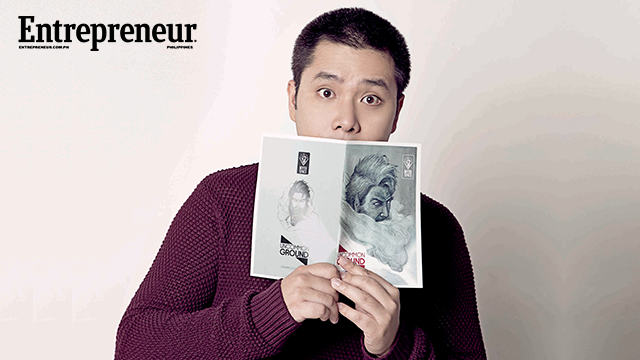 Paolo Chikiamco, lawyer and Palanca Award-winning writer, thinks there isn't enough Filipino representation in genre fiction and comic books to date. So he's made it his personal mission to write as many as he can—and as many as he can convince his friends to collaborate on.
ADVERTISEMENT - CONTINUE READING BELOW
"The lack of Filipino characters and Philippine culture in genre stories does a disservice both to us [Filipinos] and to the genres where we are all but strangers," he said. "I want someone who enjoys Godzilla to be thrilled when a monster destroys Makati, for example."
Chikiamco, whose efforts started in 2009 with Eight Ray Publishing Inc. and its imprint Rocket Kapre, has been at pains to put the Philippines on the digital publishing map. In his quest, Chikiamco has been a prolific writer of speculative fiction—you'll find his stories included in several anthologies. Most notably, he published the anthology inspired by Philippine myth, Alternative Alamat, which was recognized for its category in the 2012 Filipino Readers' Choice Awards.
Of late, Chikiamco has shifted focus to comics. He came out with High Society, which became the featured giveaway at the Geek Dad section of Wired.com—a deal he credits to the machinations of the comic's publisher, Flipside Publishing.
ADVERTISEMENT - CONTINUE READING BELOW
His Mythspace series is a space opera where creatures of indigenous folklore are re-imagined as aliens. "One of the reasons that we set out to make a universe with this set of stories, instead of an anthology of standalone tales, was that we believe there are creative and commercial benefits to being able to revisit a setting repeatedly, accumulating detail and history that makes it more real for readers," he explains.
Chikiamco's next salvo gathers the writers and illustrators he's worked with in the past five years in a collective called Studio Salimbal. The logic is to pool the efforts of the members to create a single brand that readers and publishers can trust, consistently coming out with quality work.
"There are doors that wouldn't open to us individually, that will accommodate us as a studio. It's one thing if a creator wants to put his or her one book up in your digital storefront, and quite another if a studio offers you its backlist of 10 graphic novels—you come in with more leverage as the latter, and with more respectability too," says Chikiamco.
ADVERTISEMENT - CONTINUE READING BELOW
Among Studio Salimbal's more notable members are Budjette Tan (writer of horror/crime series Trese), Mervin Malonzo (behind the aswang comic "Tabi Po") and Noel Pascual (best known for the series, Crime Fighting Call Center Agents).
Chikiamco has faced his share of setbacks and he readily admits that most of his posse have "day jobs" that allow them to continue doing what they love. That in itself is a sign of their commitment. "We're doing comics now, even when the monetary rewards pale in comparison to the time and effort we put in... The dream is to reach the point where we can make comics—comics that we own, comics that we can be proud of—for a living, instead of in the sliver of time between our day jobs and personal lives," he concludes.
*****
This article originally appeared in the October 2014 issue of Entrepreneur Philippines magazine. Minor edits have been done by Entrepreneur.com.ph.
ADVERTISEMENT - CONTINUE READING BELOW