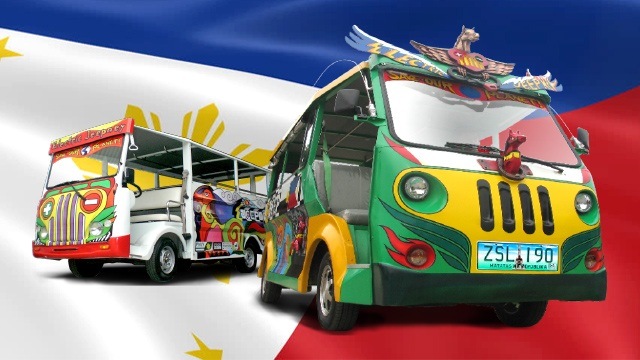 Ten years ago, no electric vehicles were plying the country's roads.
But thanks to a group of local car parts suppliers, e-vehicles from jeepneys, tricycles and quadcyles are now traversing the roads in various regions of the Philippines.
Formed in 2007, the Philippine Utility Vehicle (PhUV) Inc. pioneered the assembly of electric jeepneys in the Philippines. It was incorporated by people behind seven Philippine-based car parts makers – Yazaki-Torres, VSO, Glasteck, Nito Seiki, Autofir, MD Juan Enterprises and Manly Plastics.
PhUV Inc. didn't set out to make electric vehicles at first. Rather, it wanted to make local utility vehicles that used as much Filipino components as possible.
Related story: Prototype for Electric-Powered 'Green Jeepney' Unveiled
In 2003, then-President Gloria Macapagal Arroyo signed a new excise tax system, removing the tax exemption of Asian Utility Vehicles (AUV) made by mostly Japanese car manufacturers. Demand for the AUVs plunged, disappointing local automobile parts suppliers who made the majority of the AUV components.
ADVERTISEMENT - CONTINUE READING BELOW
Determined to offset the declining demand for their components from Japanese car makers, some members of the then-Motor Vehicle Parts Association of the Philippines (MVAP) decided to form the consortium that would produce the first local utility vehicle and continue buying their parts and components.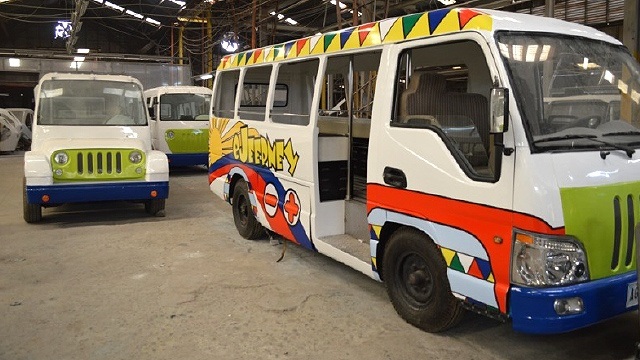 "The parts-makers were thinking of producing a local vehicle with as many local parts as we can," recalled Rommel Juan, president of PhUV.
ADVERTISEMENT - CONTINUE READING BELOW
PhUV's first project was an AUV with an internal combustion engine from China. The group managed to produce a prototype, but its engine supplier backed out of the project.
As members mulled their options after the initial setback, an opportunity to manufacture the first electric jeepney arose.
A group of environmental advocates, Green Renewable Independent Power Producers (GRIPP), with funding from an international NGO, made a pitch to the local government of Makati City to introduce electric jeepneys for what would eventually be known as the Makati Green Route project.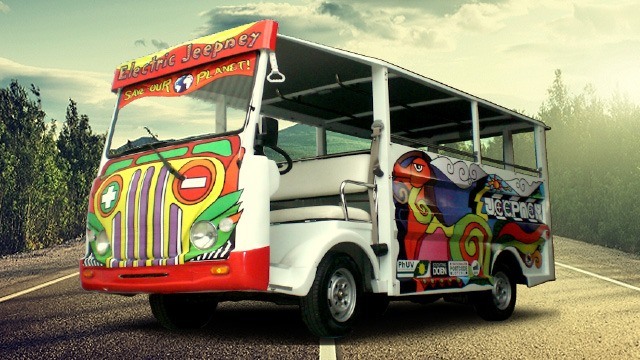 ADVERTISEMENT - CONTINUE READING BELOW
"The (proposed) e-jeepneys were from China. We are parts manufacturers, so we called and told them, if you want e-jeepneys, then they should be locally made. So, we were tasked to make electric jeepneys," Juan recalled.
It took less than a year for PhUV to produce the first locally manufactured e-vehicle with Php1 million as capital, mostly spent on research and design. "(The capital) was very small. We have the technical expertise," he said.
The group called its first e-jeepney Darna, named after the Filipino female superhero. "The headpiece on the sun visor looked like Darna's headpiece," Juan explained.
PhUV sold a total of 20 e-jeepneys to the project at Php700,000 per unit. It was powered by a rechargeable automotive battery that can be charged on ordinary wall outlets. Unlike the typical PUV jeeps that can seat 20 to 22 passengers, PhUVs designed its e-jeep to accommodate 16 people and carry as much as 1.4 tons.
ADVERTISEMENT - CONTINUE READING BELOW
"The e-jeepneys of the Makati Green Route are still running (today)," Juan proudly shared.
As the first electric vehicle in the country, the e-jeepney of the Makati Green Route Project was also the first to receive an orange plate, a plate issued by the Land Transportation Office (LTO) specifically for electric vehicles.
"We are the first e-jeepneys to get the LTFRB (Land Transportation Franchising and Regulatory Board). Our e-jeep is the first to have the orange license plate in the Philippines. We have many 'pioneers' in the company. We even own the trademark for e-jeepneys," Juan said.
Related story: Why This Cavite E-Trike Maker Remains Upbeat Despite Sluggish Sales and Loss of Franchise
ADVERTISEMENT - CONTINUE READING BELOW
With the entry of more players into the assembly of electric vehicles, the PhUV decided to start an association of electric vehicle makers, the Electric Vehicle Association of the Philippines (EVAP), in 2008. "There were fly-by-night companies. They were giving the industry a bad name," Juan said.
Four out of the seven owners of the PhUV became officers of the EVAP. The association has 50 members composed of manufacturers, suppliers and dealers.
Just two years ago, the PhUV started manufacturing electric tricycles. To date, it has produced a total of roughly 200 units of e-jeepneys, 200 e-tricycles and 50 quad vehicles. The company has supplied e-vehicles to private firms, academic institutions and fleet operators in various cities such as Filinvest Land, Plantation Bay, Muntinlupa City, Las Piñas, Ateneo de Manila and De La Salle University in Cavite.
By all accounts, selling just 450 electric jeepneys, tricycles and quadcycles after 10 years in the market does not speak well of the commercial potential of e-vehicles in the Philippines, Juan admits. In fact, PhUV lost Php1.4 million on revenues of Php19 million in 2015, according to the company's latest financial statements on file with the Securities and Exchange Commission (SEC).
But Juan remains optimistic, pinning his hopes on the implementation of the public utility vehicle (PUV) modernization program where up to 200,000 old dilapidated PUVs will be replaced with either Euro 4-compliant internal combustion engines or electric-powered motors.
ADVERTISEMENT - CONTINUE READING BELOW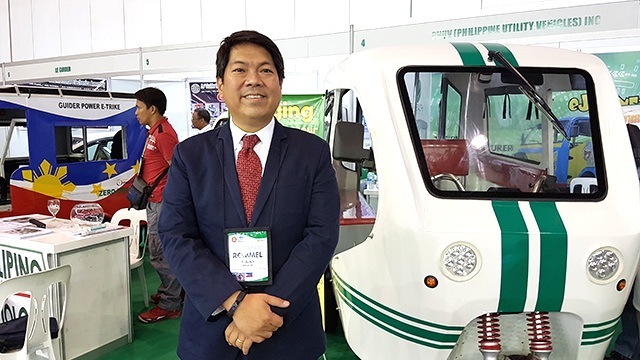 "Once that takes effect, there will be a need for brand new jeepneys. We would be pushing for electric jeepneys as much as we can," Juan said.
PhUV is aiming to sell at least 10,000 e-jeepneys, or five percent of the 200,000 jeepneys that are likely to be retired due to the modernization program, according to Juan.
ADVERTISEMENT - CONTINUE READING BELOW
"Now there's a reset happening. The DOE (Department of Energy) wants a new e-trike program. There's PUV modernization. Finally, there's a (bigger) market."
The only wrinkle in PhUV's plan is that other players have come in with the same exact strategy in mind.
Last July, a new company called QEV Philippines Eletromobility Solutions and Consulting Group Inc., backed by Enrique "Endika" Aboitiz of the wealthy Aboitiz family, unveiled a prototype for electricity-powered jeepneys that he is touting for the PUV Modernization Program. Like PhUV Inc., QEV Philippines is eyeing to sell 10,000 of its e-jeepneys in the next five years though the aim is to make as much as 50,000 e-jeepneys eventually.
— With a report from Pauline Macaraeg
*****
Cherrie Regalado is a contributor to Entrepreneur.com.ph. Follow her on Twitter @cherrieregalado