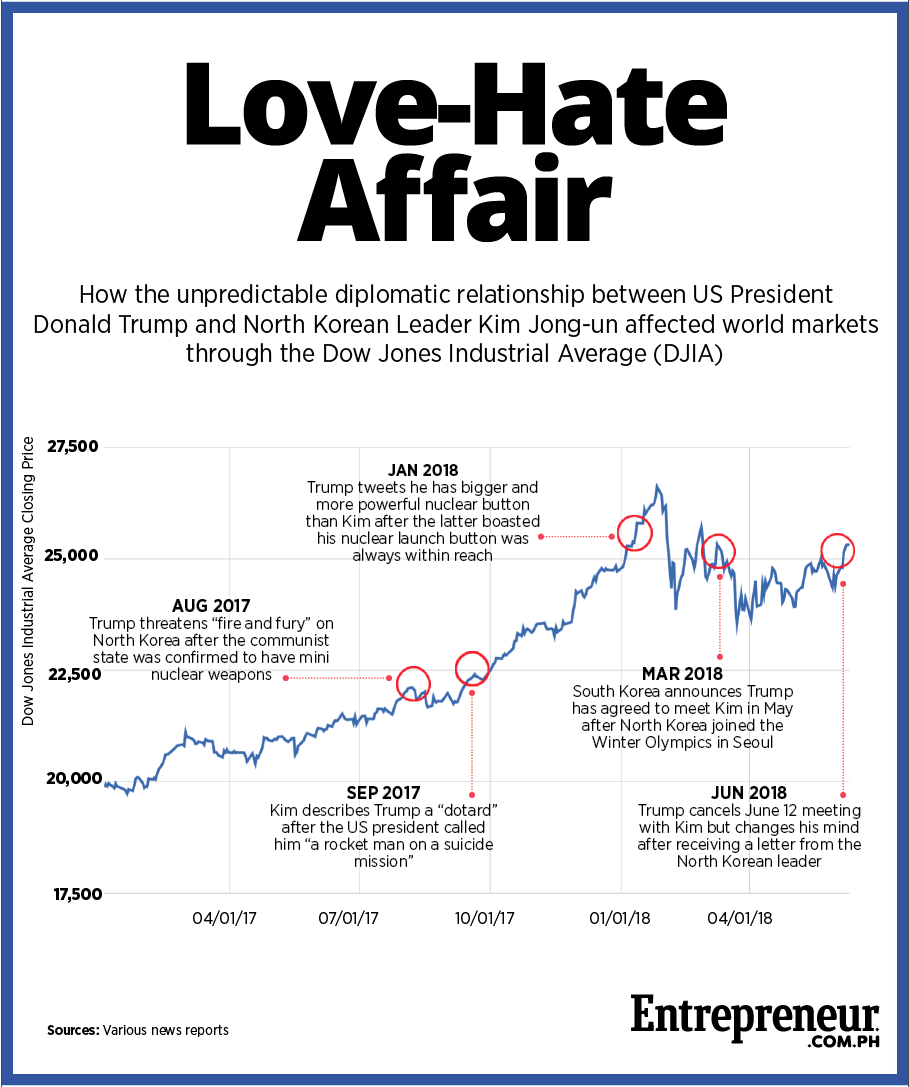 Stock markets in Asia posted mixed performance early on Monday, June 11, the day before the historic summit of US president Donald Trump and North Korean leader Kim Jong-un in Singapore. It's the first time a sitting US President and the leader of North Korea will have an official meeting.
ADVERTISEMENT - CONTINUE READING BELOW
The reaction generally reflects how the rest of the world's markets performed as the two adversaries hurled numerous threats and insults to one another in the past 18 months.
The infographic shows how the Dow Jones Industrial Average (DJIA) performed from January 2017 until the first week of June 2018. The DJIA, a stock market index comprised of 30 blue chip companies based in the US, has been largely considered not only as the barometer of the US stock market but the performance indicator of the world's markets as well.
As seen in the infographic, the DJIA had performed well in general in 2017 but every time US President Trump made a statement against North Korea, the market dropped by a few points. It reflects worries that an escalation of tension in the Korean peninsula could result in military hostilities and possibly nuclear war. But by 2018, it seems the market had gotten used to the two leaders' verbal antics.
ADVERTISEMENT - CONTINUE READING BELOW
In January, US President Trump and Mr. Kim exchanged insults during the first two weeks of the year, yet not only did the market remain stable but it even accelerated until the last week of January. The same thing happened in March when US President Trump agreed to meet with the North Korean leader.
The market dropped anew in May when Trump abruptly cancelled the meeting but made a comeback a week after when the American leader once again agreed to meet with the North Korean leader.
*****
Elyssa Christine Lopez is a staff writer of Entrepreneur PH. Follow her on Twitter @elyssalopz