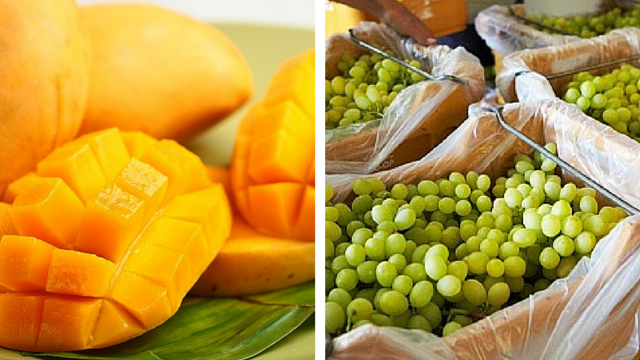 The imported table grapes you see in major retail chains like SM and Robinsons supermarkets are most likely from Australia.
And the Australian government wants to bring in more of their horticultural produce to the Philippines. In return, and per Philippine government's order of priority, they want more of our produce, particularly mangoes, there in Down Under.
ADVERTISEMENT - CONTINUE READING BELOW
The Filipino market is more accepting of imported produce and goods, Victorian Trade Market Engagement Manager Brendan Larkin told entrepreneur.com.ph on the sidelines of the Australian trade briefing on Friday, April 22.
In turn, Australia is now importing mangoes from select provinces in the Philippines.
Increased exports
ADVERTISEMENT - CONTINUE READING BELOW
Australia's Now in Season campaign is on its third year, and it aims to push more of its fresh produce to the Philippines. These temperate fruits include table grapes; oranges (mandarins, lemons); apples; pears, and stonefruits (cherries, peaches, plums).
Fruit exports from Australia to the Philippines hit A$15 million (P540.56 million) and are projected to grow further to A$20-A$25 million (P720.75 million-P900.94 million).
Larkin said that this season has seen more horticulture exports due to favorable exchange rates and an excellent growing season, therefore producing superb crop.
Judith Damiani, CEO of Citrus Australia Ltd., and one of the eight high-level Australian horticulture delegates to the country, said the Philippines has become a very important market for their industry because of the relatively short transit time and the exponentially growing middle-class.
Apart from SM and Robinsons supermarkets, these Australian fruits are also available in SM Hypermarket; Rustan's Fresh and Supermarket; Rustan's Marketplace; Shopwise; and S&R. The Australian companies have set weekend promotional activities with these chains as well during the Now in Season campaign period. Australian fresh fruits and vegetables are being distributed by 120 retailers across the country.
ADVERTISEMENT - CONTINUE READING BELOW
Improved protocols
The Association of Southeast Asian Nations (ASEAN) Australia New Zealand Free Trade Agreements (AANZFTA) made possible for these fruits to enter the country tariff-free, said Senior Trade Commissioner Anthony Weymouth. Tariffs are taxes or duties to be paid on a particular class of imports and exports.
ADVERTISEMENT - CONTINUE READING BELOW
Weymouth added that the improved cold treatment protocols, as approved by the Philippines' Bureau of Plant Industry (BPI) in 2013, reduced the transit time for Australian fruits to here.
"We recorded 300% growth last year and we think that [it] will continue as the economy is growing so fast and consumers are becoming somewhat health conscious," Weymouth said.
He added that the Australian government is negotiating with BPI for an air freight protocol, which if approved, will enable Australia to bring horticulture produce into the country within 72 hours from the present 15 days by boat.  Currently, the cherries available here largely come from South America but it is taking 45 days of sea travel to reach Manila.
More PH fruits in Australia?

Mangoes, along with the entry of banana, pineapple, and other major fruit exports of the Philippines to Australia have encountered problems like insect infestations. Thus, Australia has set strict quarantine and treatment methods, such as vapor-heat treatment, to address the risk of fruit flies.
ADVERTISEMENT - CONTINUE READING BELOW
The export of limited mangoes to Australia came following the signing of an agreement in 2014 between the agriculture departments of both countries at the Second Australia-Philippines Agriculture Forum in Canberra.
In 2014, 14 metric tons of Philippine mangoes were exported to Australia, Japan, Hong Kong, Korea, and the US. More than 30 countries buy fresh mangoes from the Philippines, like Canada, China, England, France, Germany, New Zealand, and Russia.
Local dried mangoes, on the other hand, are being exported to 21 countries, including Australia, Canada, China, Germany, Hong Kong, Japan, Russia, South Korea, Taiwan and the US. The European Union also expressed interest in Guimaras' mangoes, and said export of such fruit to countries in that trade bloc is low, reports this month cited.
Larkin said, if protocols are met, other Philippine fruits like the pungent durian could also make their way to Australia.
Improving agriculture
For Australian Ambassador to the Philippines Amanda Gorely, the Now in Season campaign helped profile Australian fruits to Filipino consumers and increased the availability of her country's fruits around the Philippines.
ADVERTISEMENT - CONTINUE READING BELOW
But the activity does not end there. The Australian government is helping the country in terms of agricultural research, and the ambassador told entrepreneur.com.ph on the sidelines of the trade briefing that she was at the University of Southeastern Philippines in Davao City on April 12 to see the updates on the ongoing research on fruits and vegetables programs, particularly the banana and mango projects in southern Philippines.
The Australian Centre for International Agricultural Research (Aciar) affirmed that both mango (carabao mango) and banana (Cavendish banana) projects that started in 2014 will be finished by December 2017, SunStar Davao reported on April 14. The current El Niño though is hampering the efforts.
Improving market access for agricultural players, particularly small farmers, plus enabling them to be more agile and innovative would pave the way for more local produce available to the majority, and to the international market as well, Gorely said.
ADVERTISEMENT - CONTINUE READING BELOW
And the upcoming elections would not cause any delay to the efforts of both governments to exchange best practices in the agricultural field.
"It's business as usual," the ambassador said.
*****
Lynda is the editor in chief of Entrepreneur.com.ph. Follow her on Twitter, @lyndaccorpuz and LinkedIn, https://ph.linkedin.com/in/lyndacorpuz.
Photos from www.thecitemblog.wordpress.com (Philippine mangoes); www.australiangrapes.com.au (table grapes)