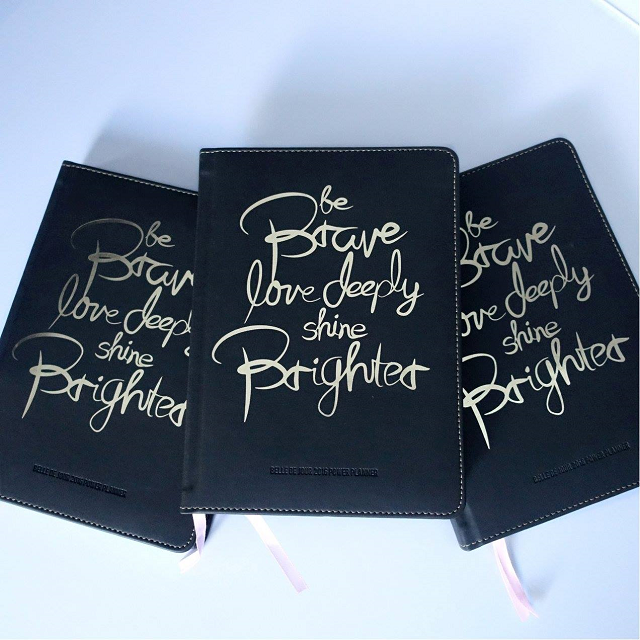 More than a passing craze, the daily planner has become a status symbol, a statement, for mostly Filipino women. But that was not always the case.
When Darlyn Ty began developing the first Belle De Jour planner in 2006, some of her friends were skeptical of her decision to target women. "They told me, 'You're cutting the market in half! How many people will be passionate about planners?'" she recalled. "It wasn't such a hip thing to have a planner back then."
ADVERTISEMENT - CONTINUE READING BELOW
Still, she was determined to push through with her product. "I decided that I wanted a planner that represented who I am, that I was proud to share and use myself," recalled Ty, who initially made a planner for herself before pursuing the business. It was a decision supported by her own backyard surveys, which showed that women tended to be more particular about their planners.
She could only afford to release 1,500 planners when Belle De Jour hit the market in 2007, but these sold out in only three weeks. To date, it sells more than 25,000 units annually, including its offshoot brands, the Navi and Anything Is Possible planners.
Support from 'Bellas'
ADVERTISEMENT - CONTINUE READING BELOW
Its loyal following, calling themselves "Bellas," started inconspicuously enough: The clamor for more planners after that first print run led Ty to set up an email blast network to keep in touch with other girls who wanted to get their hands on a planner the following year.
"We decided to have events because we wanted to interact with the girls, get to know them—and for them to get to know each other," she said. "When you release a planner once a year, you have to keep people engaged for the other months that you're not selling your product."
In 2008, the first BDJ Rendezvous was held. She describes it as a kind of seminar, where speakers lead discussions on topics relevant to the Bellas, like career and lifestyle. On the other hand, when some Bellas asked for a more intimate setting, Ty organized the BDJ Passion Series, a more in-depth discourse with smaller groups of 30 to 40 people.
ADVERTISEMENT - CONTINUE READING BELOW
But more Bellas meant more elbow room was needed: BDJ Fair, a bigger-scale event, was later held in Eastwood with 600 Bellas in attendance. The fair has since been moved to Mall of Asia to accommodate the 3,000 girls and women who now frequent this get-together.
Even as it celebrated its 10th anniversary, support for the brand is still going strong. Within its fan following emerged another group calling themselves "Belle De Jour veterans"—Bellas who have been faithfully collecting the planners for five years or longer. Ty and her team show their appreciation for these longtime fans by participating in videos with them, to be shown at the BDJ Fair. "It grew organically; it wasn't planned," she said of their growing retinue. "We just went along with the energy and the flow of the community."
To this day, the business releases surveys regularly to keep up with the needs and tastes of their customers—which over 2,000 Bellas fill out faithfully—and consults the results before the BDJ team buckles down to work on a new offering. "The way we develop products is that we really ask them what they need or want, and then we work from there," Ty said. That is how they came up with options for leather-bound and customized covers, catering to Bellas who wanted a different look for their planners.
ADVERTISEMENT - CONTINUE READING BELOW
This enthusiasm goes both ways: The continued loyalty of the Bellas, in turn, inspire Ty and her team to work hard on releasing the next year's planner. "We feel that because the energy of the whole community, we feed off one another. We pull one another up," she said.
The Three A's
ADVERTISEMENT - CONTINUE READING BELOW
According to founder Darlyn Ty, the success of Belle De Jour's community is built on the brand's three tenets:
1. Accomplishment
The planners are designed to present time in a linear fashion to make it easier for Bellas to get organized with their schedule. "We really want it to be called a 'power planner' because our goal is woman empowerment," said Ty. "A sense of accomplishment [is] one of the things we want to give the girls—that's where time management comes in using the planner."
2. Affirmation
The booklet of coupons that comes with every BDJ planner is meant to serve as a means with which Bellas can reward themselves for their hard work. "It's also an accomplishment to achieve balance in your life," Ty explained. "You can't work hard and not play hard."
3. Affiliation
Every year, BDJ holds nine events—the quarterly BDJ Rendezvous and Passion Series, and the annual BDJ Fair—as Ty explained, "Bellas are part of a community of empowered women, women who are like you, who want to live their life to the fullest, who want to achieve more. We want them to feel like they're not alone, that they're part of the BDJ community."
ADVERTISEMENT - CONTINUE READING BELOW
*****
Victoria is a freelance writer who covers business, tech, and lifestyle. She is also the former features editor of Entrepreneur Philippines magazine. Follow her on Facebook, https://www.facebook.com/vikkiverka.
This article was originally published in the August 2015 issue of Entrepreneur Philippines magazine. Minor edits have been done by the Entrepreneur.com.ph editors.