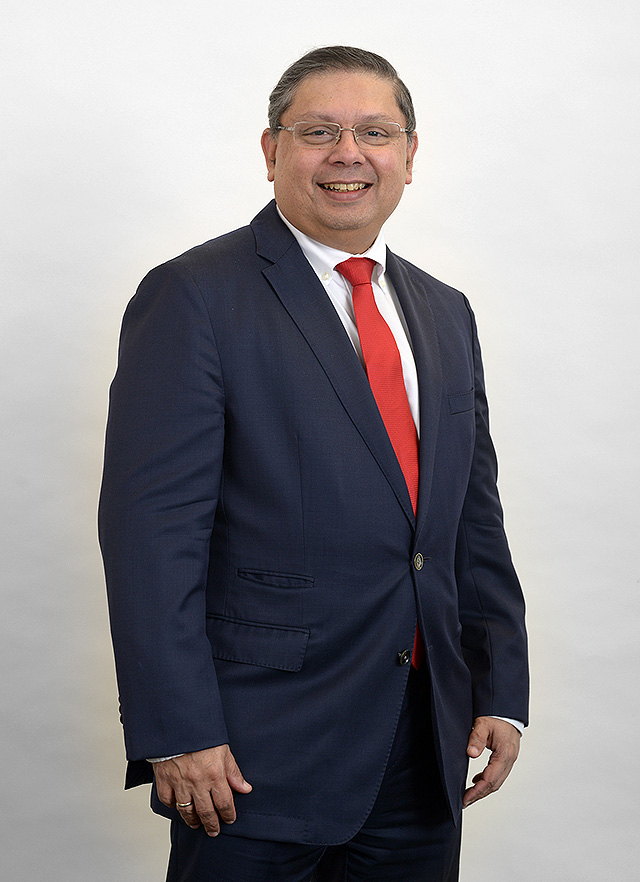 Surendra Menon is the CEO of BPI-Philam Life Assurance Corp.
Most parents encourage their children to save by giving them piggy banks or bank accounts. Those who are financially sophisticated may try to teach them a bit of investing by giving them shares in a listed company or a mutual fund so they'll see how stock prices or fund values go up or down amid varying market conditions.
ADVERTISEMENT - CONTINUE READING BELOW
Surendra Menon, the chief executive officer of BPI-Philam Life Assurance Corp., a bancassurance group, is different. When his daughter was nine-and-a-half years old, he and his wife sat down with her to talk about managing the funds they set aside for her university education. It wasn't investing with play money but the real thing. If the fund fell short, she'll bear the consequences. On the other hand, if it grew beyond her needs, the extra money was hers to keep.
Thanks to her financial acumen, her parents' training and help from financial advisers—as well as benign markets since the global financial crisis of 2008 when she started investing—the return on her investment grew 120 percent. Now that she's 17-and-a-half years old, that could mean she'll be entering university soon with lots of money of her own.
In the email Q&A that follows, Menon, a former regional director for bancassurance of the AIA Group after stints with the DBS Bank in Singapore, BDNI Life in Indonesia and the Insurance Corp. of Singapore, now known as Aviva in Singapore, shares how his daughter learned enough about investing to actually manage and grow her own college fund.
ADVERTISEMENT - CONTINUE READING BELOW
1. Please tell us a bit about your daughter's experience handling money growing up? Did you give her a fixed allowance, for example? 
Initially she did not have a fixed allowance, but she does now. Her allowance only came when she displayed some basic discipline in making purchasing decisions.
We don't limit her with what she can do with her allowance but it's mainly for her day-to-day needs in school. The budgeting is all up to her and she's been handling her money maturely enough with the right amount of sacrifices to achieve her conscious targets of future purchases.
Psychological tests show that children who can sacrifice short-term pleasures for longer-term, bigger gains are more likely to succeed in life. This was one of the lessons the trials were meant to teach her.
2. How old was your daughter when you introduced her to the idea of investing? What were the most basic elements of investing did you discuss with her? What analogies did you use, if any, to make the idea clearer to her? 
ADVERTISEMENT - CONTINUE READING BELOW
She was around 9.5 years old when we sat her down to show her some options on how to grow money set aside for her university.
We explained that growing ahead inflation is the most important thing. Otherwise, she will not have enough for university. On the other hand, if she grew it higher than was needed for university, the excess was hers to keep!
The second lesson was that there are upsides and downsides, and one must recognize both to understand what the trade-offs are in decision-making.
We set up the mechanism for her to do this and monitor the ongoing outcomes, but also some guidance on short and long-term effects of two basic types of stores of money—bank accounts and shares of stocks.
An analogy we use in teaching her how to select stocks based on value rather than price is this: Would she rather have 10 dresses that may or may not last? Or have two to three dresses that she knows will last? The lesson here is that while the cheap dress may cost less, the more expensive dress has a much higher value i.e. better fitting, better material, etc.
ADVERTISEMENT - CONTINUE READING BELOW
Menon says she started teaching his daughter financial lessons when she was nine years old 
3. You allotted seed money that your daughter could use to start investing at an early age to fund her future education. Most parents set aside and grow a fund that they could later draw on to finance their children's college education. How different was your approach?
ADVERTISEMENT - CONTINUE READING BELOW
Our approach is similar, except that in her case, we gave the decision-making power to her. It was an opportunity for her to understand the nature of risks in investing in the stock markets "with real skin" in the game. Unless the consequences were real, she would not learn with real motivation.
This meant that her decisions were hers alone and so were the consequences.
She treats me like her advisor. Though she doesn't pore over how much she's earning, she still comes to me to ask what we feel will happen in the markets from time to time. Every two years, we meet with the company handling the investments and she will make some fine-tuning decisions. An example is that two years ago, she sold an airline stock and at the same time bought a major hotel chain's stocks, which have since doubled in price.
A side consequence of the regular review is that she has learnt to be discerning about who to take advise from and who to trust. Clearly, she trusts her parents but other people including the handlers of the investments have given her advice as well but indirectly via myself and my wife. Ultimately, however, the investment decisions were hers.
ADVERTISEMENT - CONTINUE READING BELOW
She was 9.5 years old when she started, she's 17.5 years old now. 
4. You encouraged her to pick the stocks she liked. Please give us an idea of what her portfolio looks like—how much was allocated to stocks, to fixed income, and others.
She's invested in stocks of a fast-food chain, a tech company, a hotel, a fast moving consumer goods company (FMCG), an entertainment company and a couple of banks to name a few.
Since then, she regularly sees the value of the investments but checks with me to see if the values are high enough to meet the time-inflated cost of university education in the university she is targeting. She is now deterministic in her approach. She asks: "Dad, how many years of university do I now have?"
I advised her to pick out stocks in companies that provided the goods and services which she likes and that she saw that a lot of people also liked—meaning companies who sold or provided good products and services—a sure sign of a company that could grow. The second key was whether these companies are in markets that were growing so they could also grow. The result was one of the stocks she bought was Disney in 2010 as she really liked their movies and so did all her friends!
ADVERTISEMENT - CONTINUE READING BELOW
Another thing she has learned is that being a good investor meant having liquidity for opportunities and emotional stability. The result is that not all the funds are invested and when something new came up that she liked, she could consider purchasing the stock. Also, she learned that if you have enough liquidity with your investments, short-term falls in the markets do not affect you emotionally negatively. In fact, if you have cash when the markets are bad, your outlook is one of 'What can I buy that is relatively low now and what are the companies I have always wanted to buy that I can buy now!'
5. Please summarize your experience teaching your daughter about personal finance and investing into, say, five bullet points.
There are five lessons I can share others from my experience teaching her how to be financially mature:
a. Start teaching kids about their money while they are young using day-to-day experiences but handling them as learning opportunities. We might think that experience through time will teach our kids how to be wiser and more productive with their money. But it's better to teach our children early on so that they already know what to do at a young age and understand the importance of the assets they have. It's about building healthy money management habits in them so that they won't be overwhelmed in the future when they start earning and budgeting for themselves.
ADVERTISEMENT - CONTINUE READING BELOW
b. Utilize fun methods like games to ease them into learning more about money management. We don't have to be formal with our teaching method. Learning about money, much like learning about other important topics can be done creatively. (For example, at BPI-Philam, we utilize a board game that simulates ten years of a person's financial journey). It's a simple yet effective way of introducing to people the longer-term consequences of decisions we make now, in a relatively safe environment (and they can learn alternative consequences from other players' alternative decisions!)
c. Stand back and let them take the wheel. Encourage them to practice, to be observant about everyday happenings around them and research what they've learned in real-life situations. Learning about money also needs application, to let kids strategize for themselves and find creative ways to utilize every single peso in their budget. Understanding options and the consequences of the options leads to real learning when the see the results of their decisions. This helps them to think and research deeper into the issues they need to handle.
ADVERTISEMENT - CONTINUE READING BELOW
d. Maintaining sufficient liquidity is the key to having the right emotional state to handle major investment decisions. Also, research helps make the quality of those decisions better. The first step in managing your money is managing yourself. Is your liquidity position in such a state that you can make a good emotional decision? If it is not, get to that state first before committing on an investment of any type.  
Before buying anything, being well-informed about the product or service you're getting is important. Teach your children to be diligent researchers before committing to an item or service. Nowadays, getting feedback on consumables and services is easy through the internet—online forums and reviews give customers enough sources of feedback that can save anyone from a bad purchase.
e. Be observant about what is around you and understand why other people chose goods and services. This will help them understand the concept of 'trade-offs' in decision making and making them more deterministic in their approach to decision making.
ADVERTISEMENT - CONTINUE READING BELOW
Many factors affect people's choices. Those factors may or may not be relevant to you. Encourage them to find out, for instance, why people choose certain services and it will add to your children's understanding on how to make decisions.
It will also help them understand what are the trade-offs between various providers of goods and services and which one best suits them in terms of what they want from those goods and services.
*****
Roel Landingin is the editor-in-chief of Entrepreneur PH