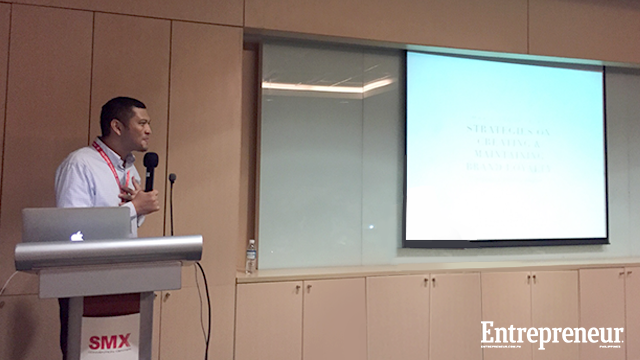 Remember when Youtube was full of video ads you couldn't wait to skip? While there are some that remain hard-sell, digital marketing experts seem to have caught up on what people want with the surge of mini movies with big brands' heart-tugging commercials.
There was Tang's No to Parent Judging in support of working mothers and young families. There's the simple yet spot-on viral Smart ad featuring a gay son coming out to his father through Facebook. And then there is McDonald's new commercial for Burger Mcdo about moving on, quickly empathizing to millennials.
ADVERTISEMENT - CONTINUE READING BELOW
"You don't just sell products, you sell feelings," Max's Group Inc. marketing director Mark Gamboa said in a breakout session during the 2016 Franchise Asia Philippines International Conference on Wednesday, July 20.
Max's Restaurant may be 71 years old but the company's buyout of the Pancake House Group placed it in an uncharted territory, with their hands full on different changes on manufacturing processes and administrative matters. The task to communicate to old patrons and each brand's specific niche remains a challenge, but it looks like the brand is on track to its goal of becoming: home of most loved brands.
To date, the Max's Group now has 600 branches under its 14-brand portfolio, which includes Max's Restaurant, Pancake House, Krispy Kreme, Jamba Juice and Yellow Cab to name a few.
"We made sure we tweaked or enhanced each brand so every one of them has their own market. Brand positioning will build the equity and affinity of the business," Gamboa added.
ADVERTISEMENT - CONTINUE READING BELOW
So how do you do it?
Millennials make up half of the work force at 48 percent, according to the National Statistics Office, while Gen Z, today's high schoolers, will soon make up 70 percent of the market, two years from now, said Gamboa.
If that is the emerging market, there is no way but to learn their language and sensibilities, which may look "chaotic" and "illogical," for some.
"Trends are the key drivers to success. We can't just sit in our laurels," Gamboa said.
For its part, the Max's Group has been investing heavily in collaborations and building engagement in all forms: sponsorships, corporate social responsibility projects and partnerships.
Max's Restaurant for one deploys a food truck for sponsorships in concerts and events, to cater to the young market. Krispy Kreme collaborated with Viber Philippines to generate doughnut stickers for World Doughnut Day on June 3, coupled with free doughnuts to celebrate the special day.
ADVERTISEMENT - CONTINUE READING BELOW
Such moves, while simple, can attract untapped markets. "Viber alone has a million followers on its Live chat, and those are people we probably haven't talked to," Gamboa said.
The digital realm may look technical for some, but human emotions remain as its major driver.
The advent of apps was triggered for consumers' convenience, and social media's power is anchored with the users' love for expression. The boom of visual content online reflects the market's desire for thumb-stopping content.
"In the end, the messaging is key and content is king," Gamboa said.
Purpose
Krispy Kreme Philippines and Yellow Cab launched mobile apps this year for easier delivery service.
Now, not everyone may need to embrace such tool, but after all the market engagement, it still has to translate to store visits and paying customers.
"For Yellow Cab, it's the only one among its competitors with such platform. Now we have a differentiator," Gamboa said. "It pays to know when to engage and how to engage the audience."
ADVERTISEMENT - CONTINUE READING BELOW