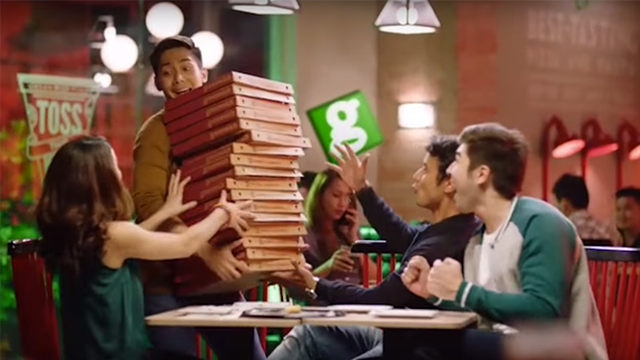 Everyone loves a good comeback story. It's rare, but an entrepreneur could decide to revitalize a dormant brand to appeal to a nostalgic target audience, reintroduce it to a new generation, and even emerge in a better business position than before.
Periodic touch-ups are also needed for thriving businesses. Maybe your audience is changing (or has changed), or newer competition is transforming the playing field. You'll need to evolve to keep up.
ADVERTISEMENT - CONTINUE READING BELOW
"The most obvious change would be the packaging—it could involve the colors, the logos, or the product treatment," says Cyrus Cruz, managing partner at marketing agency Powercom, which offers rebranding services.
Greenwich, for one, has revamped its look to match its predominantly young market and communicate that it's a pizzeria—it's not a run-of-the-mill fast-food place, cites Thor Balanon, COO of Space Encounters, which, together with W. Lopez Designs, is tasked with the redesign.
Now, there's an industrial feel to Greenwich, using a clever mix of wood, brick and metal. Brand colors of red and green are made more vibrant when paired with black. A "barkada zone" showcases graphics and typography—cheesy lines such as "Pizza ka ba? Kasi crust kita," "Lahat gagawin, pasta ikaw"—cater to the youth's penchant for selfies. And to underscore its claim of "Freshly Made Everyday"—emblazoned in a "pizza seal" on the wall—the kitchen is partly exposed so customers can see pizza dough getting tossed and garnished.
ADVERTISEMENT - CONTINUE READING BELOW
Of course, rebranding comes at a cost, what Cruz calls "the pain of change."
"It's painful because there are a lot of expenses involved, and different emotions come in play," he cautions.  If you're contemplating a similar change, heed the following tips.
Assess your brand mercilessly
Gauge if a rebranding is indeed needed. "If the brand has more bad points—like lack of recall and brand identity—then it's probably time to seriously think of going into a massive rebranding where the good points of the brand may be carried over, while starting anew," says Ameera Capay, owner of Spanish-themed casual dining restaurant Q Bistro, which is being refreshed, with the help of Cruz's Powercom, into two new brands: catering service Q Provisions, and "tasting restaurant" The Round Table. The latter allows diners to partake of tasting portions of the Q Provisions menu. Both brands, soft-launched in April 2015, now serve Asian and continental comfort food.
ADVERTISEMENT - CONTINUE READING BELOW
Capay says they embarked on a comprehensive market and feasibility study to ensure that the new branding would be more effective than Q Bistro. "We did the difficult task of dissecting the Q Bistro brand and really went into what's good and what was not-so-good in order to come up with a thorough assessment on how to go about the rebranding," she says.
"The focus is now on catering, and The Round Table restaurant is a marketing platform for the catering side. Walang impact yung catering business alone, and the catering industry is already saturated to begin with. So we created a kick-ass concept to complement the catering business. It was a distinct opportunity for Q Bistro," Cruz explains.
Listen to popular demand
Sometimes, all you need to do is listen to your customers, as in the case of Tom Sawyer's Old Fashioned Krispy Chicken, which once boasted of a 20-store network during its peak in the '90s, closed shop in 2003, and rebounded in 2014 with a new branch in Tiendesitas in Pasig City.
ADVERTISEMENT - CONTINUE READING BELOW
Louie Aurelio, Tom Sawyer's owner, says the inspiration to bring back the brand came from a group of diehard Tom Sawyer's fans he calls the "Tom Sawyer Babies," who would order the brand's flagship fried chicken through Aurelio's Catering, even after Tom Sawyer's had closed shop.
"The brand never really died—Tom Sawyer's Fried Chicken was still being served through food catering, by special request," Aurelio says. Reopening the restaurant, he says, meant catering to this nostalgic market, while appealing to a new audience. Tom Sawyer's now reflects the evolution of market tastes during the brand's 11-year hiatus: It streamlined an old menu that, at one point, included burgers, steaks, and a salad bar, and focuses instead on the restaurant's famous fried chicken and hickory ribs.
Know what to keep and what to let go
Some things don't have to change at all. "We still tap our contacts and suppliers, as we have already established a relationship with them—quality of delivery, as well as the terms, are maintained. It helps the new brand to keep afloat and not have to start from scratch," Capay notes.
ADVERTISEMENT - CONTINUE READING BELOW
After knitwear brand Ricefield Collective, which had addresses in both New York and Ifugao, folded up last September, businesswoman Candy Reyes-Alipio seized the opportunity to tap the company's now-jobless workforce, consisting mostly of women Ifugao knitters, and employ them in a wholly local enterprise, Knitting Expedition— "to keep the happy knitting circle going," as she puts it.
"Ricefield Collective has given us the opportunity to connect with designers and knitters in other countries whom we can eventually tap for our own line of products. Some international clients have also found us through our former associations," she explains.
Meanwhile, Knitting Expedition's shift to an exclusively local market has permitted the new enterprise to create new products that are more marketable on local shores—hand-knit toys. "I think Knitting Expedition is now definitely more marketable locally because Ricefield Collective used to sell winter items such as pure wool scarves and hats that we really can't use here," Alipio says, adding that, with knitted handmade toys, "we don't need to be concerned with sizes or fashion forecasts."
ADVERTISEMENT - CONTINUE READING BELOW
However, it was leveraging on Ricefield Collective's reputation that proved to be a strategic, if not crucial, move for Knitting Expedition. "It gave our very young company credibility right from the start, both to clients and to customers, and has saved us a lot of time and money that we would have otherwise spent on travel and training, and starting from scratch," she adds.
Be patient
There's considerable effort and expense involved. Some changes are slow to take effect. But ultimately, a well-executed rebranding campaign can do wonders for a business looking to bring something fresh to the table. Q Provisions and The Round Table, for instance, are competing much better than the former Q Bistro. "It's an uncontested market space... Q Provisions can offer same-day catering, thanks to The Round Table concept," Cruz says.
The Greenwich makeover of 25 stores to date has increased walk-ins ranging from 13 to 20 percent, and improved sales performance at an average of 5 percent per store, says Greenwich retail and channel marketing officer Mavel Villanueva. It has also become the "model" for refreshing other brands under Jollibee Foods Corp., starting with Chowking, adds Balanon.
ADVERTISEMENT - CONTINUE READING BELOW
In general, Cruz adds, "If you do things intelligently and properly, it will definitely be worth it. You're giving a second life to the brand. And when you create a second life, a lot of beautiful things can happen—you will be successful, you can provide more jobs, more consumers will patronize you."
*****
This article originally appeared in the 2015 issue of Entrepreneur Philippines magazine. Minor edits have been done by Entrepreneur.com.ph