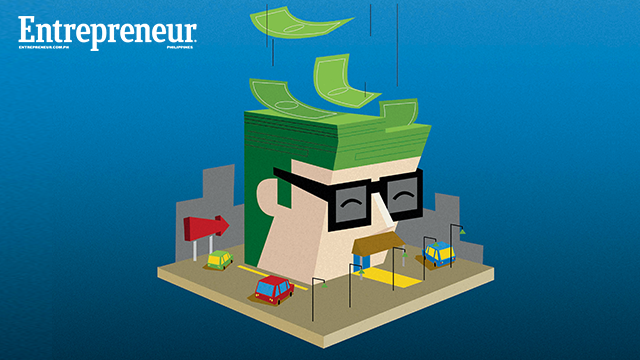 Pop quiz: Do you keep your personal money separate from your business? Do you keep receipts when you meet a client over a meal? Do you keep a careful record of all your numbers?
If you say no to all three questions, then you're putting your business at risk. Tracking your finances is a must to keep your business healthy.
ADVERTISEMENT - CONTINUE READING BELOW
Separate personal and business accounts
It's a mistake many new business owners make: using money from the business for personal expenses. MJ Ringor, CEO and president of design and build firm Mundo Builders, which has been in business since 2011, says, "It's such a basic tenet of business, but excited new company owners tend to forget this. For entrepreneurs, it's so easy to fall into the temptation of thinking that the money their business owns is theirs. It isn't. It's the company's money."
Marjo Reyes, managing director of EcoPlanet Enterprises, a hazardous-waste-management company, learned this lesson the hard way. She recalls an accountant wrongly advising her to deduct all personal expenses from the business. "My accounting system became messy and I didn't have a good picture of how the business was doing because of that. Now, personal expenses are separate from all corporate expenses."
ADVERTISEMENT - CONTINUE READING BELOW
Make that distinction early on so you will not think you have a lot to spend for your own pleasure, says Ringor. "The money that your business makes is not for you to use to support your vices, luxuries, and even your family's needs. Give yourself a substantial and reasonable salary, and live within that amount. Always be aware that whatever you spend for the business must grow the business."
How do you determine a legitimate business expense?
"There really is no hard and fast rule," says Luis Limlingan, head of business development at Regina Capital Development Corp. The basic definition is that an expense must be necessary for the business to grow and thrive. Generally speaking, a business expense should have business purpose, he adds.
To ensure company money won't be used for personal expenses, the business must have three separate accounts, says Ian Lauron, assurance partner at tax and auditing services firm SGV & Co. These are: an interest-earning account, where sales are deposited; a disbursing account or a checking account; and a liquidity standby account, equivalent to two to six months of your operating cash flows.
ADVERTISEMENT - CONTINUE READING BELOW
"With this setup, your bank will have a coherent basis for evaluating your enterprise's cash flows and could offer variations of financing products," he says. For example, banks could offer invoice financing when they understand the pattern in your cash inflows, in support of the sales contracts you enter into with your customers. They could offer your enterprise cash management services on supplier management and payroll when they understand your outflows, he adds.
Account for it
Across the board, entrepreneurs and financial experts agree that proper accounting must be made in order to manage a business's finances. Limlingan prescribes the following to keep tabs on your finances:
Cash book—to record cash that comes into the business
Bank book—to record non-cash items, mainly cheques
Accounts receivable and payable book—to record how much you still owe your creditors and how much is owed to you
You can use the information to improve the overall efficiency of your business, he explains. You can monitor how long it normally takes you to collect payments, and calculate how much you should compute for the cost of borrowing. Similarly, you can also calculate your average payment time and improve your efficiency, which in turn can help you make earlier payments and save on borrowing costs, he adds.
ADVERTISEMENT - CONTINUE READING BELOW
At his company, Ringor says they rely on a system to determine if a project is feasible. "I set a percentage limit to discount margins. I know that, for a project, labor costs should only make up a certain percentage of the entire project cost. Over and above that, we do not accept the project or we charge more. We need to keep the business afloat, and part of making sure it does is to train our personnel to understand basic accounting and finance principles." He says they hold monthly business updates and quarterly sales meetings to make sure their accounts receivables and their accounts payables are manageable every month.
Technology has also proven to be an ally in keeping account. Limlingan suggests using accounting software like Quickbooks or Microsoft Office Accounting. For those who are less adept in accounting, there is the more simple Microsoft Money.
Mundo Builders uses a software that records money that comes in and out of the company. "We ensure that there's proper documentation to support our inputs as well," says Ringor.
ADVERTISEMENT - CONTINUE READING BELOW
There are also a number of apps available, so you can even use your mobile device.
For proper filing, Lauron insists on hiring an accountant, either on a regular or on-consulting basis. "Your accountant will help you in your business expansion plans, financial evaluation, and registering the business," he says. Joining entrepreneurs' circles can also help, he says. "Learning from others' mistakes, expanding your network, and having a support system are among the benefits."
Record everything
Just because you've already filed your income tax in April doesn't mean you can tuck away or even throw away records. These can be revisited from time to time and you must be able to produce the necessary paperwork should there be questions from the taxman. Limlingan says, "Keep all your business expenses, even though you are unsure whether they are related. It will be easier for you to ask your accountant later on about expenses if you keep track of everything, rather than rummaging for receipts you may have thrown away."
ADVERTISEMENT - CONTINUE READING BELOW
Reyes says the Bureau of Internal Revenue will look for receipts even from five years prior. Since scanning the receipts and keeping hard copies is problematic, she uses a barcode system, which scans the receipts and keeps soft copies on file.
Lauron also suggests asking for a receipt for every purchase and keeping them in a box, which can then be sorted at least once a week. "That will give you a good basis of tracking your expenses. Over time, you will also be able to understand your spending habits, as well as your lifestyle and make 'life-hacking' adjustments on your needs and wants," he says.
When it comes to managing your business's finances, it is always good to keep track of the inflow and outflow of cash to make sure that your enterprise is healthy. This way, you can address any issue that may otherwise cause long-term damage.
ADVERTISEMENT - CONTINUE READING BELOW
*****
This article originally appeared in the July 2014 issue of Entrepreneur Philippines magazine. Minor edits have been done by Entrepreneur.com.ph