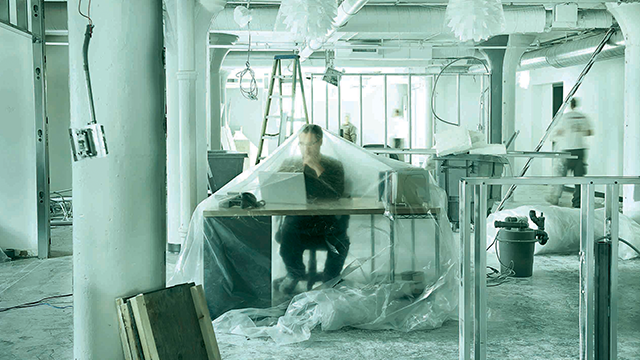 A dedicated office or store space is important to a business. "Having a dedicated office increases the company's credibility and productivity, which will later on translate to growth," says Gerold Fernando, senior manager of KMC MAG Group Inc., a real estate services firm.
Aside from making it easy for clients to find you, the right location offers management and employees an area where they can focus on the task at hand, be it selling products or providing services. Successful business owners will tell you that "location, location, location" is paramount to a thriving business, but when it comes to setting up shop, the first question an SME has to take into consideration is: Can I afford to rent, renovate or buy?
ADVERTISEMENT - CONTINUE READING BELOW
Buy now, or better later?
On the whole, says Fernando, "It will almost always make sense to buy. Being a landlord is a business on its own so a portion of the rent is really profit, which could be yours if you own the property."
The business owner can decide to lease excess space to third parties and get a return, agrees David Leechiu, country head for commercial real estate company Jones Lang LaSalle. "Local companies may benefit more by owning their real estate—I say this because many local companies are owned by a family or a group of friends who also manage the company," he says. "Many times the occupied real estate can be used to expand the balance sheet to allow it to leverage more for the company's operational needs."
Herbert Herrero, Avida Land Corp. project and strategic management group head for South and office projects, also advises, "If the business sees itself for the long term, 10 to 15 years, at prices to date, it is more prudent for them to purchase property outright. They almost pay the same amount of rent and purchase price if they hold office for 10 to 15 years."
ADVERTISEMENT - CONTINUE READING BELOW
If you can't buy, retain
Not everyone, however, may have the capital to buy real estate outright. "It might not be a good idea to buy right away, not unless you have big funds to invest," says Ivy Tablante-Darilag, head architect of Structura Architects. "It's more [practical] to rent first, and then when the business is more stable, that's the time you can look for options to buy. If you have an existing property, the best way to go [would be] to renovate really old structures, old buildings, old rooms to serve the purpose of your business."
"There is always a cost implication to moving… if you've been there for five years and business has been good and there are no issues [on] transportation, then the option is renovation," also notes Melo Porciuncula, head of business operations and capital markets at KMC MAG Group. "Don't buy beyond your means. A lot of companies make that mistake. They set up in a nice area, but they can't afford the cost implication, the money isn't there."
ADVERTISEMENT - CONTINUE READING BELOW
Herrero says that the clincher is whether the company will be expanding in the future. If so, they can hold off renovating and choose to rent a new office that can fit their current requirements. "It is better for them to lease long-term as escalation rates are fixed. Short-term leasing is beneficial when the company sees itself expanding in the future."
Size, and location, do matter
Joey Radovan, vice-chairman of real estate advisory and services firm CBRE Philippines, admits that the Makati Central Business District (CBD) "still charges the highest office rental rates in Metro Manila," but on a regional scale, "it still offers the lowest prime rate across Asia at US$26 per sq. ft. per annum, followed by Bangkok, at US$32 per sq. ft. per annum, and Bangalore at US$33 per sq. ft. per annum."
"If it's Makati, the costs are definitely higher because it's CBD, but it depends on your business and target market," Tablante-Darilag says. "There are other places that are also CBD, like Quezon City or Ortigas, that are more cost-efficient."
ADVERTISEMENT - CONTINUE READING BELOW
Size affects the operating expenses of the company, but Herrero says that firms like Avida are catering to "just right" specifications so SMEs in particular are not forced to buy bigger spaces they don't need. "We're offering business owners an area that is suited for those with seven to 20 employees," he says, adding that the units are also designed to lower maintenance cost. "Since office spaces are designed for an individual AC system, the unit owner is able to manage his costs better."
Porciuncula suggests tapping brokerage firms like KMC MAG Group to recommend a range of options tailor-fitted to the functions of the company. "It can be as simple as a virtual office, wherein your office address or incorporation address is in one of our facilities. And then you can get an incubation space, meaning we have a facility where you can rent one seat or two seats, and it is located in Fort Bonifacio. Then of course, the permanent spaces, the outright leases. These can range anywhere from 90 sq. m. to as big as you want," he itemizes.
ADVERTISEMENT - CONTINUE READING BELOW
Does it make financial sense?
To better decide, once and for all, "It's important for the shareholders and the managers to have a vision of the long-term future of the company or business, and from there, priorities or targets are established and resources are measured against those benchmarks," says Leechiu.
Fernando suggests asking yourself three questions: Do I have the resources? Do I see my business in this place in the next five or 10 years? And, is the property I am buying in an area of increasing capital value, and will I be able to rent it out if I do have excess space?
*****
As of publication, Lindsay Orr is the current country head of JLL Philippines, replacing David Leechiu.
This article originally appeared in the May 2014 issue of Entrepreneur Philippines magazine. Minor edits have been done by Entrepreneur.com.ph.