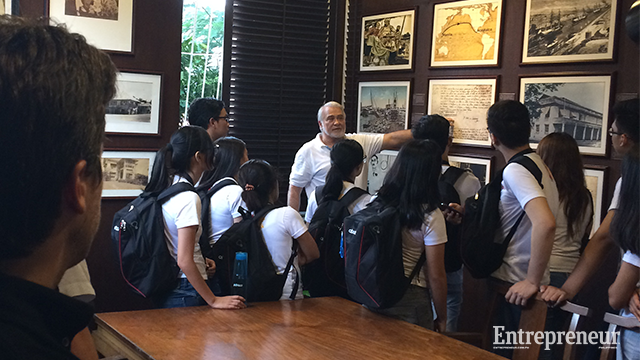 "We don't want to make it quick. This is not a one night stand. This is a courtship, for a marriage."
ADVERTISEMENT - CONTINUE READING BELOW
I just had to scribble that as quickly as I could, as soon as I heard, the words spoken by Xavier "Txabi" Aboitiz, chief human resource officer of Aboitiz Equity Ventures. He was explaining the careful thought and even more careful steps taken by the Aboitiz Group of Companies in attracting the country's best and brightest, addressing the young delegates of this year's Aboitiz Future Leaders Business Summit (AFLBS), held last November 3 to 5, in Cebu City.
The delegation was made up of 91 college students from all over the Philippines, chosen and brought by the Aboitiz Group to Cebu for three packed days of workshops, dialogues, no-holds-barred Q&As, presentations and fellowship.
A millennial crowd, I was initially concerned about how the kids might not be able to grasp or find appealing Txabi's declared hiring principle, one that is founded on slow, calculated steps, one that values the long-term. Millennials are popularly known for their tendency to change jobs too often, seemingly oblivious to the concepts of corporate loyalty or relationships. And yet, here's an Aboitiz top hat, sounding even more oblivious to all millennial pre-conceptions, speaking with conviction and sincerity. He seemed serious in this courtship thing, and I looked forward to how he would face up to his millennials' good-natured interrogation.
ADVERTISEMENT - CONTINUE READING BELOW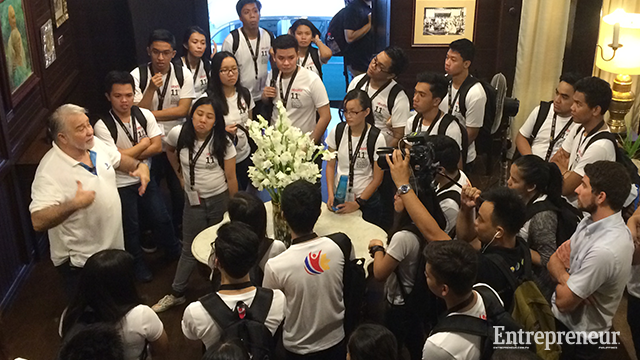 Of summits and silver spoons
Before delving into how Txabi fared before millennial questions, let us first be acquainted with what the more-than-a-decade old AFLBS is – a three-day course on leadership and how it applies on life, the working life in particular, for young participants whose lives are yet to unfold. It can be so easy to dismiss this annual summit as one great big corporate public relations exercise, wisely targeted at impressionable youth, but it is just not so. Having seen the summit staged twice – I first covered it during its eighth staging in 2013 – I find it remarkable how its leadership lessons agenda remains consistent, and how the means by which to carry it out become more and more sophisticated, with the forums this year even discussing disruptive techbiz and startups.
ADVERTISEMENT - CONTINUE READING BELOW
While the summit acquaints the delegates with the roots of the low-key, countryside-centered Aboitizes and their enterprises, sharing the Aboitiz story comprises just a fraction of the summit's program. There's an annual tour of the Aboitizes' ancestral home, loaded with fun childhood anecdotes narrated by Aboitiz & Company president Jon Ramon Aboitiz; and there's that brief slideshow flashback of how the patriarch Paulino Aboitiz led the family businesses out of debt and paved the way for expansion and diversification, presented during the start of the summit proper by CEO and president of Aboitiz Equity Ventures Erramon Aboitiz. From there, it's all straight business for the kids.
It can be likened to taking a crash course on management, entrepreneurship, emerging business trends and even psychology for self-help purposes. I'm no millennial but the lessons struck me, even at a point realizing how lucky these young delegates are for being treated to free life coaching. No wonder there's great word-of-mouth about the annual summit, and the Aboitiz caravans making the nationwide college rounds to invite students to apply are always hits.
ADVERTISEMENT - CONTINUE READING BELOW
During the human resource forum with Txabi, the frankest questions yielded the frankest answers, and frankness was always mixed with the funny. One of the first questions Txabi got confronted with was from a millennial girl who first admitted to being part of a generation known for its self-obsession and selfies: "Why do you trust us so much?"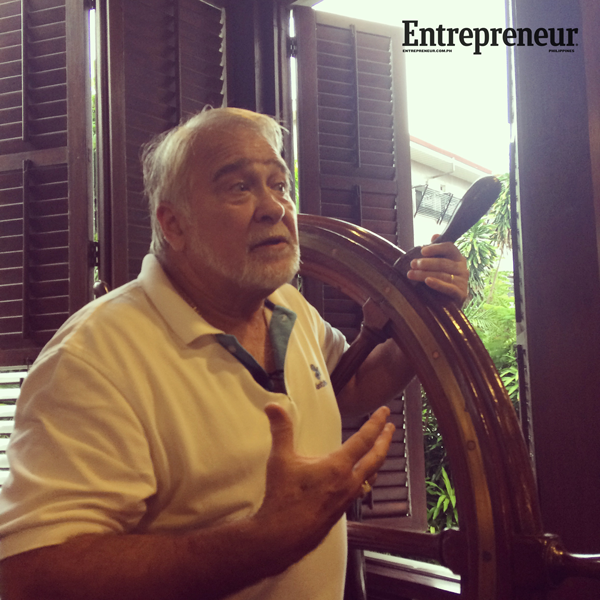 ADVERTISEMENT - CONTINUE READING BELOW
"We don't have a choice!" Txabi quickly said, bringing the entire plenary to laugh. He then explained that every generation is different, "We have to adapt. That's part of evolution." Txabi reminded the delegates that the most successful companies have to shift and turn 180 degrees, and have adaptive goals that took these companies to new growth areas.
When asked what the biggest mistake he's done and what did he do to make it right, Txabi did not elaborate but may have implied about how the group has not always made perfect business decisions: "Many times it's not the things you did that you regret, but the things you did not do. The groundbreaking things we could have done. So if you really believe in something, do it. Don't look back and regret 20 to 30 years from now."
And then there was the inevitable question of the silver spoon, which every Aboitiz must answer every so often. This year, a young delegate framed it as, "How do you manage the burden of succession, filling in the shoes of great people?"
ADVERTISEMENT - CONTINUE READING BELOW
"It is important to have the drive of doing more with what you have. Take that [inheritance] as an advantage to do more with it, not looking at success as the end goal," said Txabi. "There's nothing wrong with being born with a silver spoon. What's wrong is not doing anything about it."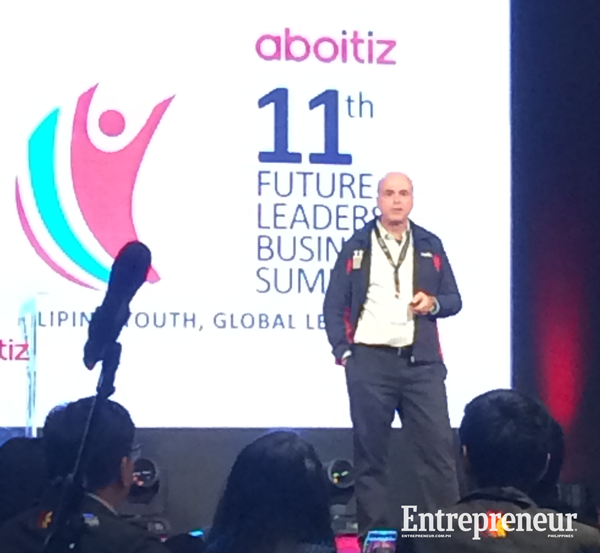 ADVERTISEMENT - CONTINUE READING BELOW
The 5th generation and millennial executives
"Millennials have a different way of interacting with the world that will define the way the world works in the future. It's interesting to see the future unfolding by watching the way they interact," noted Ana Aboitiz-Delgado, vice president of Union Bank of the Philippines, the banking arm of the Aboitiz Group.
Ana belongs to the fifth generation of Aboitizes, who are now rising above the ranks within the company (yes, they have to start from below, too), starting to take over top management and executive roles within the five core businesses of the group – power, banking, transport, food and land – the areas that the group chose to focus on after divesting other businesses, to make the shift from entrepreneurial to intrapreneurial. Jokin Abotiz, national logistics manager of the group's Pilmico Foods Corporation and also from the fifth generation, takes note of this intrapreneurial shift as a defining factor on the difference between the old Aboitiz leadership and 5th generation leadership.
ADVERTISEMENT - CONTINUE READING BELOW
"You get feedback much quicker nowadays. [The third and fourth generation] had a different experience. The businesses they handled were many, but smaller. The stakes were smaller," Jokin explained, pointing out how their elder Aboitizes could more easily cope with business mistakes and rise above challenges in the old days because the risks were smaller.
"Now the numbers are much bigger. Now you can see the results right away, too. With technology, feedback is quick," shared Jokin, revealing that he, along with other leaders and managers are carefully monitored under a system of goal-setting and results measurement.
While the millennial Jokin admits to being so young when Aboitiz Group was still actively led by Jon Ramon Aboitiz, the man who was instrumental to the group's landmark divestment from 25 to 5 core businesses, he does have a clear understanding of how the JRA leadership differs from and is similar with the Erramon leadership now, and the 5th generation leadership in the offing. JRA, Jokin notes, stressed focus, specialization and financial discipline. Erramon, Jokin says, also exercises discipline, but is also adventurous while being astute. Finally, speaking for his generation which will most likely produce the group's next JRA and Erramon, he says they are highly focused on systems for continued growth, are dedicated, and above all, patriotic. Jokin asserted, "We always talk about the Philippines. We are all proud of who we are. We all see to it that we put in something on the table for the country."
ADVERTISEMENT - CONTINUE READING BELOW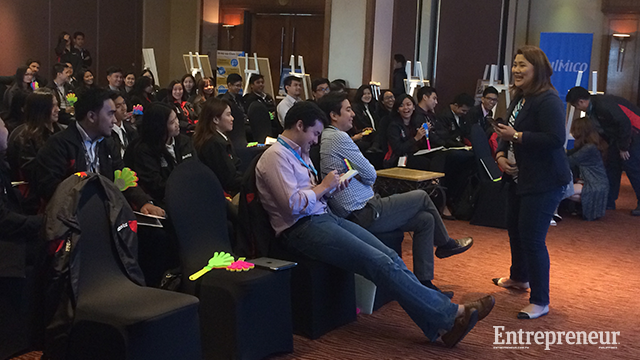 Marrying millennials
Jokin worked in an IT company in Spain, the third largest IT company in Europe, enjoyed traveling and exploring, before deciding to come back home and work for the group. He understands how the summit is crucial to sustainably building human capital and attracting top notch talent for the group and its businesses. At the same time, as a millennial, he can also see how it can be testy for his fellow millennials to make life-changing career decisions at these times, when our ways of living have become so fast-paced, a pace that millennials are supposedly great at keeping up with. Jokin explains that it may not necessarily be the case all the time.
ADVERTISEMENT - CONTINUE READING BELOW
"We [millennials] haven't learned how to do it yet, because millennials are still trying to find their way. I am!" Jokin said. When I told him about Txabi's statement on hiring as "courtship, for a marriage", Jokin laughed, nodded and said. "We're looking for a different type of millennial. Yes, we're looking for long-term, people who do not look back," then he leaned forward, and somewhat in jest, asked, "And how do you explain that to a millennial?"
Luckily, I was able to point him out to the case of their corporate branding associate for AboitizLand Inc., James Labrigas. James was a delegate to the 8th AFLBS of 2013, the one I covered first. Of course I could no longer recall James from any of the delegates I met then, but it is interesting to see how a young man of 22 years could hold himself up before the C-suite now.
ADVERTISEMENT - CONTINUE READING BELOW
"I fell in love with the Aboitiz Group through the conference," James, a graduate of the University of the Philippines, Mindanao, shared. Although he did not immediately apply to any Aboitiz company after graduation, opting to rest first and even take on government work as speechwriter for a governor, he admitted to praying about the possibility of working for Aboitiz in the right time. Soon, he got a call from the group's human resources, recalling him as a delegate of the summit, and asked him if he wanted to go on board. And in a heartbeat, he answered, "Of course!"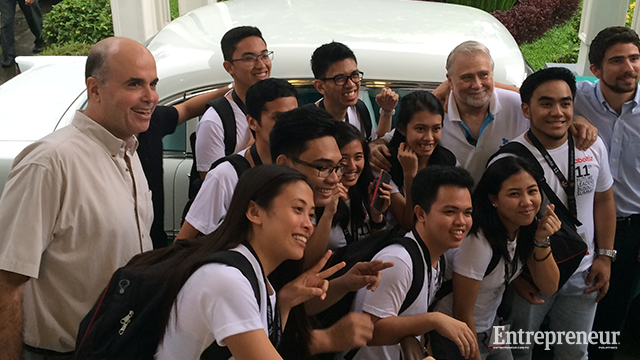 ADVERTISEMENT - CONTINUE READING BELOW
Of course I had to ask him too about Txabi's unforgettable quotable quote on hiring, to which he also laughed, just as Jokin did. How does it feel now to be in the "marriage"?
James said it can be tough, but he is learning how to chill, to take tasks one day at a time, and let go at the end of the day, just as his Aboitiz boss does, Andoni Aboitiz. He said he's learning a lot about planning excellently without succumbing to stress. He said he wants to be more confident, and to pursue further studies on strategic communications abroad someday, then come back to the company.
Would they allow him to do that? I asked. Will they take him back in? James assured that it has happened a lot of times in the company before, people studying abroad and going back. He said there are even those who left to work for other companies, but were still able to come back to the Aboitiz Group, "especially if you're a summiteer." When asked if he can see himself with the group for the long haul, the goal of HR chief Txabi, James answered, "Why not?"
ADVERTISEMENT - CONTINUE READING BELOW
And what else could I ask a young, love-struck associate after that? Is he happy? His answer, "100 percent."
*****
Jen Balboa was a former managing editor of Entrepreneur Philippines. She loves the blue-collar baby boomers, the dreamy hippies of the 60s, her grungy fellow Gen-Xers, and the quick-witted tech-savvy millennials.