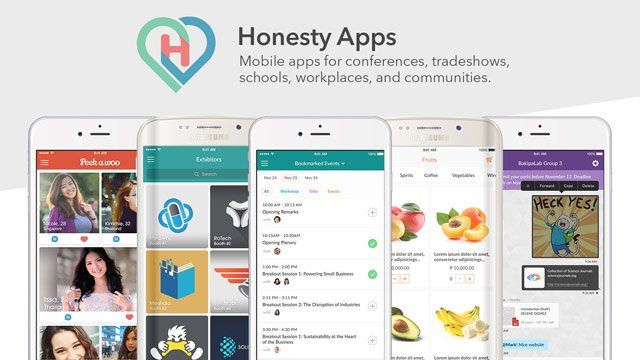 Honesty Apps wants to empower people to create their own app within five minutes.
The company's journey towards this innovative feat started in 2012 when founder Valenice Balace came up with a dating app called Peekawoo.
She and her classmate Mara and sister Belle pooled their savings to create a friendlier dating app called Peekawoo. When they stopped operations in 2015, Val thought that it was the end for their company. Luckily, they met an investor from Silicon Valley that started their pivot towards Honesty Apps.
ADVERTISEMENT - CONTINUE READING BELOW
A different approach
Peekawoo had a good three-year run. It reached more than a hundred thousand users and also gained numerous recognitions by news sites both local and international. The company also created Twine, which was nominated by the Catholic Social Media Awards as the best dating app.
The hardest challenge, according to Balace, was running out of capital and wondering how they would continue operations due to financial constraints.
"[I was] wondering how we would pay our employees and worrying about their families if we ever decided to close the company. That made me restless at night," she said.
Their decision to pivot happened in November 2016 when the opportunity to repurpose their app arose. They realized that the same functionalities of their dating app like registration, notification and chat can also be used for events or even enrollment.
Kassy Pajarillo, their PR Marketing Head, an encourager, who does marketing and has a background on events, said that they had to sit down and discuss what features of an app would a tradeshow or event need. They were inspired by pain points when they had to organize conferences, workshops and triathlons.
ADVERTISEMENT - CONTINUE READING BELOW
That's when they realized that the concerns were the same. Addressing these needs through app features that can be templated and pre-built is something they realized was definitely marketable.
"Everybody can be an organizer if you have this and the experience shouldn't stop there," Pajarillo said.
What they did is create a dashboard that enables prospective clients to simply customize the app by choosing colors, photos, backgrounds, etc.
Base app functions consist of scheduling, attaching photos with filters, one-on-one chat that includes a flash chat or messages that can disappear, rooms or chat rooms, a social feed where you can get updates, a meet page, an inbox and capabilities to download attachments and give feedback. Every app also includes a dashboard for content management and notifications for the admin.
When the client is using their dashboard, these functionalities can be customized in a matter of minutes. Once done, clients can submit it to Honesty Apps which then submits it to the app store for publishing and releasing—upon payment, of course. Approval of app stores can take up to three days. 
ADVERTISEMENT - CONTINUE READING BELOW
The base app can cost around Php100,000 or $2,000, including maintenance good for one year and marketing materials such as flyers and tabletop reminders which they can place on the registration table. The app can be downloaded by both iOS and Android devices.
Add-ons or additional features can be requested and can be completed for two days up to a month, depending on the level of complication. Sample add-ons can be a group chat functionality, a ticketing feature and a side menu which may contain downloadable forms. There is a fee for each additional feature.
Pajarillo said they are actually offering the cheapest apps in the region since their customers only shell out around Php100,000 and up to Php500,000 for a series of apps.
"It's easy to have, sell and resell. A lot of our clients tuck it into their ticketing budget," Pajarillo said.
They both stress that this is perfect for conferences or trade shows, associations or communities like university alumni groups, festivals, concerts and sporting events.
ADVERTISEMENT - CONTINUE READING BELOW
Anyone interested in a demo can simply go to their website and get in touch with them to schedule a meeting.
Success stories
The very first event that made use of their self-serve app was Ocean16, a three-day environmental conference held in Bohol. About 200 people attended the conference but more than 2,100 peer-to-peer messages were exchanged, and more than 50 photos shared.
Because of natural reasons like sudden thunderstorms, some venues of the sessions were changed last minute but attendees were thankful that they were constantly informed of any changes via the app. An attendee even organized a side event, a simple meetup of participants, using the app.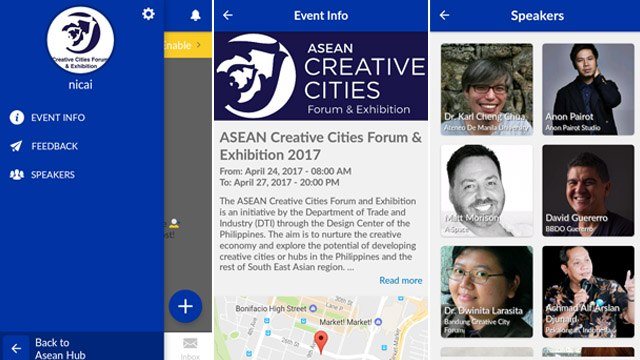 ADVERTISEMENT - CONTINUE READING BELOW
"A lot of people did send out promotions and meet-up invitations through our app which what was we envisioned the app would do," Balace said.  
Aside from this, they also created the app for the Asean Creative Cities event. Since there would be a lot of sessions and talks, the attendees were up-to-date with whatever was happening. Aside from the ease of registration, it even had a section with the profiles of speakers, which became helpful for the press.
In the education sector, they also provided an app for the De La Salle College of St. Benilde which made it easier for students to register and be reminded of school events.
With the growing popularity of these apps, the Honesty Apps team is careful that they comply with data privacy terms, which they also stress to their clients.
Pajarillo said that since their team comes from different industries such as sports, events, education, startups and more, it was helpful in getting insights which helped them improve their product and knowing what different markets need.
ADVERTISEMENT - CONTINUE READING BELOW
Continually striving for greatness, they have more projects lined up this year such as for the Negosyo Center of the Department of Trade and Industry. They were also recently chosen as the Philippine representative to the Google Launchpad program wherein they will be staying in Silicon Valley to be mentored by experts. 
Related Story: Google Offers All-Expenses Paid Mentorship Program in Silicon Valley for PH Stratups
"I'm lucky to have mentors who have shaped me into what I am now. I'm very grateful," Balace said.
Having come a long way from her Peekawoo days, Balace says every step of the way has been a learning experience. Her advice for startups and young technopreneurs is to do research and be mindful of numbers.
"Research and Numbers. You can't improve what you can't measure."
Watch the demo video of Honesty Apps here:
 *****
Nicai is the marketing head of Rising Tide, a technology solutions company. She is also the Manila Bureau Manager of Probe Media Foundation's Mulat Pinoy-Kabataan News Network and a regular contributor for SPOT.ph. Follow her on Twitter @nicaideguzman, and LinkedIn.
ADVERTISEMENT - CONTINUE READING BELOW