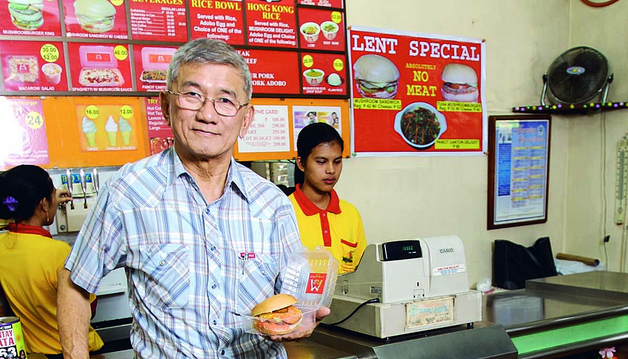 These days, a trip to scenic Tagaytay City won't be complete unless the traveler makes an anticipated stopover at Mushroom Burger, which as the name indicates serves a truly unique fast-food as its specialty.

Owned and operated by entrepreneur Alberto Dy, the burger outlet along Aguinaldo Highway in Barangay Kaybagal near the famous volcanic ridge serves mushroom burger in several varieties, with plain abalone mushroom patties or mixes of different mushrooms. Put up in 2004 as a line extension of Dy's mushroom farm in Tagaytay, the mushroom burger outlet has been enjoying brisk sales, even giving a nearby franchised outlet of an international beef burger chain a run for its money. 

"In fact, thanks to the presence of our more popular competition, we have gained a lot of new customers and are now operating from 6:00 a.m. to 11:00 p.m.," Dy says.

The success of his mushroom burger restaurant is a vindication of Dy's remarkable 30-year effort to make his mushroom business succeed commercially. It has been a long, uphill climb that could have already fazed someone with less determination and fighting spirit. 

"The problem was that nobody wanted to eat mushrooms," Dy recalls with a wry smile. "Filipinos simply weren't used to eating mushrooms because they thought it was either poisonous or too expensive."  

But the indomitable Dy never gave up on his quest to make Filipinos accept mushrooms in their cuisine and dinner table. Taking matters into his own hands, he even went to the extent of going out nightly in Metro Manila, lugging two bags of abalone mushrooms to be given free to restaurant owners and chefs. He became that desperate in wanting them to cook the mushrooms in their kitchens and make them part of their regular menus. "At times I even paid for the cooking costs just to persuade them to do it," he says. 

Somehow the strategy paid off. In time the restaurants, hotels, and supermarkets began to order mushrooms from Dy. And through his food demonstrations, he recalls, he even became instrumental in making the Manila Hilton serve tempura mushroom as a regular dish in the hotel. As a result of his efforts, in fact, his sales of less than 50 kg of mushrooms a day grew to a hefty 700 to 800 kg day.
ADVERTISEMENT - CONTINUE READING BELOW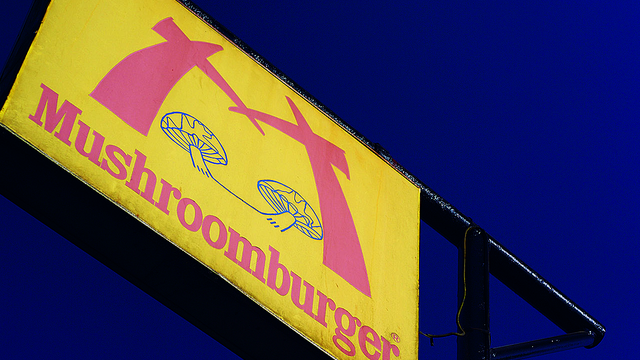 A boost for his mushroom business
Dy started his mushroom business in Caloocan City in 1976, but when business began to pick up, he transferred it three years later to a bigger place in Tagaytay. There, he would display his fresh mushrooms atop a sterilized table and wait for walk-in customers to inspect and buy them. Not long after his transfer to Tagaytay, Dy recalls, he overheard a foreign customer—a white male—telling his Filipina companion that mushrooms in the Philippines were way cheaper than beef, unlike in his country where those were more expensive. "I would love to use mushrooms to make burgers," Dy recalls the man as saying.

Intrigued, Dy struck a conversation with the man and politely asked him precisely how burger was made from mushrooms. The man, who turned out to be the chef of the Hyatt Hotel at the time, obliged Dy by providing him a list of ingredients to buy and even gamely showed Dy how to cook it. 

"The mushroom burger he made tasted really good," Dy recalls. "It was so juicy and tender. I thought that it would surely give my mushroom business a big boost. I was therefore very fortunate that before leaving, the guy gave me tips not only how to make great mushroom burgers but also how to mix mushrooms." 

Dy was so excited by his discovery that right away, he bought 120 burger buns and started making mushroom burgers himself. He expected them to sell like the proverbial hotcakes, but contrary to his expectations, he sold only one of the burgers on the first day—and he admits that he had even coerced the customer into buying it. It was even worse the following day—he sold not even a single burger. This pattern of disappointing sales went on for six months, and Dy remembers that the best of those days was when he sold five burgers at most. 
ADVERTISEMENT - CONTINUE READING BELOW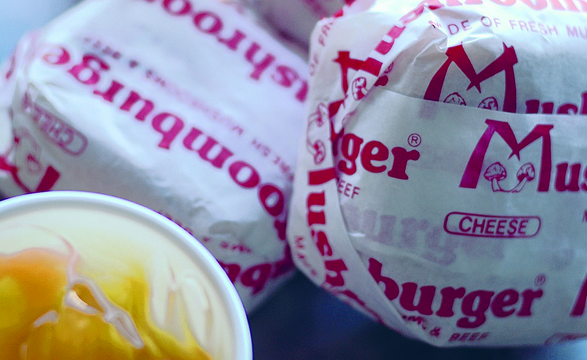 Giving mushroom burger a boost
But one day, Dy's luck came again to the rescue. A young woman dropped by at his outlet to buy fresh mushrooms, and after making the purchase she decided to try out Dy's mushroom burger. She took a bite and told him that it was good. However, she told him that she thought the product was underpriced.

This is how Dy remembers what she said: "Judging from the cars parked outside, your clients are very rich people, yet you are passing your burger as a cheaply priced merchandise. The fact, however, is that price is not an issue for them. Another thing: the packaging for your burger is wrong and unappealing." 

Dy thought that her suggestions made sense, so he increased the price of his burger, bringing it close to that of Tropical Hut, the leading burger chain at that time. He also used new packaging for his burger—a wrapper similar to that used by big fast-food chains today but was still a novelty in those days.

These changes in the product attributes of his mushroom burger greatly boosted its sales, a development that encouraged Dy to introduce more mushroom burger varieties and to offer a wider food choices in his Tagaytay fast-food outlet. 

Dy opened another mushroom burger outlet in 2007—in West Avenue, Quezon City. A location in Katipunan was launched not long after. In addition, he is thinking of further expansion by franchising his mushroom burger business.

"I have a distinct advantage in that the major source of my ingredient comes from my own farm," he says. "Customers can therefore be assured that only the best mushrooms are used in my burger." 
ADVERTISEMENT - CONTINUE READING BELOW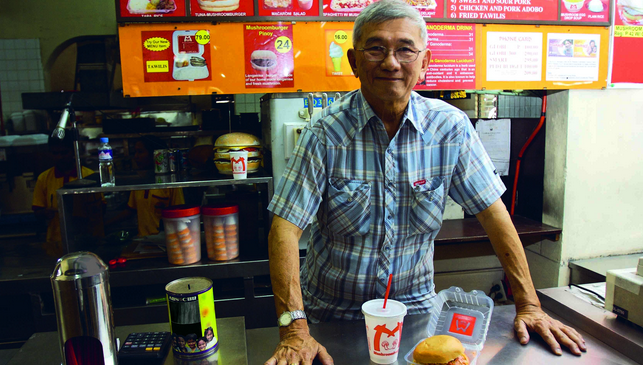 Adopting ideal ways to grow mushrooms
Dy's mushroom farm in Tagaytay primarily grows the abalone variety, and although he started with no technical knowledge in mushroom growing, what gave him the edge in the business was his experience in the logging industry. At that time, his family had a logging concession in the island of Negros.

He recalls that during a trip to Taiwan, one of their major export markets for wood, he learned how the Taiwanese used sawdust for growing mushrooms. This inspired him to go into mushroom-growing himself and, in 1978, he decided to close the family's logging business to go into mushroom-growing full time.

Dy's original abalone mushroom farm in Caloocan City required an initial investment of P120,000 (about P2.5 million at present). Eventually, he put up an additional P5 million when he moved his mushroom farming business to Tagaytay. He used the money to construct 17 mushroom-growing houses and a greenhouse and to purchase sterilizing equipment and farming tools. 

"You need economies of scale in the mushroom growing business, and that could mean investments that can easily top P25 million these days," he says. To those interested in going into the business, Dy suggests that like what they do in China and Taiwan, it would be best to operate as a part of a satellite of growers selling their mushrooms to a bigger producer.

In any case, through his pioneering efforts as a mushroom producer in the Philippines, Dy has already shown that with enough capital, lots of hard work, and some luck, growing mushrooms can become a highly profitable business enterprise.
ADVERTISEMENT - CONTINUE READING BELOW