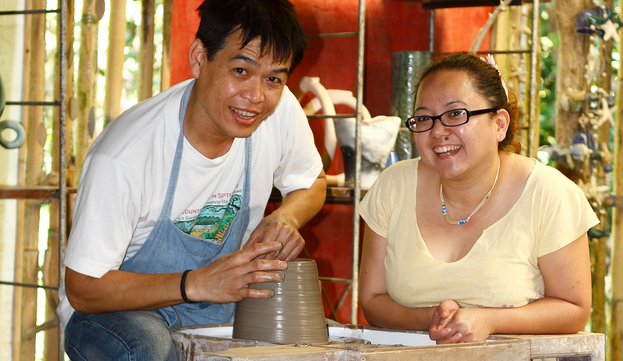 In April 1996, husband-and-wife EJ and Eva Espiritu left the United States and came back to the Philippines, hoping to find work here as a ceramic engineer and marketing professional, respectively. Little did they know, however, that they would just end up adding to the country's increasing unemployment rate—what with the 1997 Asian financial crisis hitting economies in the region, including the Philippines, really hard.

"We realized we didn't have that much money to support ourselves in the long run, so we immediately took the business opportunity offered to us by a friend of my husband," recalls Eva. "It was to do subcontracting work for an exporter selling house ware and décor to Europe and elsewhere overseas. That was how we got started on a home-based pottery business—purely out of necessity."

In August of 1996, after the exporter lent them P125,000 in initial capital, the Espiritu couple started their small-scale enterprise in a rented house in Bacoor, Cavite. Calling it Cornerstone Ceramics, they registered it as a sole proprietorship. They then bought a kiln and other baking equipment, contracted 12 workers, and made their garage double up as a makeshift production area for the ceramic components and earthenware needed by the exporter. 

The production demand almost doubled in less than a year, so the Espiritus transferred their operations to a bigger place in Imus, Cavite, which became both their home-office and factory. But the growth of their ceramics business was short-lived. By 1998, due to the Asian economic crisis, orders started to decrease precipitously until the exporter couldn't place any more orders by 2000. 

"That convinced us that we might die a silent death unless we did something," Eva recalls. "So we decided to develop our own product line and look for new buyers. Stoneware, which is a high-end form of ceramics, was then relatively unknown in the Philippines and wasn't available commercially yet. We saw its strong market potential so we decided to go into it."
ADVERTISEMENT - CONTINUE READING BELOW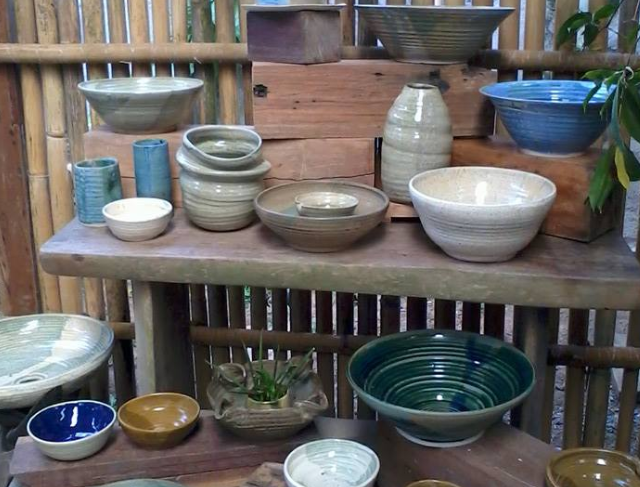 Producing their own product line
Putting his technical know-how in pottery to good use, EJ started developing his own clay-and-glaze formulation. For her part, Eva used the marketing skills she had learned from her US studies, creating a Website for their company, www.cornerstonepotteryfarm.com, and making advertising collaterals. Closely working together, they eventually came up with a sizeable line of mugs, teacups, tea sets, chimes, dining ware—even oil burners for aromatherapy and bathroom amenities. 

These products, although priced quite expensively between P35 to P12,000 depending on size, nevertheless received an enthusiastic reception when they were launched in March 2000 during the National Trade Fair at SM Megamall in Mandaluyong City. 

Since then, Cornerstone Ceramics has became a regular at trade fairs and bazaars, generating more customers and making trade deals with leading Metro Manila department stores and other retailers. 

The business continued to pick up briskly. By 2002, in fact, the Espiritus were able to settle the balance of the loan extended to them by their former exporter. Three years later, to further expand the business, they acquired a 5,000 sq m property in Silang, Cavite. They added two more LPG-operated ovens to their existing kiln, then further improved the quality of their stoneware by using more matured clays imported by their supplier from Thailand, Vietnam, and China. 
ADVERTISEMENT - CONTINUE READING BELOW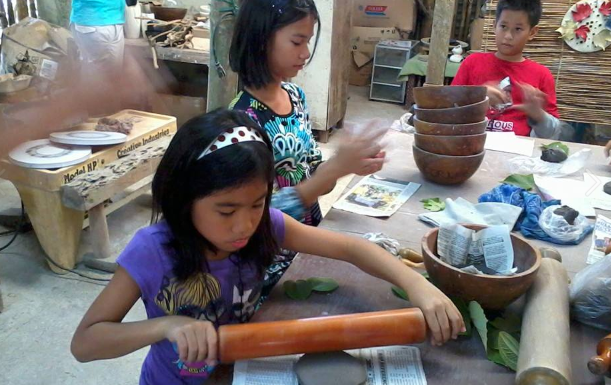 The Mud Pit
The Silang site has since become the couple's residence, pottery shop, and workshop area—the "Mud Pit," they call it—aside from being their stoneware factory. In February of 2008, the couple also put up a café in their Silang compound primarily to serve healthful snacks to their customers.  

By 2003, most of the couple's contemporaries in the stoneware business had begun to experience sales declines. Bucking the trend, however, the ever innovative Espiritus gambled by introducing what they called the "service side" of their business—the "Mud Pie Party," a pottery-making workshop for hobbyists and for serious learners. The two-hour workshops are conducted by the couple by appointment in the Mud Pit, their 10-seater workshop area next to the factory. The fee is P550 per participant, and P850 inclusive of lunch. 

The Espiritus had intended to teach pottery-making simply as a source of supplemental income, but to their surprise, their workshops have been drawing much more participation than they expected. They have therefore decided to run the workshops offsite, offering them today at P750 per head for a group of at least 10 people.
ADVERTISEMENT - CONTINUE READING BELOW
Looking forward
Cornerstone Ceramics considers itself a "thriving, surviving" small-scale home-based enterprise that caters to the B, upper B, and A markets. Its stoneware products continue to enjoy a good following from both repeat and new customers. On the average, the business is able to produce and sell P200,000 worth of stoneware in two weeks—just enough, EJ and Eva Espiritu say, "for us to continue to operate, save, meet our personal expenses, and do tithing." 

Eva says of their business prospects: "We're just hoping that this year and in the years after that, our café in the Silang compound will do well, and that we can hire more people to work in the factory. Also, I look forward to seeing more clients coming to attend our ceramic-making workshops."
ADVERTISEMENT - CONTINUE READING BELOW
Photos from Cornerstone Pottery Farm's FB page