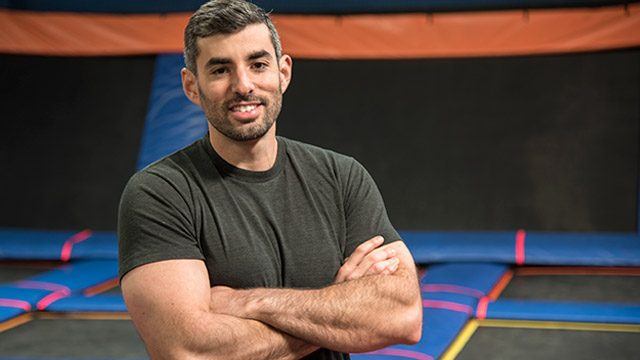 American entrepreneur Jeff Platt was still in college when his father reinvented his startup business, a trampoline-based sports arena based in Las Vegas, after facing difficulties generating interest. Instead of hosting competition events, he saw the opportunity to make profit by charging kids to come into the facility and jump. This idea was genius as it ultimately saw over 10,000 guests within six months and brought $400,000 in its first year.
ADVERTISEMENT - CONTINUE READING BELOW
After the success of the Las Vegas park, Platt opened and managed a location in St. Louis while finishing his undergraduate studies. It was around this time, at the age of 21, that he was left at the helm of his family's fledgling business because his father needed to take care of his ailing mother.
The success of his venture led Platt to open more branches in the following years. Today, the business that Platt started, Sky Zone, has more than 170 branches all over the world with annual revenues of $300 million.
In a chance interview with this writer, Jeff Platt, CEO of one of the most successful startups in America, shares the five important traits that every entrepreneur must have in order to succeed in the business:
1. Be  Fearless
When Platt took over the business from his father, he was still in college. But lack of experience and business skills that could help propel the business did not discourage Platt to pursue what his father started.  It didn't help that the business was struggling and financially challenging.
ADVERTISEMENT - CONTINUE READING BELOW
Platt was not afraid to take risks. He innovated new ideas and experimented with the market. "You have to remember that starting a business, no matter how successful you think it's going to be, is hard," Platt told this writer.
"Ask yourself, what is it going to take to bring your idea to life, or take your business to that next level. To find your answer, you're going to have to jump into the unknown waters of entrepreneurship without looking back."
2. Be Flexible
It took two and a half years for Platt to learn the nuts and bolts of the business before he started to expand aggressively. Managing a startup business sometimes may need some trial and error approaches. When the old approach is no longer working, you must be willing to try new ones.
Continuously looking for new ways in managing things helps the organization become more efficient, which translates to higher profitability and better cash flows.
ADVERTISEMENT - CONTINUE READING BELOW
"Not everything is going to go as planned," Platt said. "Startups need to recognize when a strategy isn't working early on and pivot quickly, or else you will find that your idea will sink."
3. Be Stubborn
Being stubborn means being firm on the goals that you want to achieve. There will always be failures along the way. But instead of being discouraged, learn the lessons and move on.
"There will always be someone telling you that your idea won't work—don't turn into one of those people," Platt said. "Transcend the setbacks, and be as stubborn as you can be. The most successful businessmen and women recognize that failure is inevitable.
4. Be Passionate
 "If you aren't passionate about what you are doing, your startup is never going to last," Platt said. "Being a business owner takes a little bit of crazy and a lot of irrational decision-making."
ADVERTISEMENT - CONTINUE READING BELOW
"These types of people are the driving forces behind those startups—like Airbnb—that are successful," he added. "You will face obstacles that may feel too difficult to overcome, but your passion will drive you to keep going."
5. Be Visionary
Visionary people always look at the big picture. They are always ahead of the game because they know where to bring the organization in the future.
"Startups need to be able to see an opportunity in the smallest details of everyday life," Platt said. "Successful innovation comes from someone or some group of people that looks at a process, recognizes what needs to be done to make it better and then puts a plan in place to make their vision happen."
*****
Henry Ong, RFP, is president of Business Sense Financial Advisors. Email Henry for business advice hong@businesssense.com.ph or follow him on Twitter @henryong888