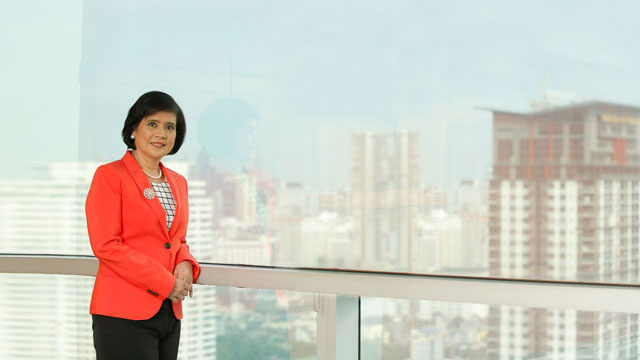 Stewardship truly is a noble cause to get behind, and Josephine G. Cervero had that purpose in mind when she first entered the world of investments. Ms. Cervero was a product manager for a pharmaceutical company before she switched industries and joined a financial institution. Her bosses wanted her to apply product management concepts to promote its trust funds, but she had reservations. She says, "At first, I was hesitant because I thought that I will be building treasures on earth rather than treasures in heaven."
After taking a one-year course on trust, however, Ms. Cervero's outlook on trust funds changed. She says, "It is actually, in essence, stewardship. It is for this reason that I have been in trust services for about 20 years now, and still counting."
Today, Ms. Cervero is the First Vice President of LANDBANK's Trust Banking Group. A mom of four, she is the former director of the Trust Officers Association of the Philippines and the incumbent director of the Trust Institute Foundation of the Philippines.
Trust fund investments
LANDBANK's Trust Banking Group promotes the value of saving and investing through its different trust fund products, especially among folks in the rural areas as well as startup companies and cooperatives. These are market segments often overlooked by private banks, but which also have the need to set aside funds to prepare for emergencies or to achieve long-term goals.
Trust funds are not the exclusive domain of the rich; the average Juan can invest in trust funds, too. Ms. Cervero says, "If an investor wants to avail of a trust product that is efficient and cheaper to manage, he should try the Unit Investment Trust Funds (UITFs) or pooled funds."
UITFs are funds pooled from several investors, and managed by a trustee or fund manager. With as little as P5,000, one can invest in government securities, corporate bonds, and listed stocks through UITFs. Through economies of scale, the UITF's income (or losses) are distributed among participants accordingly.
Funding abrupt necessities
Investing your money today to prepare your family for the future is a contingent measure in case of unforeseen circumstances. Ms. Cervero explains, "It is important for people to know, especially the younger generation, that the economy has a cycle of bliss and a cycle of meltdown. We have been blessed for the past years, but we also need to prepare and set aside funds for unfortunate eventualities such as calamities, sickness, loss of jobs, or economic turndown."
She adds, "If we will exercise prudent spending and not be wasteful, for sure we will be able to set aside some funds for emergency. Nowadays, we are bombarded by advertisements of expensive food, clothing, and travel. There is nothing wrong in enjoying and indulging once in a while, but one must not forget priorities. Set aside cash for basic needs and an emergency fund."
More than preparing their investors for the future, LANDBANK also helps them grow in terms of income or the return on their investments over a period of time. Ms. Cervero says, "We also help them grow in knowledge and experience because we provide daily market updates and conduct investor's briefings about trust. Basic knowledge about investments is the key to growth."
For more information on LANDBANK's Trust Products, call 405-7000 or 405-6350. You can also go to www.landbank.com.