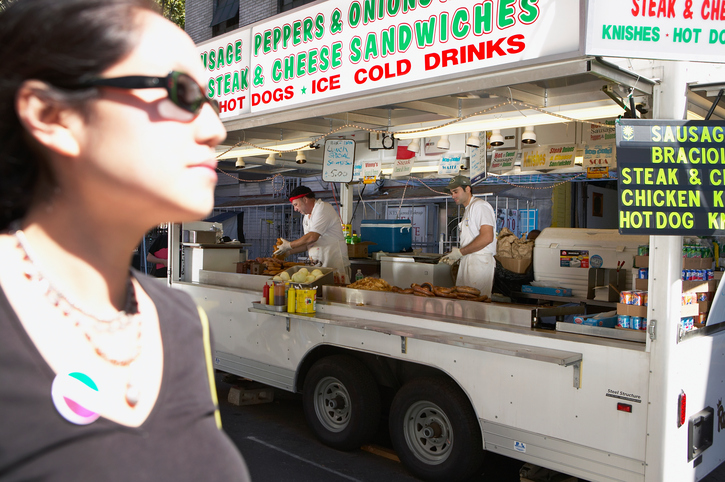 The dream, for many food entrepreneurs, is to own a sit-down restaurant. Though they may start small at weekend markets, they do not plan to stay that way.
"After doing the markets for a couple of years, you eventually want a bigger challenge," admitted Aasish Mirpuri, who parlayed his mother's chicken kebab recipe to Maharajas Kababs, a food stall he opened in Legazpi Sunday Market in November 2011, and later in Salcedo Saturday Market.
ADVERTISEMENT - CONTINUE READING BELOW
Business was doing so well that Maharajas Kababs transitioned to a restaurant in Makati in November 2013, before Mirpuri and his wife Joy decided to relocate the restaurant to Aurora in 2014.  
And it is not the only food startup that has made the leap.
Testing the waters
A weekend market is the closest thing to a business incubator a budding restaurateur can find. For Pia Renato, opening a restaurant was always the end game. She, along with her husband Jonathan, had spent eight months perfecting their Portuguese-style chicken recipe for Frangos at home. But before they could move forward with their plans, they decided to gauge their product's reception in the market first.
"[Food carts are] great for a single-concept food business," said Jill Gerodias-Borja, president and CEO of Giabella Foods Corporation, which owns Manang's Chicken, a fried chicken franchise that traces its origins to food bazaars. "It allows them the wiggle room to adjust according to customer feedback before venturing into the big leagues."
ADVERTISEMENT - CONTINUE READING BELOW
Related: Manang's Chicken: From bazaar to franchising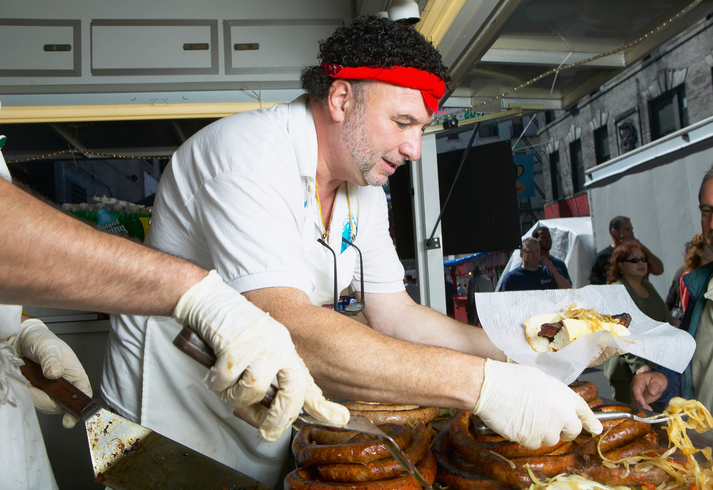 A food stall is a way for entrepreneurs to litmus-test their idea with minimal investment. Maharajas Kababs was able to recover its P10,000 ($214.32) investment on its third week. Similarly, the Frangos team earned back their initial investment of P175,000 ($3,750.54) after only four months at Legazpi Sunday Market, though Renato said, "At the restaurant, we still have a long way to go."
ADVERTISEMENT - CONTINUE READING BELOW
A springboard for growth
Unlike Renato, Gerodias-Borja had only intended for Manang's Chicken to be a side business—until it became a major hit among the crowd in Mercato Centrale. They cut the ribbon on their first restaurant six months after their debut. A fast turnaround, but Gerodias-Borja wanted to capitalize on the momentum they earned as a food cart, and to date, the franchise is 15 branches strong.
Related: RJ Ledesma: Setting the stage for small food businesses 
Once 'treps have validated their food concept, a brick-and-mortar establishment can provide the needed space and stability for them to further grow their product lineup. "A restaurant is more expensive to operate, but we can serve all of our specialties and drinks there. We cannot rely just on our chicken products—we always develop new food to offer," said Renato, who had brought a consultant onboard, Chef Jerome Valencia, to expand their menu.
ADVERTISEMENT - CONTINUE READING BELOW
They have had to price their items slightly higher at Frangos restaurant than at their food stall, but they compensate with bigger servings. There, they were also able to introduce new items, like sauces and dishes that complemented their chicken.
Building a following
Back when they were vying for a spot at Legazpi Sunday Market, Renato recalled, "[the organizers] preferred that stall owners be present during market operations." Face-to-face interaction with the buying public is an advantage of weekend markets; entrepreneurs should leverage on this and cultivate a stable customer base.
Having a loyal following strongly indicates that a food concept is sustainable. If your product is sold out at the end of the day, "not just [once], but a lot of times, that's an indicator that the customers like it," Renato said. "It's a very good signal that the product is ready for the next level."
It is not enough to attract new clientele, but also to retain the returnees. A restaurant's success, said Mirpuri, depends heavily on repeat customers. Renato and her co-founders, for example, felt confident about scaling up after steadily gaining more regulars at their Sunday stall, with others asking where else they could buy Frangos' chicken.
ADVERTISEMENT - CONTINUE READING BELOW
Tested by fire
A food stall and a restaurant each come with their own set of challenges: Since the restaurant will incur higher overhead expenses, and labor costs, it calls for more capital. There are longer leases for restaurant space, which offers businesses the permanence they need to establish themselves, but that also means entrepreneurs cannot easily cut their losses and pull the plug when sales lag. "You need to sell much more just to break even," warned Gerodias-Borja.
On the other hand, because a food stall is transient and mobile in nature—some markets are open for half a day, and only during certain days of a week—it is undoubtedly a labor-intensive undertaking.
Mirpuri found the weekend market circuit to be more of a challenge because he and his wife practically had to transplant their kitchen to a small stall every week. Lack of access to a nearby washing area was also an issue. "Running a food cart is a logistical headache since you're always moving. Packing and unpacking was my least favorite thing to do," Gerodias-Borja admitted.
ADVERTISEMENT - CONTINUE READING BELOW
But for businesses like The Breadery, the food cart experience also provided valuable hands-on training for its staff, who would later man the The Breadery's first permanent bakeshop, complete with dining space, when it launched in 2014 in Ortigas, followed by another branch in UP Town Center. "We felt it was good training for our people before we opened our store," said Inna David Go, president of The Breadery.
Renato agreed that the demands and fast pace of food stall life is a kind of trial by fire that will prepare business owners and their employees for the hustle and bustle that goes on behind the scenes of a restaurant: Whereas call time at the Frangos restaurant is at 10 am, Renato and her family need to set up their food stall as early as 6:45 a.m. every Sunday. "Handwork is difficult,'" she said. "You have to get used to it, then it isn't so hard anymore."
ADVERTISEMENT - CONTINUE READING BELOW
Despite their differences, running a food stall can unlock valuable lessons that can be applied to a brick-and-mortar establishment later on. For instance, the Frangos team learned to be particular about cleanliness in their operations and to cook with precision—habits they have carried over to the restaurant. And like their food stall, the restaurant also has an open kitchen setup that lets customers watch as their orders are cooked on the spot.
Getting the green light
How do you know if your food startup is ready to take the leap?
Check the Gbooks: If your food stall's net income is increasing every month, and you are meeting a modest monthly target for your return on investment, the business is on the right track, said Renato.
Especially if, like Manang's Chicken, entrepreneurs plan on striking while the iron is hot, so their profits need to be on an upward trajectory. "[They] should not open a restaurant when their food cart has plateaued," said Gerodias-Borja.
ADVERTISEMENT - CONTINUE READING BELOW
There are other options if one prefers to scale up slowly: Maharajas Kababs, for example, transitioned to a kiosk before opening a full-scale restaurant. Gerodias-Borja advised entrepreneurs to look ahead and decide early on if their business model is for a food stall, or if they intend to use the food stall as a jump-off point for a restaurant. Whatever the case, they should be prepared to make adjustments to their business plan depending on what their customers are looking for.
It is imperative that founders study and know their own market before making a decision. "Crunch numbers on the total investment [needed], and the breakeven [point] in sales, [to determine] if upgrading is worth it," Gerodias-Borja said. "Not all concepts will successfully translate well as a restaurant, and entrepreneurs need to offer more than what was in the food cart." – with a report from Victoria Vizcarra
This article was originally published in the June 2015 issue of Entrepreneur Philippines magazine. 
ADVERTISEMENT - CONTINUE READING BELOW
Photos from Thinkstock