<>
The rainy season is almost upon us and for many office workers in the metro, this means more time stuck in traffic.
ADVERTISEMENT - CONTINUE READING BELOW
Related: This futuristic bus may be the answer to traffic woes
No wonder more and more people are choosing homebased jobs, which are available from freelance websites like Freelancer, Outsourcely, or Upwork. Some people consider online or home-based jobs as sidelines or part-time jobs, but one couple has proven that it can actually support the expenses of a family.
Dan and Anna* are full-time freelancers. Anna has been working in Upwork for almost eight years and Dan tried it a few years later. At first, Anna has taken on some freelance work as a sideline but four years ago, after giving birth to their baby girl, she decided to freelance full-time.
Related: Mainstreaming freelancing in the Philippines
ADVERTISEMENT - CONTINUE READING BELOW
"Now, I can work while watching movies or series and play with my baby girl," she said.
She has taken on a range of jobs such as sales, lead generation, and as a virtual assistant and a customer service representative (CSR). She said that these are jobs are easy enough for anyone to accomplish, and by doing it full-time, you can earn around P50,000 a month ($1,084.36).
Dan, a web developer, was at first hesitant to quit his office job so he can also do full-time freelance work. However, he soon found out that he can earn as much as P80,000 ($1,734.98) in a month, thanks to some tips shared by Anna.
"She was the one who convinced me that I should give it a try," he said. Now, their family spend more time together and have enough cash to spend as they need and want, as long as Dan and Anna allocate time for their deliverables.
ADVERTISEMENT - CONTINUE READING BELOW
Here are seven tips from Dan and Anna if you are also planning to freelance full-time and earn around P50,000 to P80,000 ($1,084.36 to $1,734.98) in a month.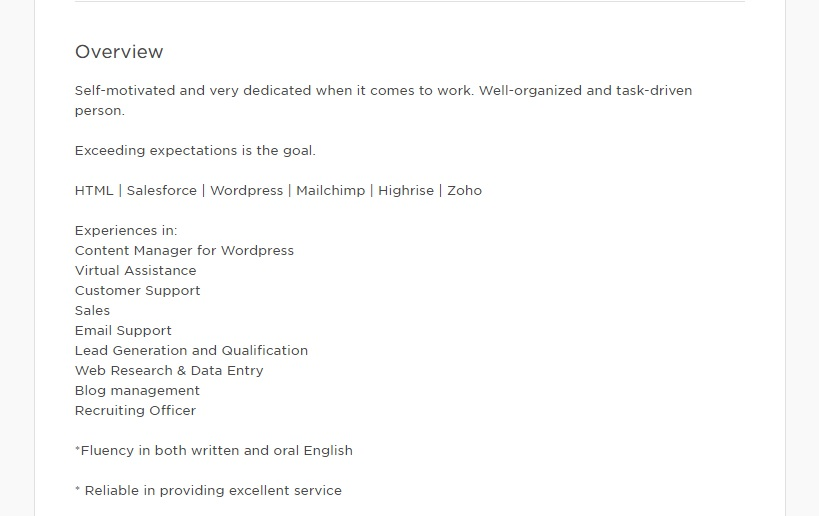 1. Have a very good profile
This is the first step in getting people to hire you, they said. Spend time to work on your profile because it is an investment.
ADVERTISEMENT - CONTINUE READING BELOW
"You need to put your skills and your attitude toward work but don't use too many words. Don't write your credentials in paragraphs because not everyone likes to read," Anna advised.
Anna's sister also tried to work with freelance sites but she was not getting any employers. The moment she changed her profile by following Anna's advice, she landed her first job.
2. Always be within reach
These freelance sites have features wherein you can connect your phone to your profile so that employers can easily contact you. A lot of employers prefer to be in touch with their job candidates right away so being able to contact you at once is a big plus.
Sometime ago, Anna missed an opportunity to be hired because she was not paying attention to her phone.
"We're at the new age. Don't you have your phone with you to check? If you're serious with this job, you would have responded quickly," she remembered an employer telling her.
ADVERTISEMENT - CONTINUE READING BELOW
After that experience, Anna made sure to always be mindful of her phone, especially if she is waiting for the result of an application.
3. Research about the employers
Do not waste your time on employers who are trying to rip you off, they said. This means making sure that whoever will hire you is legitimate. For their part, Dan and Anna always check the employer's profile in the freelance site (freelance sites also provide the profile of the employers.) This includes a quick Google search on the employer's company, even looking at their website and LinkedIn profiles.
And if you have an encounter with a bogus employer, do not be afraid to report them, they said.
Related: Entrepreneurs, here's how to make sure you get paid

ADVERTISEMENT - CONTINUE READING BELOW
4. Be quick to apply
If you are serious about doing freelance full-time, you should always be on the freelance site and on the lookout for opportunities. Once an employer posts an opening, it only takes several minutes before other freelancers like you apply.
"Sometimes the employer would already choose from the first 10 candidates," Anna said.
So do not waste your time if you already see an opening with 50 applications (these freelance sites would also give you the option to see how many have applied).
Newbies in freelance sites are also given a maximum number of applications they can exhaust in a week. This would increase as they use the site more. Newbies are given 10 to 20 chances to apply then it increases to around 30. This is why it is important to use those chances wisely and only apply to those where you think you have a high chance in getting, Anna added.
ADVERTISEMENT - CONTINUE READING BELOW
5. Prioritize quality over quantity
Dan and Anna said that you can get as many jobs as you can but make sure to deliver.
For example, web development takes a certain specialty and it would be difficult to balance many clients all at once. For CSR or virtual assistant jobs, it is possible to work on them at the same time as long as you can do it efficiently.
"If you can't do your job properly, an employer can end your contract and give you a low rating," Anna said.
Getting a low rating from a previous employer can hinder your chance of getting hired again.
"In the offline world, if you do bad in your previous jobs, no one would know if you don't put it in your resume. In freelance sites, there are footprints," she said.

ADVERTISEMENT - CONTINUE READING BELOW
6. Don't sell yourself short
If you are confident of your skills, you can include in your profile how much you charge for a project.
So if you are being offered something lower than your asking price, do not be afraid to turn it down. Working on two projects that pays more than five cheap-paying projects is also cost-effective.
However, in freelance sites, you also need to invest time to prove yourself first, they said. As a newbie, you may be offered projects worth $3 or $4 per hour. As you go on and employers rate you higher, you can have a higher asking price. It can go up to $5 or $8 and later on, maybe even more. The trick is not to get jobs worth the same when your rate is already rising.
"Usually, the companies who offer higher are also the legit ones," Anna mentioned.
Anna usually works on her jobs for eight to 10 hours every day, similar to an office job. She cites the example of getting a job that pays $4 (P184) per hour that translates to P1,472 ($31.92) for eight hours in a day and P7,360 ($159.60) in a week. In a month, that already amounts to P29,440 ($638.25)—and that is only for one job.
ADVERTISEMENT - CONTINUE READING BELOW
If you get another one for the same price, you can double your gains. In contrast, if you are already rating higher and get a job that pays $8 per hour, you can get the same payout with only  one job.
7. Don't be fooled by job offers from social networking sites
Go straight and get hired directly by using official freelance sites.
Some people prefer to be "agents" of employers using freelance sites. These agents would scout for candidates using social media and once they refer the candidates to the employer and the candidates get accepted for the jobs, these agents usually get a cut.
So it is better to go straight to the source so you can get the full price of your work, they said.
*Editor's note: Interviewees real names were withheld for privacy reasons.
*****
Nicai is the marketing head of Rising Tide, a technology solutions company. She is also the Manila Bureau Manager of Probe Media Foundation's Mulat Pinoy-Kabataan News Network and a regular contributor for SPOT.ph. Follow her on Twitter, @nicaideguzman, and LinkedIn, https://www.linkedin.com/in/nicaideguzman.
ADVERTISEMENT - CONTINUE READING BELOW