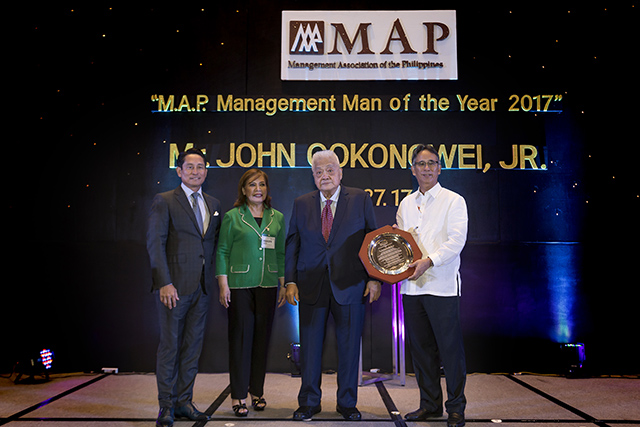 The Management Association of the Philippines (MAP) presented its Management Man of the Year Award to John Gokongwei Jr., founder of JG Summit Holdings Inc., and one of the country's leading businessmen and industrialists, in awarding ceremonies on November 27, 2017 at the Shangri-La at the Fort in Taguig City. The MAP first announced Gokongwei's selection in October 24, 2017.
ADVERTISEMENT - CONTINUE READING BELOW
In a pre-recorded video speech, Gokongwei humbly accepted the award that, as the 91-year-old entrepreneur himself noted, "funnily, comes 10 years after I retired and relinquished the management of the company to my brother James and my son Lance."
Below is a copy of Gokongwei's acceptance speech and the video: 
Good afternoon.
I'd like to thank you for this recognition, which, funnily, comes 10 years after I retired and relinquished the management of the company to my brother James and my son Lance. I have to say though that the timing is impeccable. The mark of a good manager, as they say, is to make oneself dispensable, and I believe that 10 years hence, the business has prospered under their capable leadership, coupled by a bench of professional management.
Just a few years ago, the conventional wisdom was that family-run businesses could not be as well-managed as non-family run businesses. But the research has shifted, and our experience as a group shows that a hybrid of family-led publicly-listed business works. When did we list JG?
ADVERTISEMENT - CONTINUE READING BELOW
When we listed JG Summit in 1993, we were among the first Philippine businesses to do so. Before that, we had built a pretty successful business, but in order to fulfill our ambitions of becoming a pan-ASEAN conglomerate, we would have to raise money in the capital markets and eventually in international credit markets. More so, unless placed under the spotlight of the public eye, a family-managed company would not be under pressure to perform. We would become soft and flabby.
On the other hand, remaining family-managed would imbue the business with the stability, strong culture and long-term vision necessary to see our investments bear fruit.
This balance has allowed us to invest in capital-intensive businesses that bridged the first phase of our growth to our current one. It allowed us to provide local consumers with choices. For example, Cebu Pacific Air which has made air travel affordable to ordinary Filipinos.
ADVERTISEMENT - CONTINUE READING BELOW
It has allowed us to contribute to our country's manufacturing base, a step necessary to a nation's progress, through JG Petrochemicals.
It has allowed us to plant the Philippine flag in Thailand, Indonesia, Malaysia, Singapore, China, Cambodia and Laos, where Universal Robina is now a major player, and in Oceania, where we have acquired leading snack food companies in Australia and New Zealand. It has allowed us to hold substantial holdings in blue-chip companies like Meralco, PLDT and UIC in Singapore.
This balance allowed us to shepherd these businesses, despite big risks and losses at the start, to reach their potential, without the short-term pressure of quarterly earnings calls.
It allowed JG Summit to forge its own path, despite naysayers, who did not understand our investment choices at first and believed we were not focused enough.
It allowed us to stick to our guns, and invest in industries like transportation, power and telecommunications which would be essential not only for our growth as a company but a nation's as well.
ADVERTISEMENT - CONTINUE READING BELOW
Today, JG Summit and RRHI (Robinsons Retail Holdings Inc.) are among the top conglomerates in the country, family-led, but professionally run.
Besides sustainability and succession, the mark of a good manager is to build value, create jobs, and make money for shareholders. Let me expound more about this.
First build value. We have never been afraid to enter competitive markets but we always think of innovative products to introduce. For example, both C2 and Great Taste White shook up the consumer beverage and coffee markets when they were introduced. Sun Cellular and Cebu Pacific also shook up the telecom and airline businesses by providing choices to many Filipinos, thus improving their lives.
Second, create jobs. Our group has created 60,000 Filipino jobs. Also, through the Gokongwei Brothers Foundation, with its focus on education-to-employment, we are also making sure that we help talented but less-fortunate kids receive a fair shake in life.
ADVERTISEMENT - CONTINUE READING BELOW
Third, we have created value for our shareholders. In 1956, when we put up Universal Robina with Php3.5 million. This was from money I had saved from selling used clothing, old newspapers, and other knick knacks, plus some money from good friends to whom I am still grateful. In 1993, we listed JG Summit with a market capitalization of Php6.3 billion. Today, our two holdings companies, JG Summit and Robinsons Retail Holdings, are valued at Php665 billion.
I would like to thank my mother, Juanita, and siblings, Henry, Johnson, James and Lily for being my partners in starting JG Summit. When we were still operating out of a small tindahan on Martinez St in Cebu City, they acted as bodegeros, clerks, all-around handymen. They were with me from the very beginning.
Next, I would like to thank the managers in this room, both family and professional, as well as to all our employees, past and present, who have accompanied me in this wonderful adventure. Without your commitment, talent, and your hard work, JG Summit and RRHI would not have grown to this size. We are a family-run business and you are part of our family. This award is yours as much as it is mine.
ADVERTISEMENT - CONTINUE READING BELOW
Let us continue to grow JG Summit into a world-class company. It took me 75 years to come to this point. I hope you continue to forge your own path and continue to practice our brand of entrepreneurial management in a world that is changing very fast. I just interviewed a potential executive for one of our companies and the first thing I asked him was 'How do you see your industry in five years?' I hired him because I believe that while no one can really read the future, he had a pretty good estimate of what it holds.
To our customers, from those who bought the thread, soap, and candles I sold in the palengke when I was 15 years old to support my family, to those who buy branded goods from our Robinsons Supermarkets today, thank you for your patronage. We hope to continue serving your needs as the Philippine economy continue to grow from strength to strength.
ADVERTISEMENT - CONTINUE READING BELOW
To end, I would say that the best sign of my management skills has been to manage my many sons-in-law, most of them businessmen working with their own family-run businesses, and one lawyer. Guess who is the most difficult to manage?
Kidding aside. My wife Elizabeth and I always taught our six kids that choosing who they marry is the most important decision of their lives. I believe marrying Elizabeth, my lifelong partner and love, has been just that. Thank you for being a partner in this wonderful journey.
Thank you.
*****