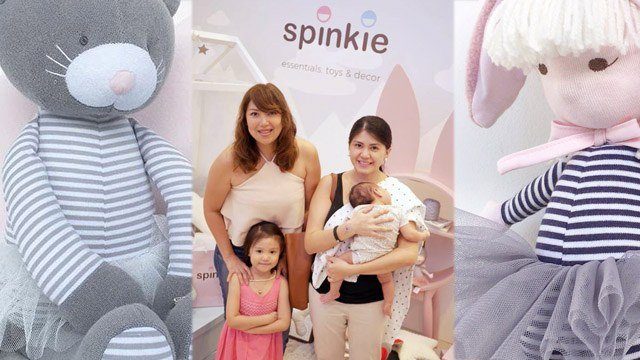 Mutya and Sharon together with Sharon's kids, toddler Addie and baby Eliana
In 2012, Sharon Gozo became a mom. After spending 10 years in the telco industry and another year doing e-commerce, she finally decided to quit her job. It was around this time when she fell in love with Spinkie, an up-and-coming brand that sells a range of essentials, toys and décor for babies and kids that are child-inspired in design and parent-tested for durability and safety. It just so happened that Mutya Laxa-Buensuceso, the founder of Spinkie, is Sharon's good friend and a former colleague in Globe.
ADVERTISEMENT - CONTINUE READING BELOW
"I was already in love with Spinkie's products then so I asked her if it was possible to open a local online store for Spinkie," Gozo says.
They first opened their store in Multiply, where Sharon also used to work, but when the site closed, the two moms decided to open their own website. The site features stylish and carefully designed products that cater to both local and international clients. Soon, Spinkie products became available in retail stores like Rustan's Department Store, Hobbes & Landes, Baby and Beyond and even in other online stores like Lazada. They even now have a market in Taiwan and Japan.
"We also used to have an Etsy store for international clients. It was expensive to run an Etsy store so we decided to just open a website that would serve both local and international clients," Gozo adds.
Birth pains
Being a new mother is already difficult and creating an e-commerce website at the same time can be quite challenging.
ADVERTISEMENT - CONTINUE READING BELOW
"Initial challenges were the inventory and the platform used for the website. We wanted to launch with so many features but of course, we have to do it in phases," Gozo shares.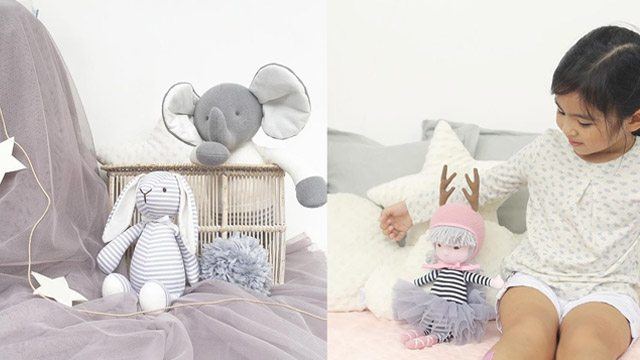 Spinkie sells a variety of toys, decor and a variety of other baby and kids' essentials
ADVERTISEMENT - CONTINUE READING BELOW
The small yet adequate team of moms also had to make sure that they have pictures of all the products so they can populate the website.
"We are very strict with the Spinkie pictures so this was a cause of delay as well," she adds.
After months of work, they finally opened the website with basic features. With so many products, they decided to launch their products in phases. Gozo became Spinkie's very own "Momager" or mommy manager, who handles the official Spinkie online store and does most of the interaction with the clients, both local and international.
The website's user experience is fairly simple and targeted at moms like them who want nothing but the best quality toys and other products for their babies. A customer may browse the categories or products in the website and if she likes a particular product, she just has to click Add to Cart. She may either check out at that point or continue shopping. They also give free shipping to local buyers if their order reaches Php2,000, which they can pay via PayPal or bank deposits.
ADVERTISEMENT - CONTINUE READING BELOW
Having experience working in the telco and e-commerce industries, Gozo learned the much-needed skills to run a website, such as data analysis, marketing and providing good client or customer experience.
"I'm a full-time mom and wife, first and foremost, but I also run Spinkie full time. I love all the products of Spinkie. And I love talking to all the other moms, dads, aunts or uncles who want to make Spinkie part of their home," she says.
A mother's touch
Moms that they are, Gozo and Laxa-Buensuceso are instinctively very "maalaga" or caring to their customers.
"I answer the inquiries on Instagram and Facebook. I make sure everything goes smoothly with inventory, new products, fabric, etc." she says. Mutya, on the other hand, is very hands-on with the creative aspects of the business such as taking pictures and product development, which she works on during weekends and when time permits.
ADVERTISEMENT - CONTINUE READING BELOW
This kind of work allows to Gozo stay at home and still take care of her two daughters. Her youngest was born just last year.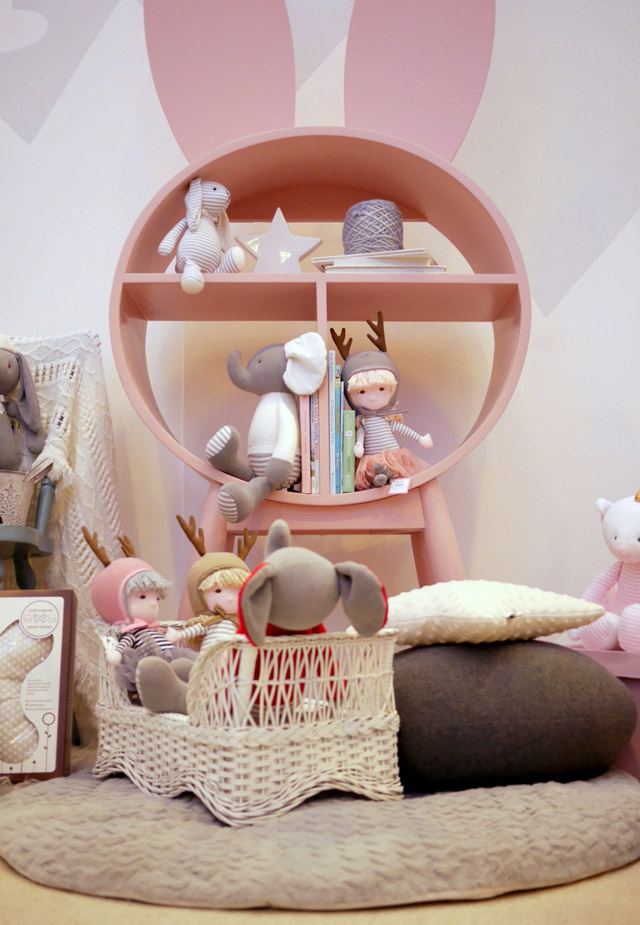 A selection of products that Spinkie offers
"I can answer inquiries while I'm breastfeeding my four-month-old baby or while I'm playing with my four-year-old," Gozo shares.
ADVERTISEMENT - CONTINUE READING BELOW
For her, being a mom and running a brand that also targets other moms is an advantage.
"My daughters use Spinkie products. Even my husband and I use the Butterfly Pillow. Spinkie is part of our lives. Our customers are mostly moms and we exchange stories on how to use the products or what products their babies and kids might like."
As a former executive used to the grind of everyday office life and all its perks, Gozo admits that she had to adjust to her new life as a "momager."
"I think you should never expect your business to give you the same income you used to get in corporate right away. You really have to work hard for it," she said.
In Gozo's case, she says it was nowhere near what she used to get, but with the recent relaunch, their profits are slowly climbing.
"My priority right now isn't the income," she says. "I think it's important to always remember your priority. It works for me because it's a job that gives me some income while still allowing me to take care of my kids full time."
ADVERTISEMENT - CONTINUE READING BELOW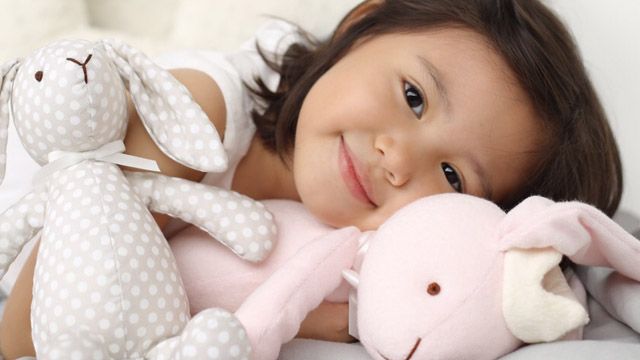 Gozo and Laxa Buensuceso put up Spinkie in 2012
With Spinkie's fan and customer base steadily growing, Gozo and the rest of the Spinkie team are planning more products, more events and new channels to distribute their products.
For women transitioning to being full-time office workers to full-time moms, Gozo encourages them that if ever they want to put up their own business, they simply need to think of something they love.
ADVERTISEMENT - CONTINUE READING BELOW
"Think of a product or service you love to do. Start from there," she said, adding that it doesn't necessarily have to be an online business.
"You are getting a fresh start here and you might finally be able to do something you've always wanted to do. Be creative and don't be afraid to try something new."
*****
Nicai de Guzman is the marketing head of Rising Tide, a technology solutions company. She is also the Manila bureau manager of Probe Media Foundation's Mulat Pinoy-Kabataan News Network and a regular contributor for SPOT.ph. Follow her on Twitter @nicaideguzman and LinkedIn https://www.linkedin.com/in/nicaideguzman