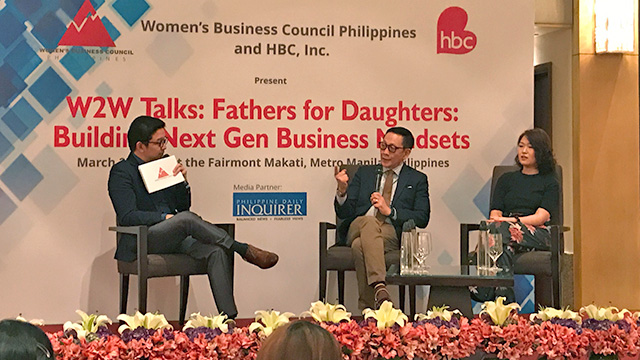 Host RJ Ledesma (right) speaks onstage to Francis Kong and his daughter Rachel during the Fathers For Daughters: Building Next-Gen Business Mindsets event
While tradition considers fathers as the main source of family income, it's not the only role they can and will play. A study conducted by marketing firm McCann Worldgroup Philippines in 2016 showed that aside from seeing themselves as providers, Filipino fathers now also view themselves as their children's playmate (95 percent of the surveyed dads), teacher (91 percent) and travel companion (87 percent).
ADVERTISEMENT - CONTINUE READING BELOW
The world of parenting especially as presented in advertising and the media may oftentimes be "mom-centric" as stated in the same report, but the task is not a one-man job. According to American psychologist Daniel Paquette, "fathers play a particularly important role in the development of children's openness to the world."
"[T]hey also tend to encourage children to take risks, while at the same time ensuring the latter's safety and security, thus permitting children to learn to be braver in unfamiliar situations, as well as to stand up for themselves," he added.
This key role that fathers play in their children's lives was the main theme of the Women's Business Council of the Philippines' (WBC) symposium last March entitled "Fathers For Daughters: Building Next-Gen Business Mindsets."
Business speakers and coaches Francis Kong and Josiah Go along with their respective daughters, Success Options Inc. CEO Rachel Kong and online fashion blogger Tricia Gosingtian headlined the event. Sisters Sheila and Donna Lina, along with their father, Air21 founder Bert Lina, served as closing speakers.
ADVERTISEMENT - CONTINUE READING BELOW
Here are some of the main takeaways of the four-hour symposium held in Makati City.
On discipline
Francis Kong: "They [my children] have been trained to be courteous. You don't talk back to your dad. Pero sila naman they've been trained to argue the case. What we have learned in the family is, don't increase your voice, [instead] improve your argument."
Rachel Kong: "They know that we know when we did something wrong and they allow us to take responsibility. Once you get emotional, you take a step back and reassess the situation. Then make a conclusion and stick to it. Learn to stand up for your own convictions."
Sheila Lina: "My dad may sometimes be harsh with his words but I know he just wants the best for me."
Bert Lina: "Being in the shipping business, early on, I taught them the value of punctuality. I teach my children to be on time. You can lose money and gain it back, but not time."
ADVERTISEMENT - CONTINUE READING BELOW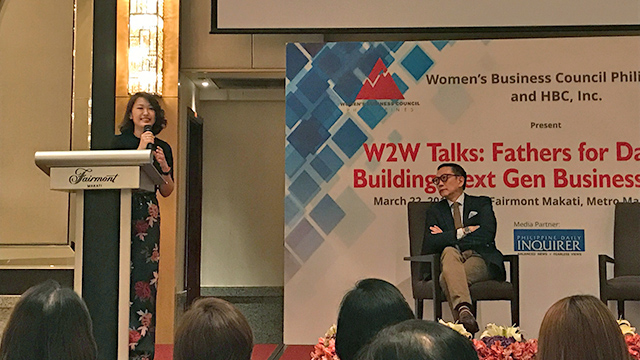 Francis Kong watches his daughter Rachel speak
On money
Rachel Kong: "From the beginning, we were taught that money is a result of hard work. When we were young we would go into different things, join bazaars, selling shirts… and they supported us all the way."
Francis Kong: "I make it a point not to ask them how much they're making. I will empower you [my child] the way you can function even beyond my capability and that's the pride of parents. But I'll never obligate you to take care of us so that my wife and I can have a happy life. I empower them by simply supporting them."
ADVERTISEMENT - CONTINUE READING BELOW
On career
Josiah Go: "Tricia being a Fine Arts graduate… I wanted her to have some business acumen. So in the early days of her blogging career, I sent her a long list of recommendations on how she can do business properly [through blogging] and make the most out of her talent and career. I helped her set rules and set the pricing for her skills."
Tricia Gosingtian: "My dad may have a lot of books on marketing, but I never really read them. But then, somehow, all the business lessons he discussed and taught us while we were growing up, we embedded it in the work that we do."
Tricia Gosingtian: "My dad also taught me to stand up for what I believe in. At first, I would be really attached to the brands I worked with, but my dad taught me to always set rules… so he said, 'if they really value you as an artist and talent then they'll follow [the contract you set].'"
ADVERTISEMENT - CONTINUE READING BELOW
On work-life balance
Josiah Go: "It may be difficult to not talk about work at home, especially when you also do business with your children, but we make it a point not to talk about work matters once we're eating at the dinner table. It's a good rule because we are disciplined to discuss work matters in the proper time and environment."
Shiela Lina: "For my father, work is life. And as I grew up and seeing him live that way, I learned what kind of life I wanted. And my advice for kids here, you don't necessarily need to follow your parents' footsteps because, for me, I didn't want to have that kind of life. He had a different path for him and I had a different life path for me, and that's okay." 
Bert Lina: "I admit, I was an absentee father. I struggled a lot in setting up our businesses but thanks to my wife, we were able to mold and guide our four daughters together."
ADVERTISEMENT - CONTINUE READING BELOW
*****
Elyssa Christine Lopez is a staff writer of Entrepreneur PH. Follow her on Twitter @elyssalopz