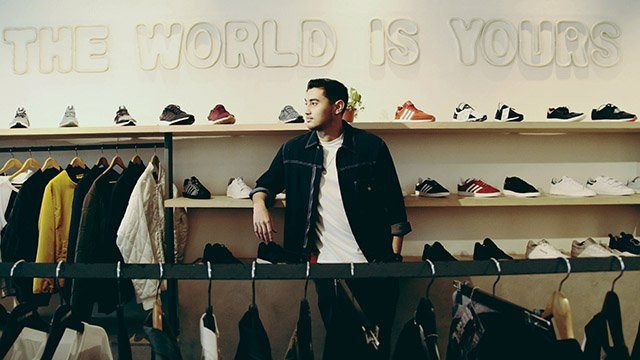 25-year-old Michael Concepcion founded Commonwealth in 2015
On certain days, usually during the weekend, there might be a few hundred people lined up outside SM Aura in Taguig hours before the mall even opens. They're there to make sure they get into Commonwealth, a fashion and lifestyle boutique that specializes in streetwear. While the store also sells t-shirts, jackets, jeans and accessories, it's perhaps best known as a purveyor of stylish and trendy footwear, particularly sneakers.
ADVERTISEMENT - CONTINUE READING BELOW
Branded sneakers can be bought at almost any shopping mall, both brick-and-mortar and online, but Commonwealth seems to have built a reputation as the go-to place for the latest and hippest styles.
"It's insane," says Michael Concepcion, the 25-year-old founder of Commonwealth. "I've been woken up by my guys saying, 'We've got an issue, we've got 500 customers and they're fighting over who came first in line.'"
Concepcion says what sets his boutique apart from the multitude of other footwear stores in the country is their inventory of rare and limited edition sneakers prized by collectors and serious sneakers enthusiasts.
"Many of the brand partners that we work with have given us access to a lot of exclusive runs," he says. "Adidas Consortium, Nike Lab, Vans Vault, Converse First String—these are very top tier items produced in limited quantities and only sold to a handful of stores around the world. It's exciting because this is the first time that these products have really made their way to the country. People don't have to ask friends who live abroad to hook them up."
ADVERTISEMENT - CONTINUE READING BELOW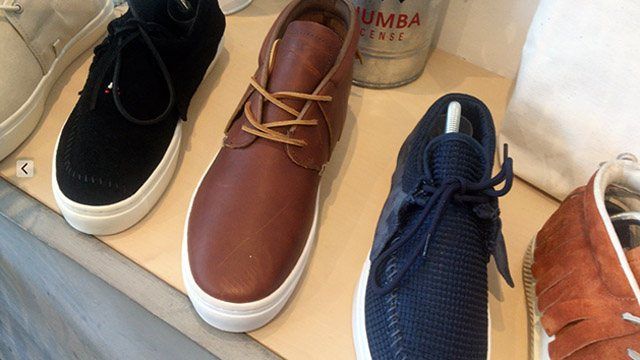 Commonwealth has since become a destination for premium and hard-to-find casual footwear and sneakers
Why does he think people are so obsessed with sneakers?
"I think certain sneakers have become a status symbol for a lot of people," he says. "People buy it because they might have seen a certain celebrity wearing it or it contains a certain monetary value that makes them want to get it just because they know how limited these products are."
ADVERTISEMENT - CONTINUE READING BELOW
This exclusivity is perhaps one reason for the high price tag on some of Commonwealth's sneakers. Although pairs start at around Php3,000, some go up to Php11,000 to Php12,000 depending on the brand, style or whether it's a limited edition. The average price, though, is around Php6,000 to Php7,000.
While it may seem like a relatively recent phenomenon, Concepcion believes the fascination with sneakers has actually been around for a while. "There's a whole subculture of people who are big collectors of sneakers," he says. "You can see it on all of these Facebook groups, and online forums with huge followings and where people have an extensive knowledge of sneakers."
There's also the fact that a wider variety of brands, models and styles have only recently become more accessible to local buyers. "Looking back, maybe two or three years ago, the landscape was extremely different. What you see today mirrors very closely what's happening in the US and Europe. And I think the market here naturally mirrors the interest of certain other countries. What is popular there is very easily popular here."
ADVERTISEMENT - CONTINUE READING BELOW
Commonwealth, which is the local franchise of an existing concept opened by a Filipino-American businessman in the US, is certainly benefiting from an increased interest in sneakers and casual footwear. Concepcion says the store, which opened in October 2015, is extremely profitable. He declines to reveal exact figures although he provided an idea of their profit margins.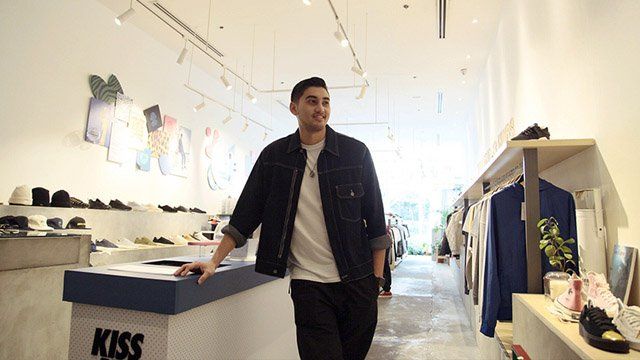 ADVERTISEMENT - CONTINUE READING BELOW
Concepcion also owns eyewear store Ronnie & Joe and Adidas Originals and will soon open a second branch of Commonwealth
"If I told you the numbers we're making for a 100-square-meter store, you'd be surprised," he says with a grin. "Let's just say it falls outside any business model that would make sense for the size of our shop. For a concept to make the numbers that we're hitting, if you talk to a retailer, and you say 'these are my projected sales,' he'd say 'You're looking at a 400-square-meter or more.' So we've kind of found ourselves with a store that's pretty special and operates so efficiently. We stay lean by moving a majority of the products on the floor in under 30 days."
Despite the encouraging numbers, Concepcion, who started his first retail venture when he was 16 years old, is careful about expanding. He says that part of the reason Commonwealth has been so successful is because it's still a destination. "I don't want to be just anywhere," he says. "We won't open just for the sake of opening. If any businessman would look at my model, they'd say, 'That's incredible, let's copy and paste and let's put up six branches.' But I'm not like that. There're a lot of things about this model that falls outside your traditional retail model. With sneakers and limited edition products, it's gotta be very personal and exclusive."
ADVERTISEMENT - CONTINUE READING BELOW
Still, plans are already in place for Commonwealth to open its second branch in the coming months. "It's gonna be our best store yet," he says.
Concepcion is the son of Unilever RFM Ice Cream Inc. CEO John Concepcion. Just like his father, who has ventured into the casual dining space with three concept restaurants under The Standard Group, Concepcion is looking to widen his entrepreneurial footprint. In addition to Commonwealth, the young businessman also owns a chain of premium eyewear stores called Ronnie and Joe (named after his grandfathers, the twins Raul and Jose Concepcion), which he opened in 2014, as well as Adidas Originals, a specialty standalone store that features premium items of the well-known German athletic shoe and apparel brand. They're all part of Concepcion's growing retail empire under his company, Welcome Worldwide.
"My vision and my goal is to eventually own one of the best retail companies in the country," he says.
ADVERTISEMENT - CONTINUE READING BELOW
Related story: Katsu, ramen and Barbecue: What's Next For John Concepcion?
*****
Paul John Caña is the managing editor of Entrepreneur Philippines