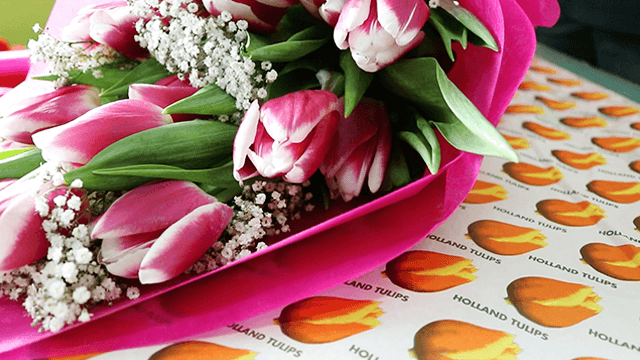 Holland Tulips has 16 branches in Manila and Cebu but goes up to 20 during the peak Valentine's season
Like a garden gone wild, the flower retailing business in the Philippines is suddenly teeming with about a dozen rival players compared to just a couple in the early 2000s. So how does Holland Tulips, the country's biggest flower retailer, maintain its market leadership with the emergence of younger and hungrier competitors?
ADVERTISEMENT - CONTINUE READING BELOW
Founded in 1996, the flower shop has 15 branches all over Metro Manila and a single outlet in Cebu. The company receives two fresh batches of blooms every week from the Netherlands and Australia and makes about 4,000 bouquets on a regular month.
The next biggest competitor of the brand is Designer Blooms, which also imports flowers while specializing in artificial floral arrangements. It has 15 branches and runs a café in Alabang.
The rest of the competitors are young, emerging flower shops specializing in innovative ways to offer blooms—from flowers housed in a musical box to preserved roses that last for a year.
If Holland Tulips is worried by the prospect of increased competition, it's not apparent in the tone of the company's long-time general manager. "After surviving for 20 years, you cannot push me back anymore," says Alvin Justiniani, when asked about the new industry players.
To keep up with competition, Holland Tulips ramped up its location in Metro Manila to 20 more for this year's Valentine's season, during which it earns around Php25 million. That accounts for about 60 percent of annual revenues on any given year.
ADVERTISEMENT - CONTINUE READING BELOW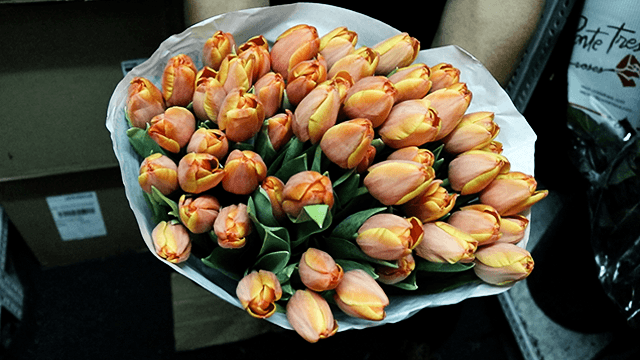 Holland Tulips maintains some low-performing branches inside shopping malls as a marketing tool
Apart from its regular branches, it also opened special or satellite branches in malls with high foot traffic such as SM Aura in Taguig City and Lucky Chinatown Mall in Binondo, Manila. Both are close to the residential or workplace hubs of the brand's customer base: the middle class and the Chinese-Filipino community.
ADVERTISEMENT - CONTINUE READING BELOW
Despite the seasonal nature of flower sales, Holland Tulips is looking to add more permanent branches, which are costly to maintain, to expand its reach.
"What I learned from my big boss in previous years is even if you're losing money being in the mall, you must not close shop. Your mere presence there is a marketing tool in itself," explains Justiniani.
The company is also embracing the power of social media and e-commerce. While it currently has a website that offers delivery services all over Metro Manila, Justiniani adds that it is set for renovation and will be relaunched in May in time for Mother's Day, when flower sales also spike.
"We have to be consistent in the products that we bring in and the customer service that we offer," Justiniani shares. "That's the right formula to succeed. Good quality product and good quality service."
Aside from increasing brand awareness, the former architect credits the company's innovative floral designs for keeping customers loyal. He says he subscribes to every wedding magazine in print, just to keep updated with the latest trends in floral arrangements. While Holland Tulips doesn't do a lot of floral arrangements for weddings and other events, it supplies the flowers to the designers and shops who do.
ADVERTISEMENT - CONTINUE READING BELOW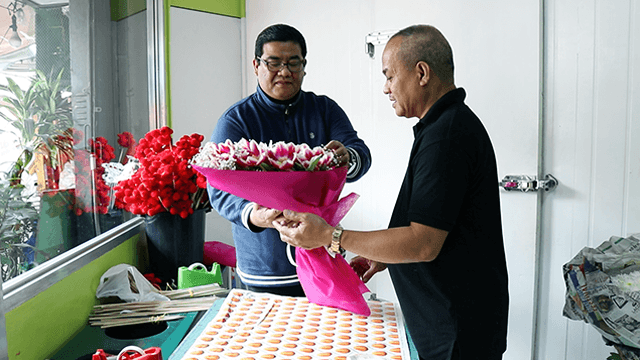 Holland Tulips GM Alvin Justiniani (with glasses) is confident the company can grow another 30-50% in the next 10-15 years
"We still get much of the market share because it's a very big pie," Justiniani says. "There are so many avenues for you to get enough profit in this industry aside from retailing."
ADVERTISEMENT - CONTINUE READING BELOW
Though Holland Tulips is well-known for the high quality and wide variety of its imported blooms (it has 35 floral varieties ranging from daisies to Ecuadorian roses), it is also planning to add local flowers so it can further expand its customer base.
"We want to change the perception that we sell expensive bouquets. There's a huge chunk of the market that we have yet to tap and by sourcing local flowers we can come up with a (more affordable) selection," Justiniani says.
Currently its bouquets retail for Php800 to Php12,000, significantly higher than the selling price of most local flower shops in Dangwa in Sampaloc, Manila. The most affordable of these could be had for only Php250.
"We can probably still grow for another 30 to 50 percent in the next 10 to 15 years. It's a big industry and we're here for the long-term," Justiniani says.
*****
Elyssa Christine Lopez is Entrepreneur PH's staff writer. Follow her on Twitter @elyssalopz 
ADVERTISEMENT - CONTINUE READING BELOW